You are here
Avalanche Gulch / Old Ski Bowl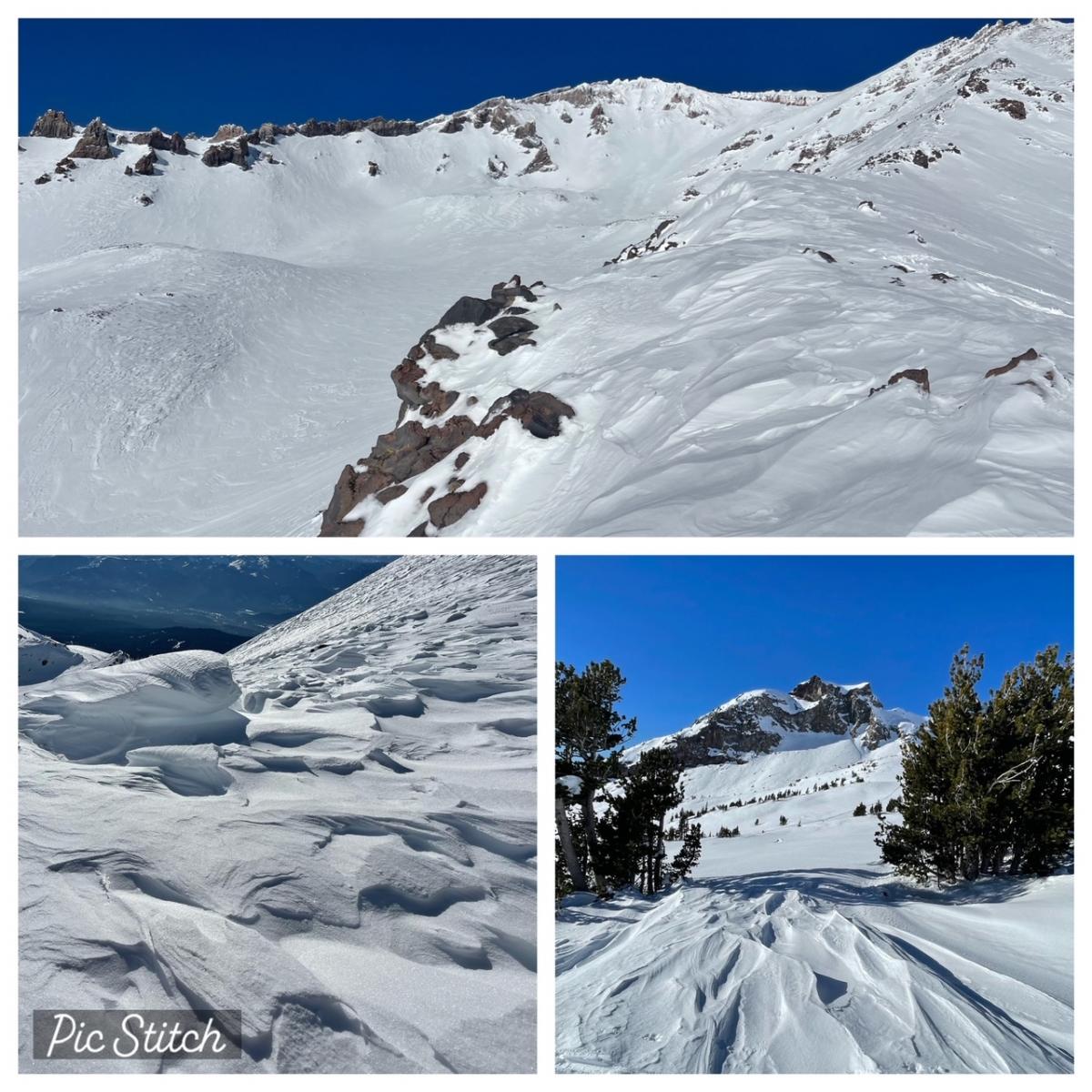 Location Name:
Avalanche Gulch / Old Ski Bowl
Date and time of observation:
Thu, 12/15/2022 - 11:30am
Observation made by:
Forecaster
Location Map
96067
Mount Shasta
,
CA
United States
41° 22' 40.242" N, 122° 12' 25.4772" W
California US
Snowpack Observations
Details
A wide-ranging tour of the Old Ski Bowl, below, near and above treeline to 10,000 feet on Green Butte Ridge. No recent avalanches or red flags of instability were observed. Snow surfaces are varied. 

Above treeline - scabby wind affect, wild sastrugi features, some several feet tall over moraine convexities and ridges where wind speeds are highest. Other less windy places have moderate to minor surface texturing. Low-lying gullies out of the direct sun still remained soft and smooth.

Near treeline - transitional snow, sun crusts, soft powder, minor wind affect in exposed areas. Roller balls on sunny slopes. 

Below treeline - soft snow in the shade, crusts in the sun. Tree bombs and dripping trees have pounded the snowpack below. Open forest in shady terrain is the best riding.
Observation Location: Avalanche Gulch and Old Ski bowl
Elevation: 6,950 to 10,000 feet
Date: 12.15.2022
Time: 1130 - 1430 hours
Observer: N Meyers
Sky Conditions: Clear (CLR) 
Current Precipitation: No
Air Temperature: 39 °F
Surface Penetration: Ski penetration (PS) = 2-5 in, boot penetration (PF) = 5-10 in
Total Snow Depth (HS): 55-70 in
24-hour New Snow Depth (HN24): None
24-hour New Snow Water Equivalent (HN24W): None
Wind Direction: E/NE
Wind Speed: Calm (C), 0 mi/hr 
Photos
Weather Observations
Details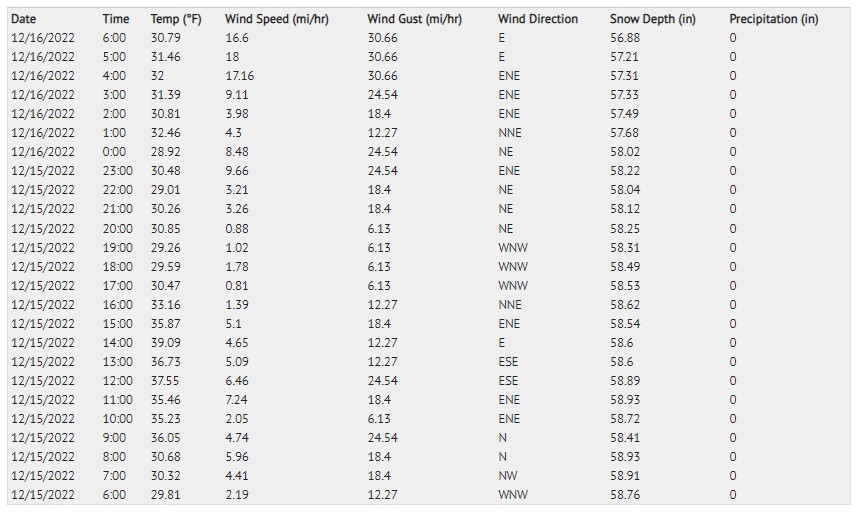 Statistics
Air temperature:
Above Freezing
Air temperature trend:
Static
Wind Direction:
Southeast