You are here
Avalanche Gulch Ski, Old Ski Bowl Snowmobile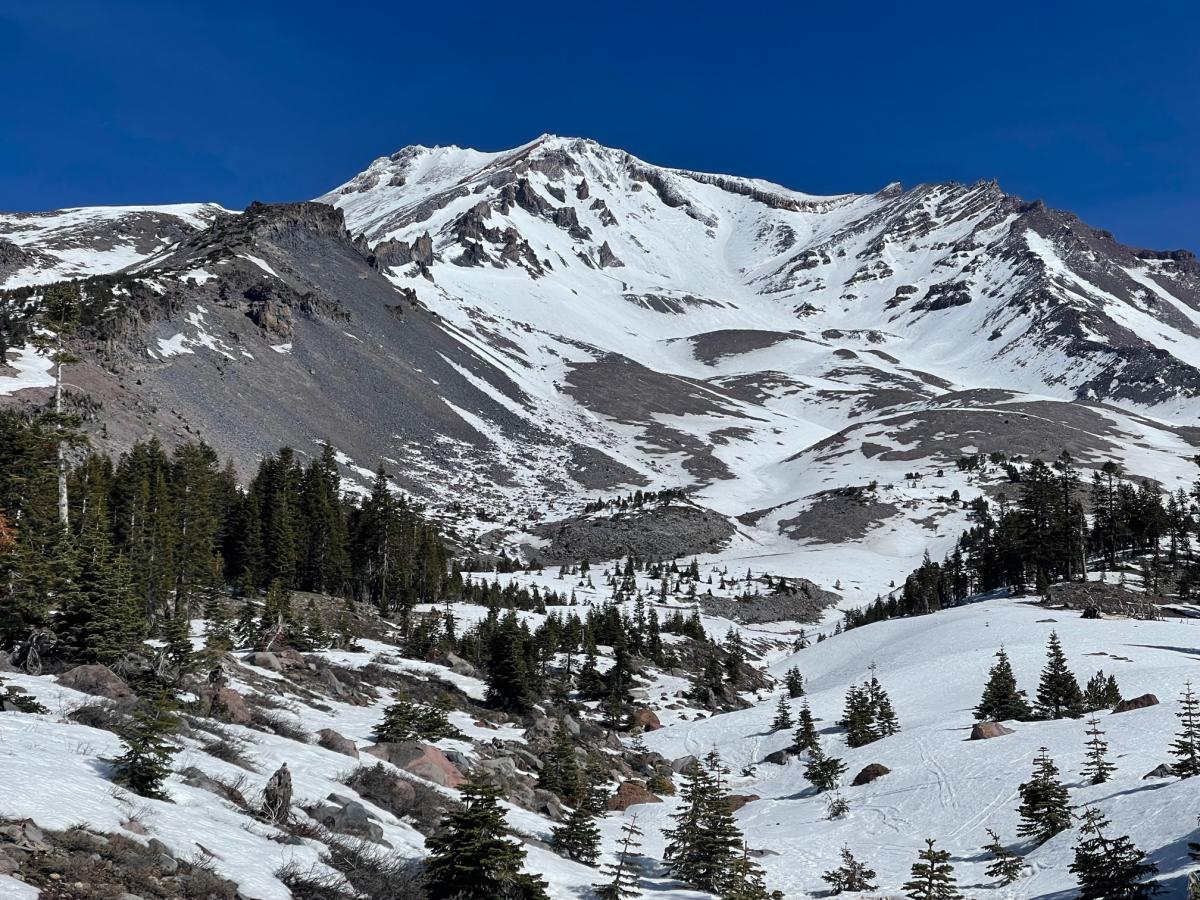 Location Name:
Avalanche Gulch, Old Ski Bowl
Date and time of observation:
Fri, 03/11/2022 - 11:30am
Observation made by:
Forecaster
Location Map
96067
Mount Shasta
,
CA
United States
41° 23' 15.6228" N, 122° 12' 38.3652" W
California US
Snowpack Observations
Details
We've posted 20+ photos here to let the pictures do the talking. We don't want to be accused of being ranger buzzkill, promoting localism or downplaying conditions to save it for ourselves. For March, it really is a sight to behold...or not hold. Let's just plan on getting some big storms still, eh?
Below treeline, exposed rocks, trees and dirt exist. The snowpack that remains is littered with all sorts of tree debris from high wind events...including numerous large, snapped off trees in various locations. Today we saw at least 4-5 large trees on the ground. Skiing below treeline is a matter of not getting skewered, scratched, banged, bonged, whipped, whacked...you get the picture. Yes, it is still possible to ski all the way to Bunny Flat. Snow surfaces are rough. Some softening did occur with the warm temps and calm wind.
Near and above treeline is not a lot better. While the snowpack is a bit deeper near treeline, above treeline isn't pretty due to high wind stripping the mountain free of snow this winter. There is definitely snow on the mountain, but it looks as though it's June, not early March. South facing slopes have really taken a beating by the sun, ie. melting out. Rockfall is undoubtedly a thing. Two local skiers climbed above Helen Lake today and witnessed some whingers come by them. Smooth snow is not abundant. As mentioned, some softening did happen on sunny aspects down lower. A few climbers were observed up higher...today was a nice day for a summit. Be careful in steep terrain, as snow surfaces near The Heart and Redbanks are smooth and firm. A slide for life is absolutely possible.
For snowmobiles, it is still possible to launch and ride from Bunny Flat. The road is covered in snow above Bunny Flat, though boondocking through the trees isn't really possible due to lack of snow. Up in the Old Ski Bowl, exposed rocks are plentiful. There is no true ripping around to be had...mostly just carefully picking lines through rocks and rough snow surfaces. 
That's about the gist of it. Despite the less than perfect snow conditions, the weather today was gorgeous, with calm to light W-SW wind over ridges. Temps were over 60 degrees in town and reached a max of 47 at 8,000 feet. If you still have the gumption, don't hesitate to get out and get some wind in the face. This weekend will bring a refresh of new snow, we hope!
Photos
Weather Observations
Statistics
Air temperature:
Above Freezing
Air temperature trend:
Cooling