You are here
Base of Gray Butte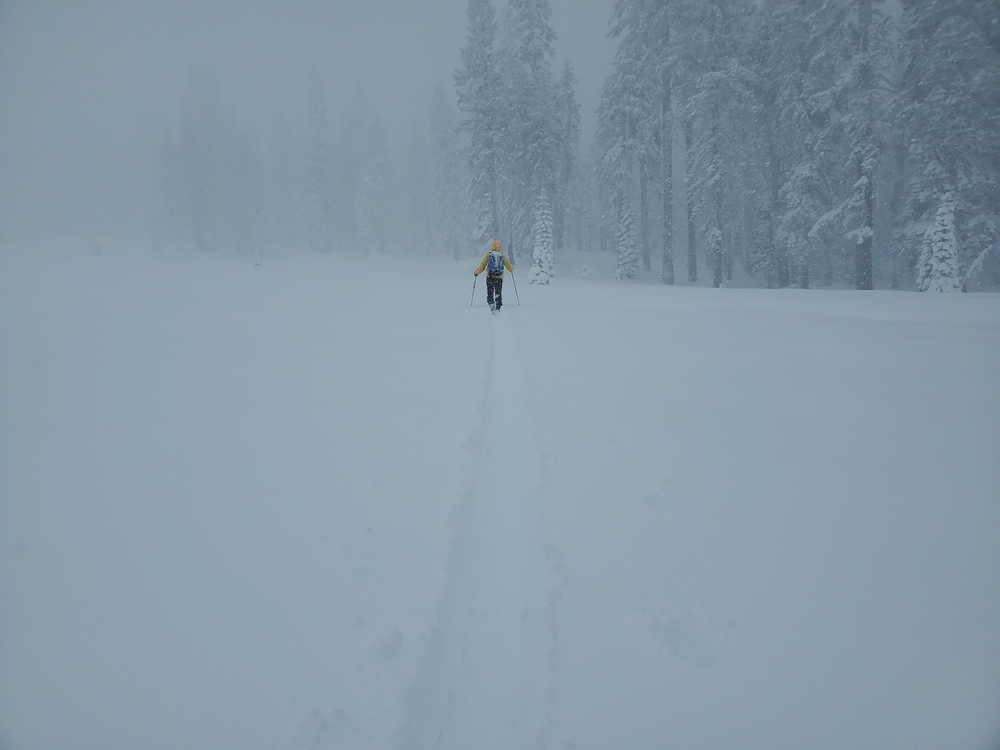 Location Name:
Gray Butte
Date and time of observation:
Mon, 12/13/2021 - 12:00pm
Observation made by:
Forecaster
Location Map
96067
Mount Shasta
,
CA
United States
41° 20' 28.7952" N, 122° 12' 7.9128" W
California US
Snowpack Observations
Details
On a tour from the Mount Shasta Ski Park to Gray Butte, we encountered 25-30 inches of storm snow that has fallen since Saturday afternoon. Although we made it to the base of Gray Butte, we were not able to see any areas of wind affect or areas where old snow existed under the new snow. Winds were light. Many hidden obstacles existed in the new snow along the way. Aside from a plethora of new snow, no obvious signs of avalanche danger were seen, though visibility was low.
New snow is low density (fist hard) throughout. A slight density change within the pack caused easy column test failures, though the slab on top was very soft and not very cohesive. There was no propagation.
The Mount Shasta Ski Park has a good base to work with and is on track for opening Friday.
Observation Location: Base of Gray Butte
Elevation:
Date: 20211213
Time: 12:00
Observer: Aaron Beverly
Sky Conditions: Obscured (X)
Current Precipitation: Type - SN, Rate - S2
Air Temperature: 24 °F
Surface Penetration: Ski penetration (PS) = 8-12 in (20-30 cm)
Total Snow Depth (HS):  25-30 in (65-75 cm)
24-hour New Snow Depth (HN24): 10 in (25 cm)
Wind Direction: SW
Wind Speed: Light (L), 1-16 mi/hr, twigs in motion
Column & Block Tests:

Slope Angle & Aspect: 25º, SW
CT8 BRK ↓ 14 in (35 cm)
Photos
Weather Observations
Statistics
Cloud Cover:
100% of the sky covered by clouds
Accumulation rate:
Greater than 1 in. per hour
Air temperature:
Below Freezing
Air temperature trend:
Static