You are here
Beginning of Storm - Gray Butte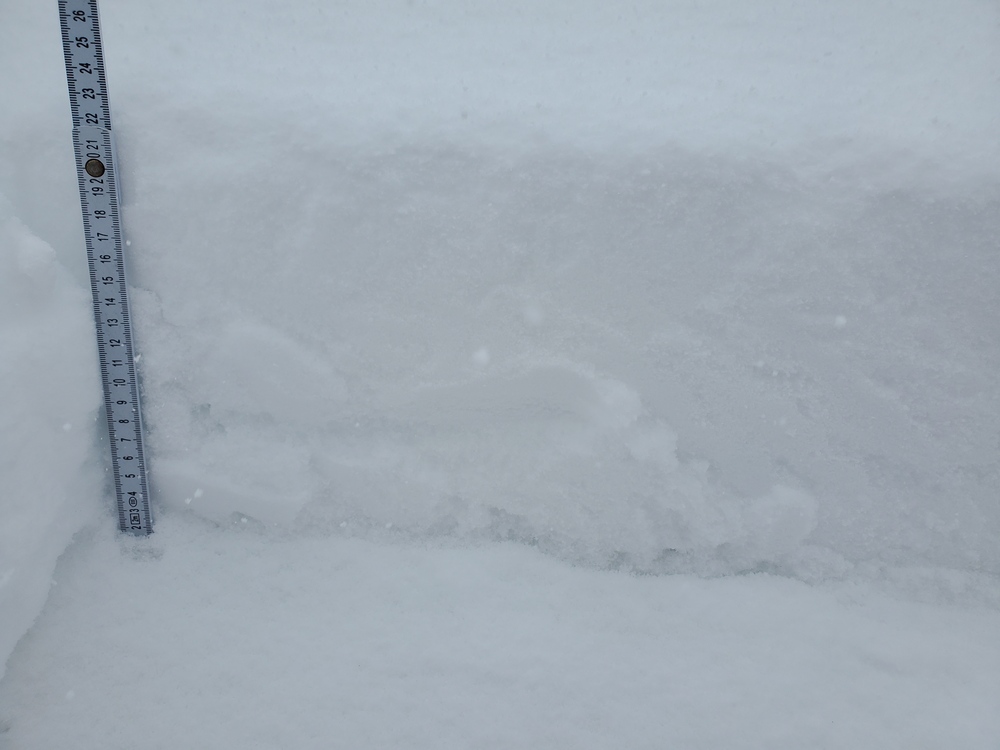 Location Name:
Gray Butte
Date and time of observation:
Mon, 03/08/2021 - 3:00pm
Observation made by:
Forecaster
Location Map
96067
Mount Shasta
,
CA
United States
41° 20' 49.812" N, 122° 11' 43.656" W
California US
Snowpack Observations
Details
On a tour up Gray Butte early in today's storm, winds were calm to light and 2-5 inches of new light snow were encountered. No wind slabs were forming. Conditions were very "sloughy". New snow was not bonded to the underlying melt-freeze crust that had formed yesterday and sloughs were easy to trigger.
Snow from Saturday's storm is thin and has an upside down configuration - a melt-freeze crust on top of light snow on top of the old, hard pre-Saturday crust. CT tests indicate a concerning weakness in the light snow between the two crusts. See photo below. More snow and weight could activate this weakness.  
Observation Location: Gray Butte
Elevation: 7.600 ft
Date: 20210308
Time: 1500
Observer: Aaron Beverly
Sky Conditions: Obscured (X)
Current Precipitation: Type - SN , Rate - S2
Air Temperature: 19 °F
Surface Penetration: Ski penetration (PS) = 2-5 in ( 5-14 cm)
Total Snow Depth (HS): 87 in (220 cm)
24-hour New Snow Depth (HN24): 5 in (14 cm)
Wind Direction: SW
Wind Speed: Light (L), 1-16 mi/hr
Column & Block Tests:

Slope Angle & Aspect: 28º, SE
ECTN4 ↓ 6 in (15 cm), ECTP20 ↓ 6 in (15 cm)
CTV SP ↓ 6 in (15 cm), CT8 SP ↓ 6 in (15 cm)
Photos
Weather Observations
Statistics
Cloud Cover:
100% of the sky covered by clouds
Accumulation rate:
Greater than 1 in. per hour
Air temperature:
Below Freezing
Air temperature trend:
Static
Wind Direction:
Southwest