You are here
Below and Near Treeline During the Storm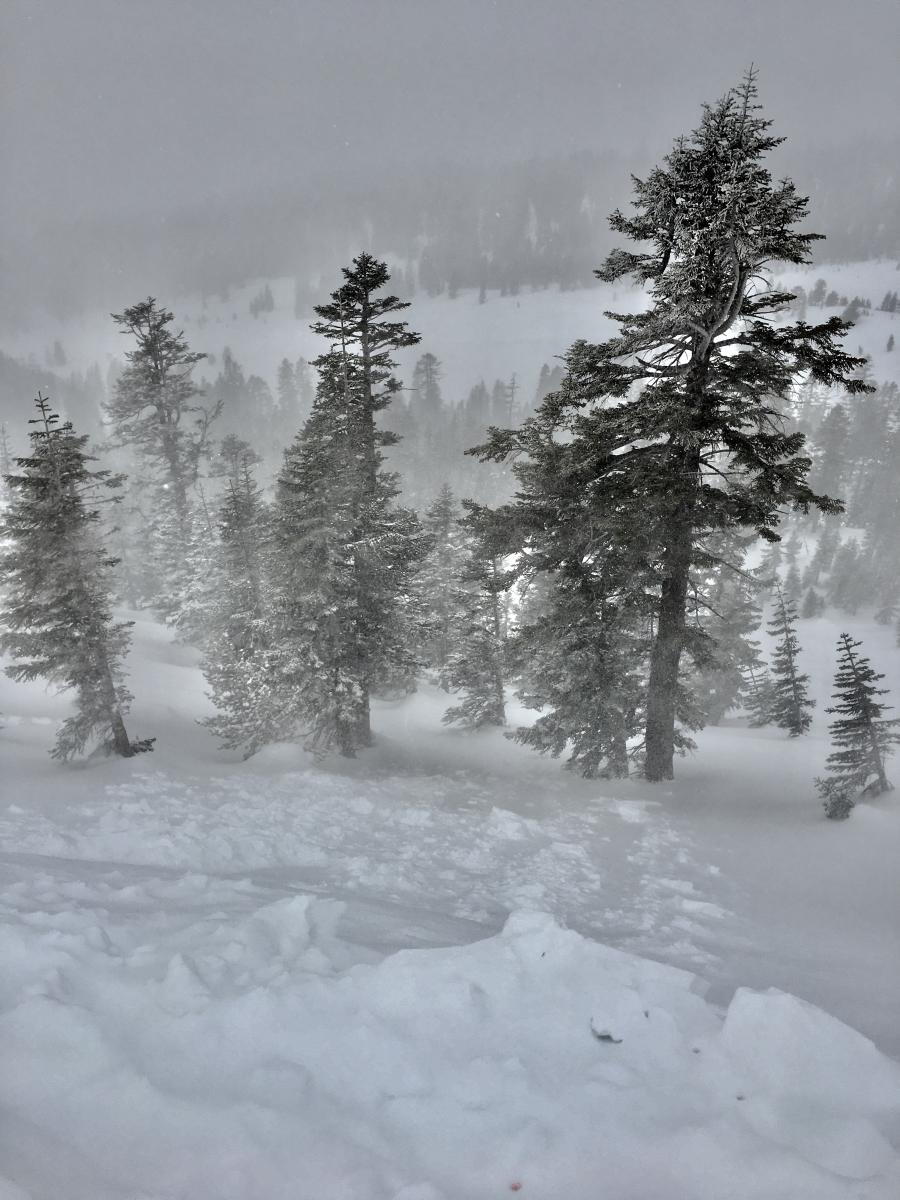 Location Name:
Mount Shasta
Date and time of observation:
Wed, 03/20/2019 - 1:30pm
Observation made by:
Forecaster
Red Flags:
Recent loading by new snow, wind, or rain
Location Map
96067
Mount Shasta
,
CA
United States
41° 21' 55.7568" N, 122° 13' 26.9004" W
California US
Snowpack Observations
Details
20190320 @ 1300 hrs -- Meyers / Norgang -- South side of Mt Shasta, below and near treeline during the storm
SKY: Obscured 100%, foggy, low visibility < .25 mile
PRECIP: Snowing lightly, <1in/hr
BLOWING SNOW: yes, below treeline in isolated, expose areas and yes near treeline in most areas
AIR TEMP: 31 degrees F
SURFACE PEN: Boot: 3-12 inches. Some areas supportable, some punchy into old snow. / Ski: 3-4". Snowpack supportable by ski or snowshoe
Height of Snowpack (HS):  132 inches at 6,800 feet (below treeline) / 169 inches at 7,900 feet (near treeline)
Height of New Snow (HN): 3-4 inches
NOTES: Snow level near 5,000 feet. Noticable accumulation 5,500 to 6,000 feet. Three to four inches of moist, new snow sits on top of a deep, isothermal snowpack. Moderate winds were blowing out of the south/southeast and loading westerly aspects. Drifts were observed up to 2 feet deep.  Non-planar fractures were possible on wet interfaces with old snow in hand pits. Small wind slabs were triggered on test slopes during hard stomping. Release was slow and progressive.
Photos
Weather Observations
Details
A small, wintery storm blew through last night and today, bringing snow levels down to about 5,000 feet and upwards of 3-4 inches of snow above 6,500 feet. The daylight hours hosted cloudy skies, rain in town and snow showers on the mountain. Despite a balmy feel in Mount Shasta City, on the big hill was quite wintery. Snow, wind and low visibility kept most at home. A few folks were shredding up the couple inches of moist refresh. A clearing trend was noticeable as precipitation faded throughout the day and patches of blue sky were visible by late afternoon. No additional new snow accumulation is expected and winds will die off.
Statistics
Cloud Cover:
100% of the sky covered by clouds
Accumulation rate:
Less than 1 in. per hour
Air temperature:
Below Freezing
Air temperature trend:
Static
Wind Direction:
Southeast