You are here
Below and Near Treeline on Mt Shasta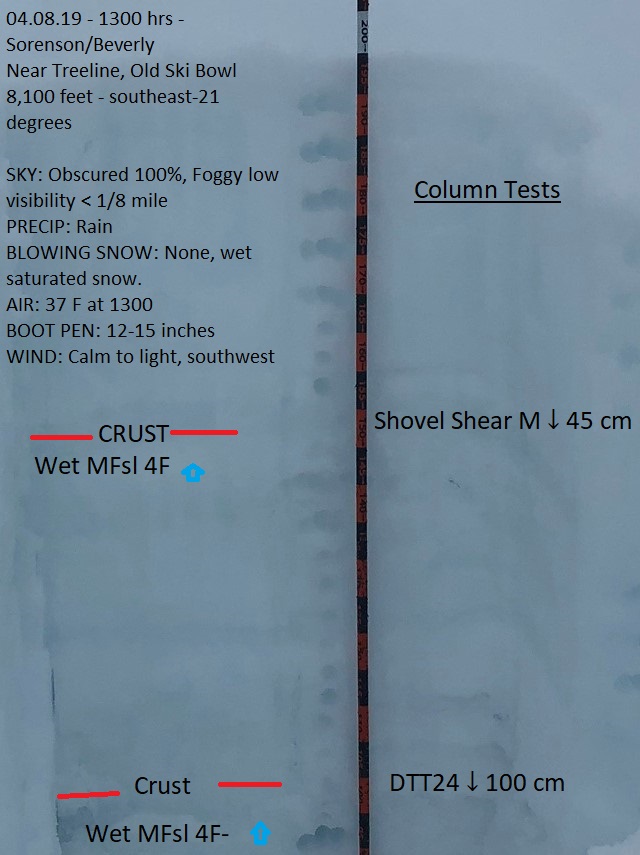 Location Name:
Mount Shasta
Date and time of observation:
Mon, 04/08/2019 - 2:00pm
Observation made by:
Forecaster
Red Flags:
Recent loading by new snow, wind, or rain
Location Map
96067
Mount Shasta
,
CA
United States
41° 21' 57.1176" N, 122° 12' 22.4604" W
California US
Snowpack Observations
Details
The recent storm to impact the Mount Shasta area has been warm, wet and rainy. Since it began early Saturday morning (04.06.2019) 3.83 inches of water has fallen as rain at 7,600 feet on Mount Shasta.  Above freezing temperatures have been recorded since noon on Saturday. An average temperature of 34 degrees F since midday on Saturday. This rain on snow has settled the snow nearly 10 inches over the last three days. 
Digging a pit on an east facing aspect near treeline in Old Ski bowl found 17 inches (45 cm) of 4F to 1F hard wet snow over a pencil hard crust. A saturated slush layer was directly under the hard crust. No results were found in a compression test however, this layer showed some potential with a moderate shovel shear test result. Another layer with a similar crust with slushy saturated snow properties was observed at 39 inches deep. This lower layer showed planar results in a deep tap test (DTT 24 ↓ 100 cm). No instabilities or avalanches were observed or reported however, very low visibility has limited all observations.  
04.08.19 - 1300 hrs - Sorenson/Beverly-Near Treeline, Old Ski Bowl-8,100 feet - southeast-21 degrees
SKY: Obscured 100%, Foggy low visibility < 1/8 mile
PRECIP: Rain
BLOWING SNOW: None, wet saturated snow.
AIR: 37 F at 1300
BOOT PEN: 12-15 inches
WIND: Calm to light, southwest
Notable column tests: Sovel Shear test M ↓ 17 inches (45 cm), DTT 24 ↓ 39 inches (100 cm)
Photos
Weather Observations
Statistics
Cloud Cover:
100% of the sky covered by clouds
Accumulation rate:
Less than 1 in. per hour
Air temperature:
Above Freezing
Air temperature trend:
Warming
Wind Direction:
Southwest