You are here
Blizzard conditions in the Eddy Mountains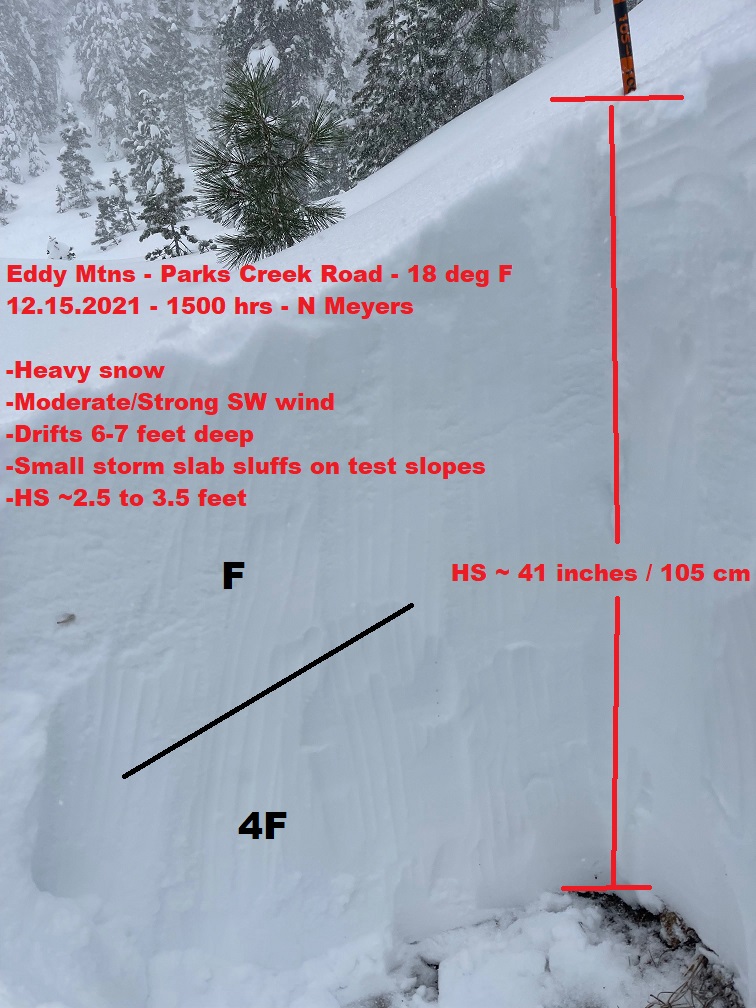 Location Name:
Parks Creek Road
Date and time of observation:
Wed, 12/15/2021 - 2:30pm
Observation made by:
Forecaster
Red Flags:
Recent loading by new snow, wind, or rain
Location Map
96067
Mount Shasta
,
CA
United States
41° 22' 3.8712" N, 122° 32' 48.9984" W
California US
Snowpack Observations
Details
A wildly windy day with whiteout conditions at times. Took an afternoon snowmobile tour up Parks Creek road to 6,500 feet.  FS road 27 unplowed, was able to drive 1.4 miles up to first major switchback to park, wouldn't recommend it as more snow accumulates. Snow fell all day with strong SW wind. Wind effect on the snowpack was evident near and above treeline. Snow accumulation was rapid, greater than 1 inch per hour at times. An average of 30-45 inches of snow (HS) was measured at 6,500 feet. Wind drifts were encountered 6-7 feet deep. The entire snowpack in the Eddies is fist to four finger hardness. I stepped off my snowmobile and sunk to the ground. Visibility and travel in the backcountry very difficult. Unable to access any other terrain, but avalanche hazard was considerable to high.
The Eddies snowpack is ripe for blasting an A-arm on a snowmobile or taking a stump to the leg. Be careful. Prior to this storm, the snowpack was little to none. Give the snow a little time to settle, both for avalanche concerns and hidden obstacles to hibernate.
Observation Location: Parks Creek Road
Elevation: 6,500 feet
Date: 2021.12.15
Time: 1430
Observer: N Meyers
Sky Conditions: Obscured (X)
Current Precipitation: Yes, snow all day, ~1"/hour - SN - S2/S5 
Air Temperature: 18 °F
Surface Penetration: boot penetration (PF) = 35 in (85 cm)
Total Snow Depth (HS): 35 in (85 cm)
24-hour New Snow Depth (HN24): 11-13 in (27-33 cm)
24-hour New Snow Water Equivalent (HN24W): n/a
Wind Direction: SW overall, with locally terrain driven winds out of other directions.
Wind Speed: Moderate (M), 17-25 mi/hr, small trees sway
Photos
Weather Observations
Statistics
Cloud Cover:
100% of the sky covered by clouds
Accumulation rate:
Greater than 1 in. per hour
Air temperature:
Below Freezing
Air temperature trend:
Static
Wind Direction:
Southwest