You are here
Bunny Flat and Old Ski Bowl visit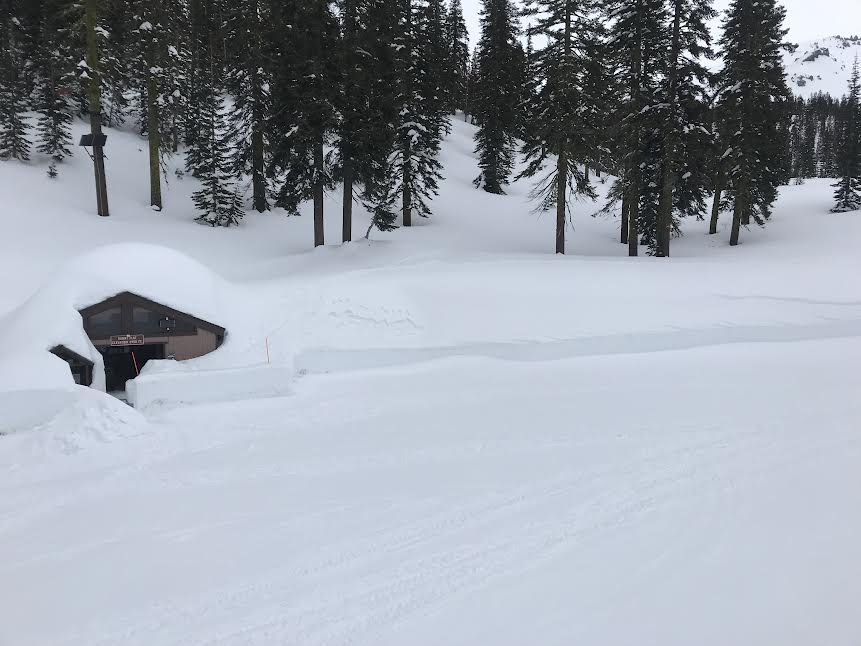 Location Name:
Old Ski Bowl
Date and time of observation:
Mon, 03/27/2023 - 11:39pm
Observation made by:
Forecaster
Location Map
96067
Mount Shasta
,
CA
United States
41° 22' 28.488" N, 122° 11' 46.8852" W
California US
Snowpack Observations
Details
Today Sam and I set out to check on the Old Ski Bowl weather station, observe the progress of snow removal at Bunny Flat, and survey snow conditions near and above treeline on Mount Shasta. 
Darkening skies with increasing cloud cover and flat light was the theme of the day. Temperatures were chilly and remained below freezing. The wind blew from a south and southeast direction and was surprisingly calm with light gusts near and above treeline. Off in the distance we observed wind ripping over the top of Mount Eddy blowing large amounts of snow. However, we did not witness any blowing snow near or above treeline on Mount Shasta. This observation indicates that there are likely sub-regional differences occurring. The snow conditions drastically improved near 6,500 feet. Protected areas held 3 – 5 inches of soft unaffected snow while more exposed areas presented a thin zipper crust which was easy to punch through to softer snow beneath. The higher we ventured, the more variable the snow conditions became. Wind effect is still very prevalent in the alpine and the majority of surfaces held either a light amount of snow on crust, or firm wind textured snow. No signs of instabilities were observed.  
Upon visiting Bunny Flat, we were impressed with the amount of work that has been done thus far. The parking area is almost clear with a one-lane road leading in and out. Obviously, more work still needs to be done and with more snow on the way, this will only make the job more difficult. Snow removal crews are trying their best as they continue to deal with breaking equipment. The Old Ski Bowl weather station still has its head above the surface as of now. 
Observation Location: Saint Germane Bowl
Elevation: 9,200 feet 
Date: 2023.03.27
Time: 1130
Observer:E.Falconer S.Clairmont 
Sky Conditions:  Overcast (OVC) 
Current Precipitation: Type - NO
Air Temperature: 20 °F
Surface Penetration: Snowmobile penetration (PS) = [?] in ( cm), boot penetration (PF) = [?] in ([?] cm)
Total Snow Depth (HS): [?] in ([?] cm)
Wind Direction: S, SE
Wind Speed: [Calm (C), 0 mi/hr | Light (L), 1-16 mi/hr, twigs in motion
Photos
Weather Observations
Statistics
Cloud Cover:
100% of the sky covered by clouds
Air temperature:
Below Freezing
Air temperature trend:
Cooling