You are here
Bunny Flat - Old Ski Bowl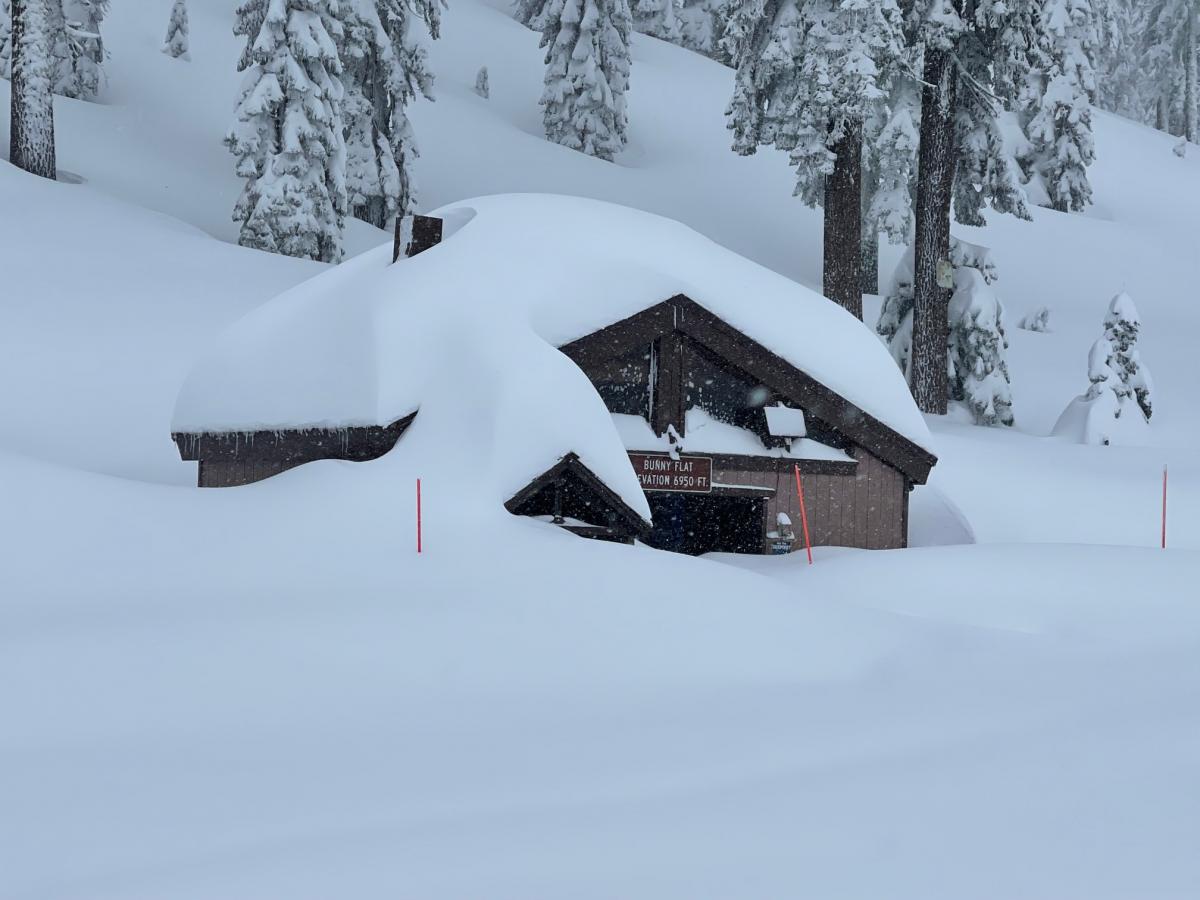 Location Name:
Mount Shasta
Date and time of observation:
Wed, 01/11/2023 - 2:30pm
Observation made by:
Forecaster
Red Flags:
Recent loading by new snow, wind, or rain
Location Map
96067
Mount Shasta
,
CA
United States
41° 21' 52.0344" N, 122° 12' 23.0832" W
California US
Snowpack Observations
Details
01.11.23 - The Everitt Memorial Highway remains closed. Took power line to Old Ski Bowl via snow machine route from town. Today was a repeat of yesterday...only the snow keeps getting deeper. Really deep. Experts only snowmobiling. Thigh to waist deep if you're not on a snowmobile, skis or snowshoes. Another stormy day with poor, flat visibility and a slow but steady trickle of precipitation, with most accumulation above 6,000 feet. The day had a similar feel to the day prior. Red flags of avalanche danger were subtle below and near treeline. Fresh storm snow struggled to slab up below treeline, and I didn't notice any snow behaving badly. Near treeline at 8,000 feet on an easterly aspect, standard ECT and CT stability tests did not produce failures, but a careful "burp-the-baby" test highlighted a density weakness 25 cm from the top of the snowpack. (see photo) This weakness was likely the break in between the two systems of the past 48 hours. Observations from above treeline were impossible due to whiteout conditions. A few glimpses caught view of ample spin drift off ridges. Predominant wind direction has been out of the south/southeast. South wind mean over the past 24 hours is 10 mi/hr (Gray Butte wx station). Areas with wind near and above treeline hosted the best slab properties and represented the highest avalanche risk for the day.
Observation Location: Bunny Flat / Old Ski Bowl
Elevation: Town to 8,000 feet
Date: 20230111
Time: 1500 hours
Observer: Meyers
Sky Conditions: Obscured (X)]
Current Precipitation: Type - SN, Rate - S-1 
Air Temperature: 24 °F
Surface Penetration: Boot penetration (PF) = 2-3 feet
Total Snow Depth (HS): 139 in (OSB wx station)
24-hour New Snow Depth (HN24): 3-6 in 
24-hour New Snow Water Equivalent (HN24W):  0.73 in ([?] cm)
Wind Direction: S 
Wind Speed: [Calm (C), 0 mi/hr | Light (L), 1-16 mi/hr, twigs in motion
Column & Block Tests:

ECTX / CTN
Burb the Baby - weakness at density change, 25 cm down
Photos
Weather Observations
Details
Weather Data - Past 24 hours - Gray Butte/Old Ski Bowl combined: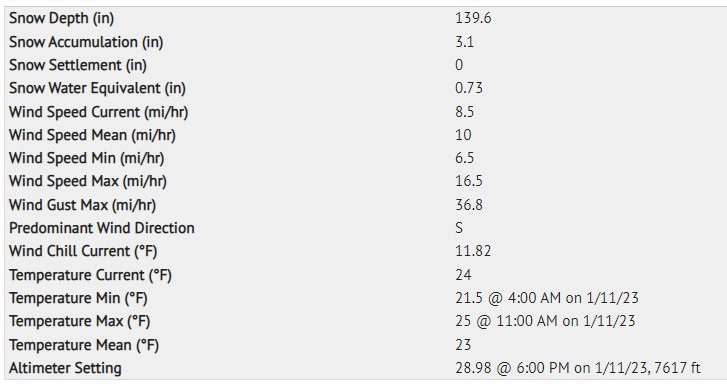 Statistics
Cloud Cover:
100% of the sky covered by clouds
Accumulation rate:
Less than 1 in. per hour
Air temperature:
Below Freezing
Air temperature trend:
Warming