You are here
Bunny Flat / Old Ski Bowl during the storm...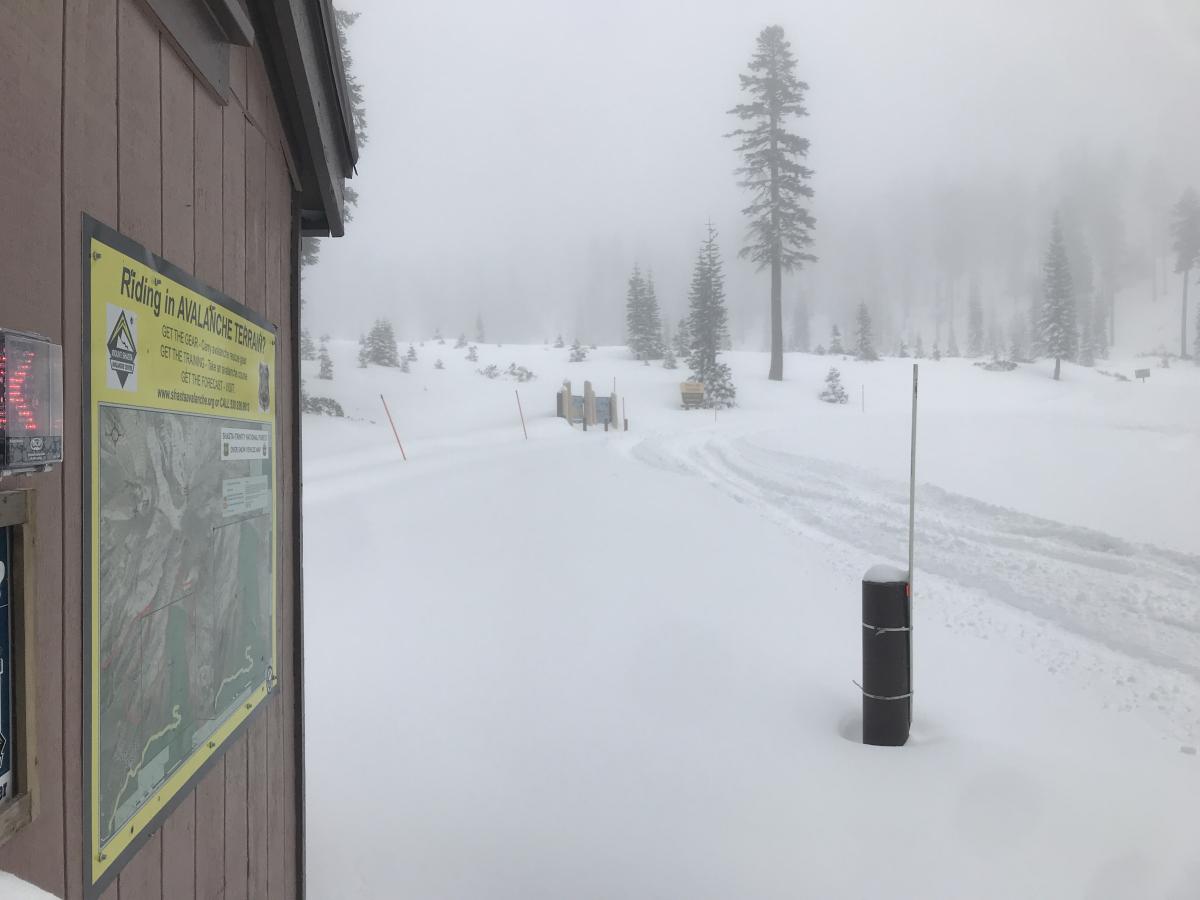 Location Name:
Bunny Flat / Old Ski Bowl during the storm...
Date and time of observation:
Thu, 03/01/2018 - 9:30pm
Observation made by:
Forecaster
Red Flags:
Recent loading by new snow, wind, or rain
Location Map
96067
Mount Shasta
,
CA
United States
41° 21' 32.9328" N, 122° 12' 20.6136" W
California US
Snowpack Observations
Details
The Everitt Memorial Highway and Castle Lake roads are closed as of yesterday afternoon.
Snowmobile allowed access up the 31 road to the powerline road, and up to Bunny Flat and the Old Ski Bowl
Snow measured at 1300-1400 hours: Bear Springs, 5,500 feet - 14" on bare ground / Bunny Flat, 6,950 feet - 17 inches / Old Ski Bowl, 8,000 feet - 21 inches.
Visibility was very poor with periods of light to moderate snow. Strong, gusty winds observed near and above treeline.
Warming period during the day made for moist surface snow below 6,500 feet. Above, snow was dryer. Temperature at Bunny Flat was 25 deg F at 1345 hrs.
Most new snow below 6,500 feet sits on bare ground.
Unable to observe above treeline terrain due to whiteout conditions. One report from local sledders observed "giant wind formations".
Stability tests at a 8,100 foot, low angle test pit location revealed nothing notable. New snow is right side up. Observed two density changes at 30cm and 45cm down from surface. Any layers of concern for storm or wind slab avalanches will lie within new snow or at old snow/new snow interface.
From the Mt Shasta Ski Park: 18-24 inches of loaded snow on top of an ice bed layer crusted with dirt on the east side of Coyote. The cornice is developing and more wind exposed areas are forming a firm slab. Winds variable, 15-45 mi/hr, SW. Temp: 25 def F at 1045 hrs.
Photos
Weather Observations
Details
very poor visibility, < 200 yards
gusty, moderate to high winds near treeline
periods of snow
Statistics
Cloud Cover:
100% of the sky covered by clouds
Accumulation rate:
Less than 1 in. per hour
Air temperature:
Below Freezing
Air temperature trend:
Cooling
Wind Direction:
Southwest