You are here
California Cooperative Snow Survey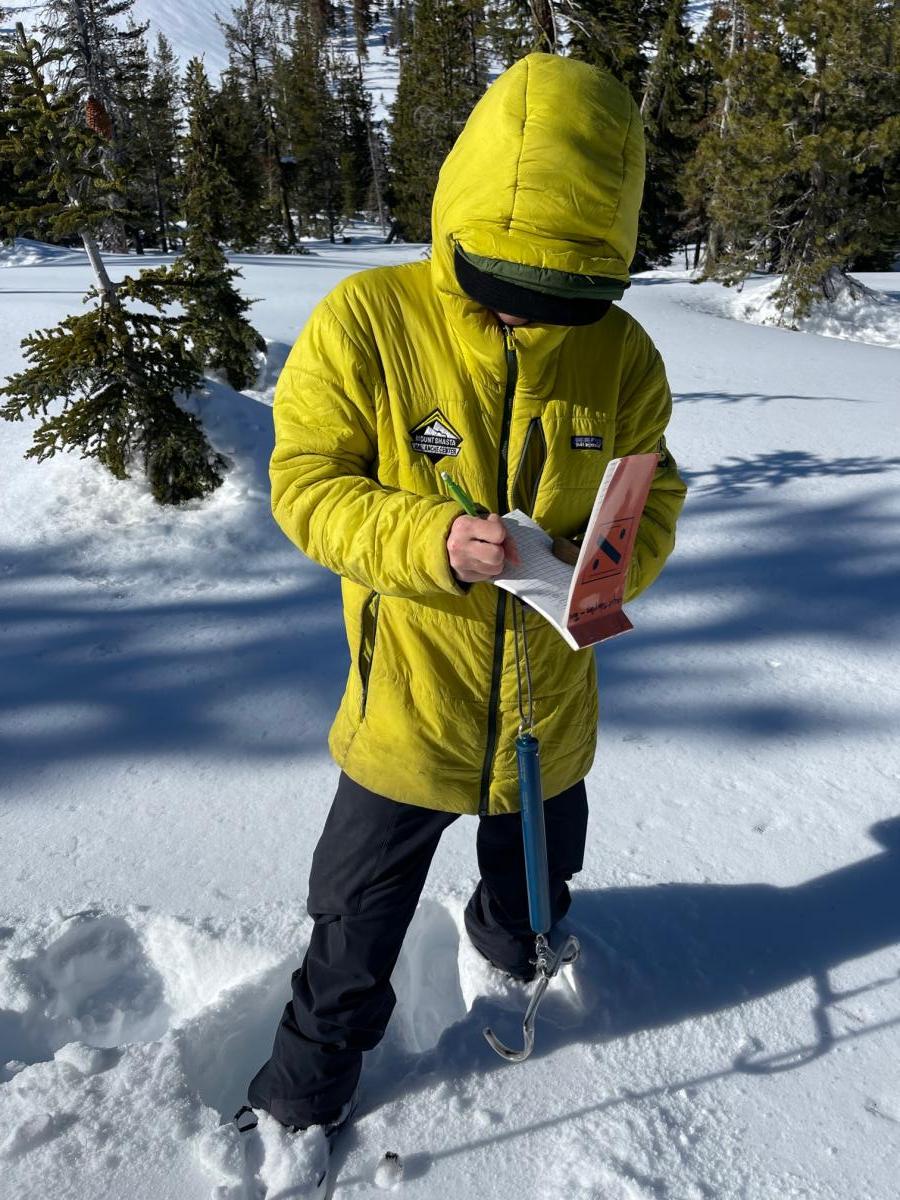 Location Name:
Shasta - Trinity National Forest
Date and time of observation:
Sat, 01/28/2023 - 1:30pm
Observation made by:
Forecaster
Location Map
96067
Mount Shasta
,
CA
United States
41° 12' 55.0008" N, 122° 25' 2.0748" W
California US
Snowpack Observations
Details
It's that time of year again for the California Cooperative Snow Surveys (CCSS). The CCSS program provides mountain snowpack data and streamflow forecasts for the western United States. It is a partnership of more than 50 state, federal and private agencies. The agencies share a pool of expert staff and program funding, which collects, analyzes and disseminates snow data from more than 265 snow courses and 130 snow sensors located throughout the Sierra Nevada and Shasta-Trinity mountains. Common applications of snow survey products include water supply management, flood control, climate modeling, recreation and conservation planning.

The past two days, Forest Service avalanche center staff has conducted surveys at Deadfall (Trinity drainage) and Gray Rocks (Sacramento drainage) courses. Average snow depths observed: 79 and 129 inches, respectively. Snow surfaces frequently changed from soft, near surface facets (quite nice for skiing; fleeting) -- to breakable wind board and sun crust -- to rock hard wind slabs. Temps were a few degrees above freezing and the wind was mostly calm today; yesterday a stiff north wind blew. Coverage is good. Most small streams are snow bridged. Other courses sampled include Parks, Sweetwater, Sand Flat, Horse Camp and Brewer to name a few. Many more courses exist.  
No red flags of avalanche danger presented.
The FS 26 road (south fork Sac) is heavily impacted by 4x4 jeeping in the snow, leaving deeply trenched, icy tracks for miles. Snowmobiling is possible, but adventurous.
________________________________________
Observation Location: Gray Rock Lake
Elevation: 6,200 feet
Date: 20230128
Time: 1300
Observer: Meyers / Clairmont
Sky Conditions: Clear (CLR) 
Current Precipitation: none
Air Temperature: 34 °F
Surface Penetration: Ski penetration (PS) = 0-3 inches, boot penetration (PF) = 3-6 inches 
Total Snow Depth (HS): Gray Rocks - 129 inches / Deadfall Lakes - 79 inches 
24-hour New Snow Depth (HN24): none
24-hour New Snow Water Equivalent (HN24W): none
Wind Direction: SE | S 
Wind Speed: Calm (C), 0 mi/hr 
Photos
Weather Observations
Details
Past 24-hour weather data from nearby Castle Lake weather station:
Temp: Min - 23 / Max - 36 / Avg - 29
Snow depth: sensor down
Statistics
Air temperature:
Above Freezing
Air temperature trend:
Cooling
Wind Direction:
Southeast