You are here
Castle Lake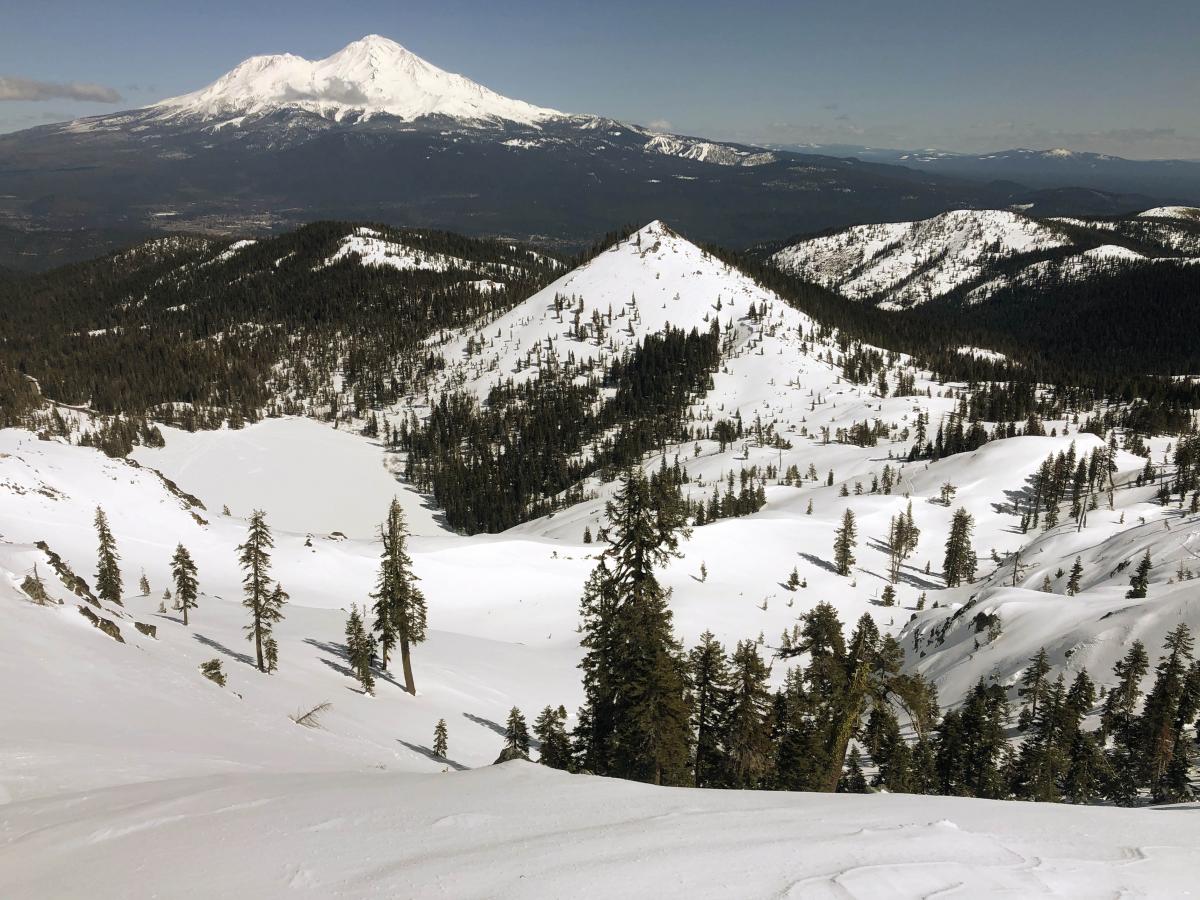 Location Name:
Castle Lake
Date and time of observation:
Tue, 03/23/2021 - 11:30am
Observation made by:
Forecaster
Snowpack Observations
Details
Snow surfaces are smooth at Castle Lake, and the northerly winds and cool temperatures kept it firm today. We toured around the cirque assessing stability, availability of snow for transport, and the amount of softening and surface melt occurring. The first thing we noticed was the large overhanging cornices hanging over Middle Peak. We quickly realized that these were hard as a rock, but they are something to be aware of on a warmer day. Our skies barely penetrated the icy surfaces, and there was little to no available snow for transport, but pellets of ice were being blown during hard gusts. We found relief when we skinned over to the direct south face of Right Peak. Protected slopes facing direct south hosted softening conditions. Our snowpack is still in a state of transition, and the cycle has just begun, but surfaces are smooth, and with the consistent freeze-thaw forecast this week, it won't take long for the corn to ripen. 
Observation Location: Castle Lake
Elevation: 5400 to 6600 feet
Date: 20210323
Time: 1100-1330
Observer: Sorenson and Beverly 
Sky Conditions: Clear (CLR) - Scattered clouds before 10 a.m. 
Current Precipitation: NO
Air Temperature: 32°F
Surface Penetration: Ski penetration (PS) = 0-3 in (0-5 cm)
Wind Direction: Northeast
Wind Speed: Moderate (M), 17-25 mi/hr, small trees sway, Strong gusts
Photos
Weather Observations
Details
Lingering clouds hung over the mountains this morning. A stiff northerly wind blew these away around 10 a.m. Sunny skies warmed temps to the mid-30s F this afternoon. 
Statistics
Air temperature:
Above Freezing
Air temperature trend:
Warming
Wind Direction:
Northeast