You are here
Castle Lake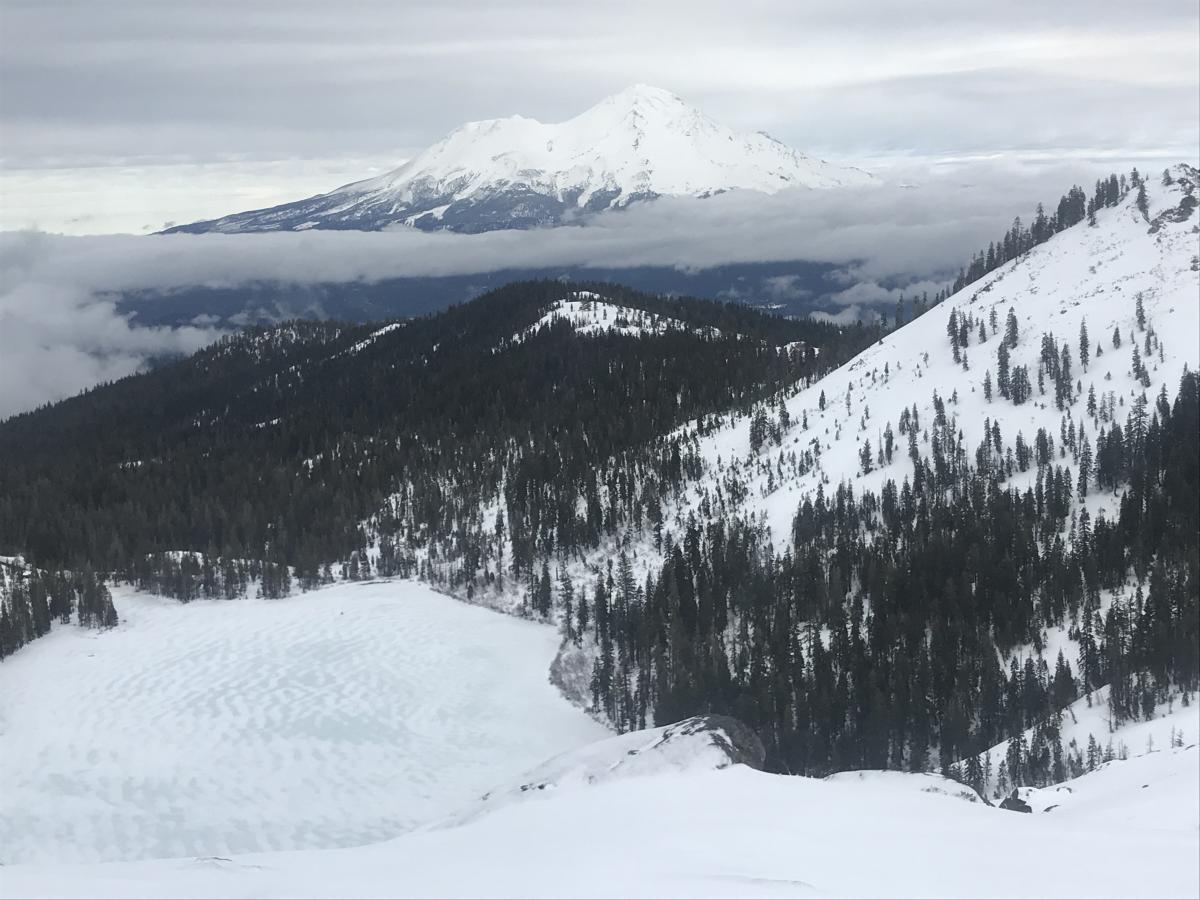 Location Name:
Middle Peak, Castle Lake
Date and time of observation:
Fri, 01/24/2020 - 1:30pm
Observation made by:
Forecaster
Location Map
96067
Mount Shasta
,
CA
United States
41° 13' 22.9656" N, 122° 23' 15.27" W
California US
Snowpack Observations
Details
DATE: 20200124

TIME: 1330

OBSERVER: Meyers/Miller

LOCATION: Castle Lake area

SKY CONDITION: Mostly obscured, in and out of low clouds/fog, brief clearings

PRECIPITATION TYPE/RATE: none

BLOWING SNOW: no

AIR TEMPERATURE: 34 deg F

SURFACE PENETRABILITY: Ski - 1" to 6" (2.5 to 15 cm) / Boot - 5" to 15" (12 to 35 cm)

HEIGHT OF SNOWPACK (HS): 2' to 4' (60 to 121 cm)

HEIGHT OF NEW SNOW (HN): 0" (rain on snow)

WIND: Light / Southerly

NOTES:  You couldn't buy an avalanche today, however large cornices remain along the ridgeline of Middle Peak. Approximately .3 to .4 inches of rain fell on the snowpack the night prior, saturating the upper portion of the snowpack. Punchy snow was encountered up to about 5,600 feet. Above, more supportable snow surfaces with occasional soft spots. Minor roller balls, a few broke off cornices and an old slab avalanche that had slid onto the back portion of the lake were observed. A lot of settlement has taken place due to rain on snow. The lake is soft and slushy, but supportable. We skied back across the lake after a clockwise circumnavigation of the lake via Middle Peak. Visibility was poor most of the time with brief donut holes. A cloud deck hovered near 6,000 feet. The day was warm and mild, light wind and the snow skied decently until it got punchy lower on the slopes. 
A group of skiers on Mount Shasta reported chilly temps, wind and blowing snow with up to 6 inches of new snow above treeline in alpine terrain, a drastically different scenario than encountered at Castle Lake today.
Photos
Weather Observations
Statistics
Cloud Cover:
75% of the sky covered by clouds
Air temperature:
Above Freezing
Air temperature trend:
Warming