You are here
Castle Lake Area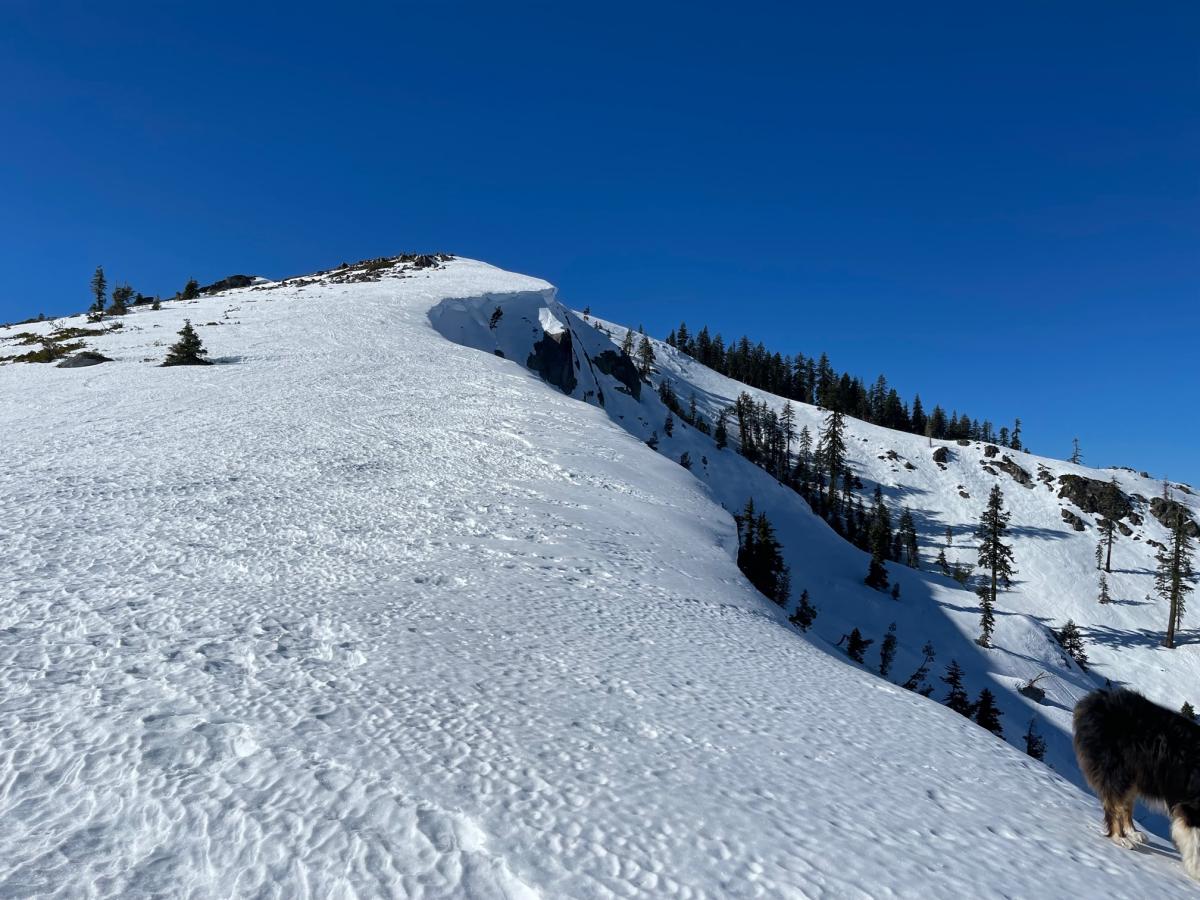 Location Name:
Castle Lake
Date and time of observation:
Thu, 01/27/2022 - 11:30am
Observation made by:
Forecaster
Location Map
96067
Mount Shasta
,
CA
United States
41° 13' 13.7172" N, 122° 22' 43.3596" W
California US
Snowpack Observations
Details
A wandering tour of the Castle Lake area. Today's intention was to have a look at the upper snowpack faceting on wind protected NW-N-NE aspects near and below treeline. Soft, sugary snow (facets) were observed in a handful of cold, shady locations. This snow is about 1-3 inches thick and on the top of the snowpack (see video). Not an issue now, tomorrow or the near future, but should we ever get snow again, it is a weak layer to keep an eye on. Most terrain above treeline has been scoured to crusts by weeks of strong wind. Snow surface texture is widespread. A few old cornices were observed broken off Middle Peak and have tumbled down the slope below. Sun warmed slopes on Right Peak were soft and enjoyable by midday. Watch for manzan-eaters! The lake is frozen and supportable, bathrooms are open, picnic tables available next to the lake. The road is in good shape.  No tracks or activity was observed on Left Peak. 

Signs of avalanche danger were nil. Signs of slide-for-life, slip/fall conditions on steep, icy slopes...yes! Ski crampons will be useful during the morning hours. Any hikers heading to Heart Lake with boots, micro-spikes or yak-traks are nice to have, but not essential.
Observation Location: Castle Lake
Elevation: ~6,000 feet
Date: 20220127
Time: 1130 hrs
Observer: N Meyers
Sky Conditions: Clear (CLR) 
Current Precipitation: Type - NO
Air Temperature: 40 °F at 1130 hours / 44 °F at 1400 hours / Low temp of 33 °F in the last 24 hours
Surface Penetration: Ski and boot penetration - 0 in
Total Snow Depth (HS): ~37.5 in
24-hour New Snow Depth (HN24): none
24-hour New Snow Water Equivalent (HN24W): none
Wind Direction: NE 
Wind Speed: Light (L), 1-16 mi/hr, twigs in motion
Photos
Videos
Weather Observations
Details
Big blue sky, sunny, warm. Calm to light NE wind felt along ridges. A mild, mellow day, very tranquilo. Today's stats below from the Castle Lake weather station.
Statistics
Air temperature:
Above Freezing
Air temperature trend:
Cooling
Wind Direction:
Northeast