You are here
Castle Lake Snowpack Observations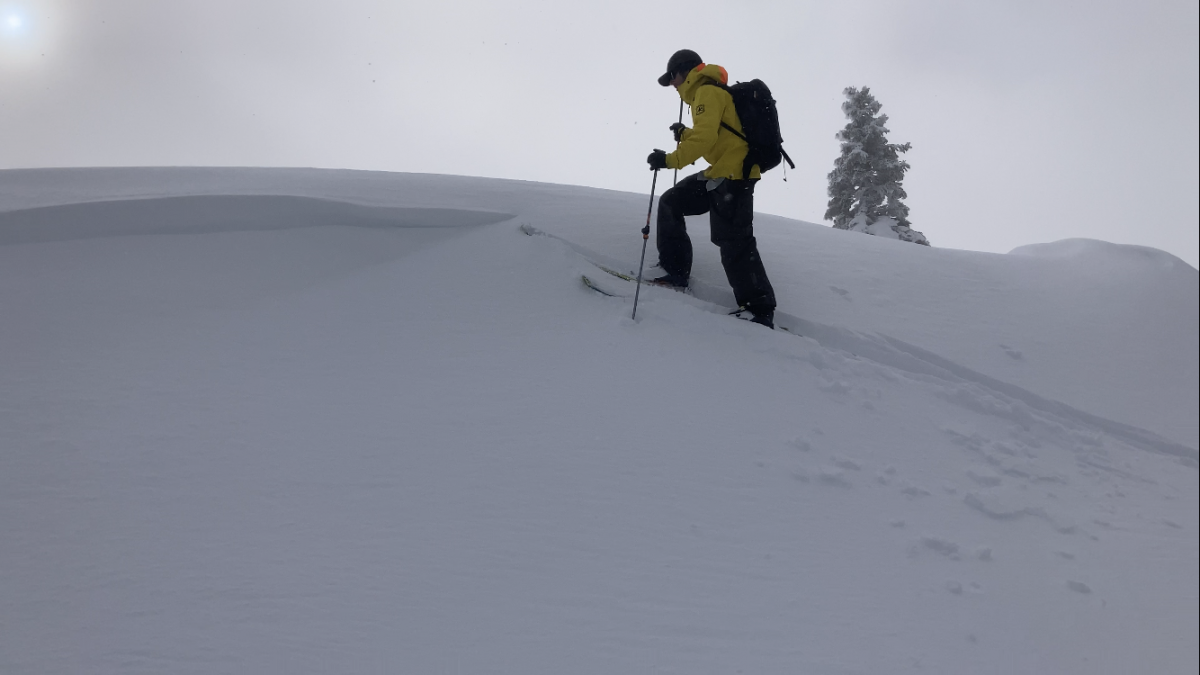 Location Name:
Middle Peak
Date and time of observation:
Fri, 01/07/2022 - 11:00am
Observation made by:
Forecaster
Location Map
96067
Mount Shasta
,
CA
United States
41° 13' 12.6552" N, 122° 23' 11.0148" W
California US
Snowpack Observations
Details
A Middle Peak tour in the Castle Lake area today. High pressure is building for the future, but we received a nice refresher from the small storm today. Most of the 2-4 inches of new snow came down during the early AM hours on 1/7 and into the noon hour. Visibility was poor most of the time during our tour. Below treeline, loose wet slides were easily triggered from ski cuts. This avalanche problem was a bit of a surprise as temperatures have been below freezing. Near and above treeline, the westerly wind became known. Moderate wind speeds were doing a good job moving snow onto easterly aspects, and crossing loading NW-SW aspects. Cornices and small wind slabs were reactive to human weight, but none big enough to pose a life threat. As wind continues, we advise using caution in steep, extreme terrain with wind loading. Even a small slab can cause a long fall, sometimes into terrain of consequence. Perhaps the most notable avalanche problem today was the loose wet slides below treeline. The new snow greased off the old easily, and entrained enough snow while sliding down the slope to potentially knock a rider off their feet. This problem is likely short-lived. 
The lake is frozen and supportable for foot and ski traffic. One ice fisherman was giving it a go. The ice is ~1 foot thick with snow on top. The road is open, plowed and in good shape. 1.7.22
Observation Location: Middle Peak, Castle Lake Area
Elevation: ~6,000 ft
Date: 20220107
Time: 1100
Observer: Meyers, Lazzeri
Sky Conditions: Obscured (X)
Current Precipitation: S1
Air Temperature: 32 °F
Surface Penetration: Not measured
Total Snow Depth (HS): 44 inches
24-hour New Snow Depth (HN24): 2-4 inches
24-hour New Snow Water Equivalent (HN24W): Not measured
Wind Direction: West
Wind Speed: Moderate (M), 17-25 mi/hr, small trees sway
Column & Block Tests: Reactive cornices. Reactive W/L ski cuts below treeline. Stubborn to reactive shallow wind slabs near and above treeline.
Photos
Videos
Weather Observations
Statistics
Cloud Cover:
100% of the sky covered by clouds
Accumulation rate:
Less than 1 in. per hour
Air temperature:
Below Freezing
Air temperature trend:
Cooling