You are here
Castle Lake in the Storm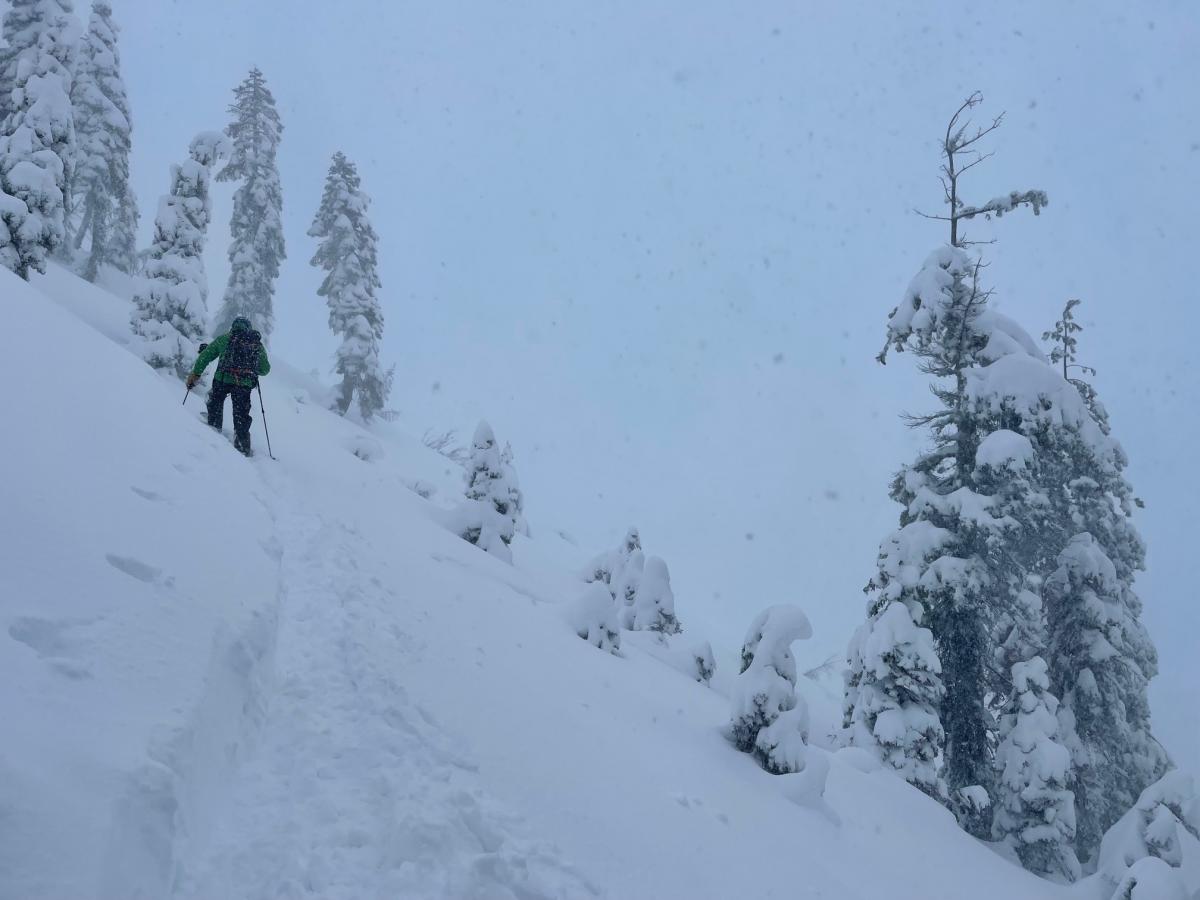 Location Name:
Castle Lake
Date and time of observation:
Thu, 12/08/2022 - 4:00pm
Observation made by:
Forecaster
Red Flags:
Whumphing noises, shooting cracks, or collapsing
Recent loading by new snow, wind, or rain
Location Map
96067
Mount Shasta
,
CA
United States
41° 13' 41.0412" N, 122° 22' 33.8988" W
California US
Snowpack Observations
Details
Today was a wild, stormy day at Castle Lake. Intentions were to observe the storm in action. Storm slab and wind slab avalanche problems were listed on the morning forecast with considerable danger. There are days when red flags of avalanche danger are flashing neon signs, and today was one of those days. 

My tour up Left Peak began in early afternoon. The storm began in earnest about 11 AM. By early afternoon, it was settling in. Snow accumulation was rapid. Skin tracks filled in within an hour. Any wind affected terrain would result in shooting cracks under foot while skinning up. Small wind and storm slabs on inconsequential test slopes could be triggered with ease. The primary instability today existed in the top layers of the snowpack near treeline.

I dug a pit on a north aspect at 6,100 feet, Left Peak. We've been monitoring the basal facet layer over the past week (sugary snow at base of snowpack) and this was my focus in the snow pit. Stability tests still were able to produce failures, but it's becoming harder to do so. The most unstable tests, a couple of propagation saw tests, produced 20/100 (Arrest) results. Extended column tests were unreactive. Compression tests (CT28) were hard to initiate failure. A couple deep tap tests (intended to test deep, weak layers that are difficult to assess with other column and block tests) resulted in moderate force causing non-planar, irregular fractures. All tests failing on this weak layer produced mostly non-planar, irregular fractures. Triggering an avalanche on this weak layer would be difficult, but large, one of those low risk/high consequence events. We will continue to monitor, especially with a heavy snow load being added to the snowpack in the coming days.

Overall, visibility was very poor. Observations were limited to Left Peak only today.
Observation Location: Castle Lake - Left Peak
Elevation: 6,100 feet
Date: 12.8.2022
Time: 1500
Observer: N Meyers
Sky Conditions: Obscured (X)
Current Precipitation: Type: SN, Rate: S2 - S5
Air Temperature: [?] °F
Surface Penetration: Ski penetration (PS) = 12 in/30 cm, boot penetration (PF) = 25 in/60 cm
Total Snow Depth (HS): 45 in (114 cm)
24-hour New Snow Depth (HN24): 2-4 in (5-10 cm)
24-hour New Snow Water Equivalent (HN24W): 0.63" (Measured at Old Ski Bowl on Mt Shasta)
Wind Direction: S | SW 
Wind Speed: Moderate (M), 17-25 mi/hr, small trees sway  
Column & Block Tests:

Slope Angle & Aspect 36º, N  
ECTX
CT28-SC ↓ 30 in (76 cm)
PST 20/100 (Arr)
DT - Easy - Q2
Photos
Videos
Weather Observations
Statistics
Cloud Cover:
100% of the sky covered by clouds
Accumulation rate:
Greater than 1 in. per hour
Air temperature:
Below Freezing
Air temperature trend:
Cooling
Wind Direction:
Southwest