You are here
Castle Lake Visit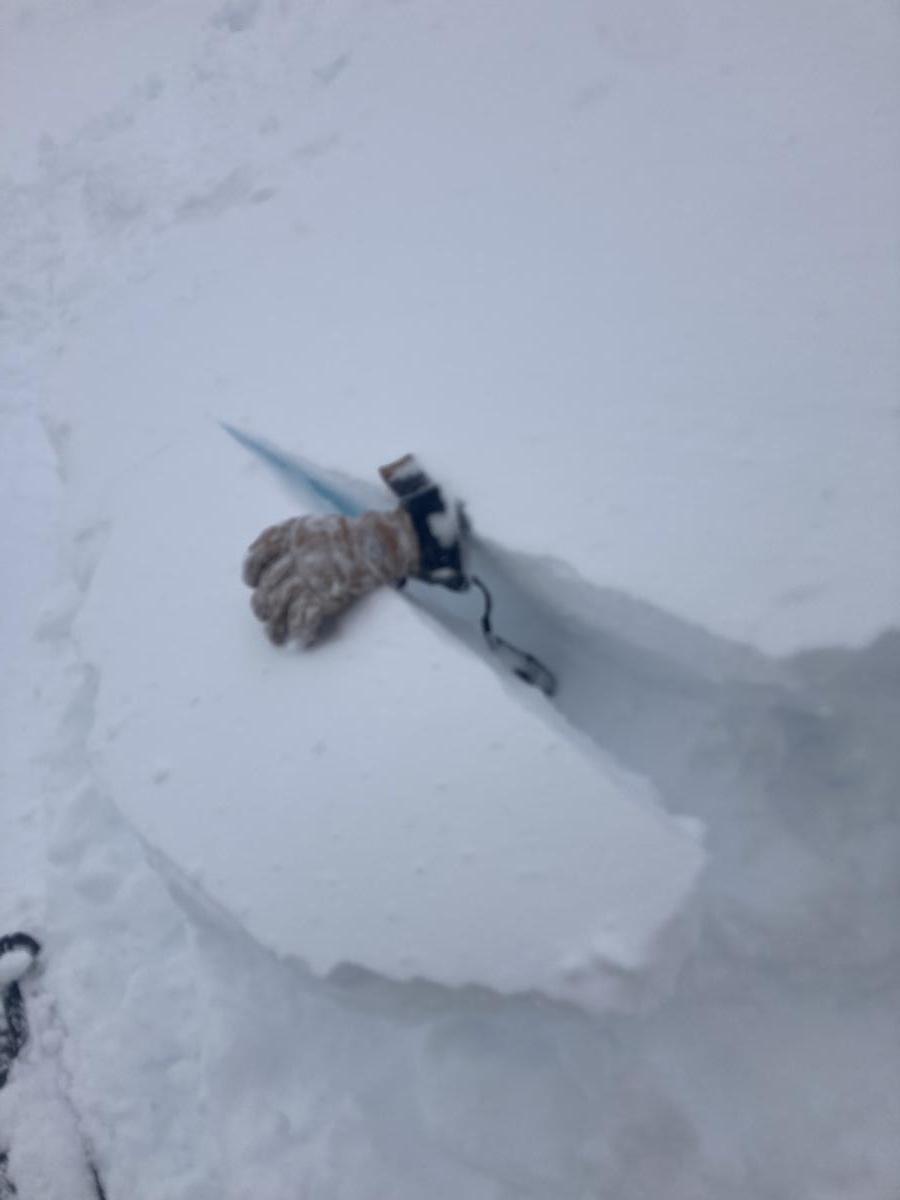 Location Name:
Castle Lake
Date and time of observation:
Tue, 03/07/2023 - 2:30pm
Observation made by:
Forecaster
Red Flags:
Whumphing noises, shooting cracks, or collapsing
Recent loading by new snow, wind, or rain
Location Map
96067
Mount Shasta
,
CA
United States
41° 13' 47.0424" N, 122° 22' 48.2016" W
California US
Snowpack Observations
Details
Today Sam and I immersed ourselves in the storm during an outing to Castle Lake. The storm promptly arrived at 11 am with light snow flurries, cold temperatures, and calm wind. From that point on, the weather only intensified. Cold temperatures fluctuating in the mid-teens contributed to low-density snowfall that fell at an inconsistent rate of 1 inch per-hour. A sensitive storm slab compiled of a few different layers and densities ranging in depths of 3 – 8 inches existed on all aspects near treeline and wind-exposed areas below treeline. The storm slabs presented easy cracking and blocking on any convex feature. If we had chosen to engage on slopes steeper than 30 degrees, we would have triggered a dozen avalanches today. Light west and southwest winds with moderate gusts made the light snow easy for the wind to transport. Evidence of wind effect was observed on mid-slope faces in the forms of wind pillows and ripples near treeline. Wind-textured surfaces existed near ridgelines and on the lake's surface. Massive cornices on the snow banks of the parking lot indicated lots of recent wind activity. Sheets of snow were seen blowing down slopes and across the lake. Wind slabs were not directly encountered today because of our terrain choice, though we certainly know they are out there given all the new snow and ideal wind speeds. The gate to Castle lake is still closed. 
Observation Location: Castle Lake 
Elevation: 5,000 feet
Date: 2023.03.07
Time: 1430
Observer: E.Falconer
Sky Conditions:  Overcast (OVC) | Obscured (X)
Current Precipitation: Type - SN  Rate - S-1 |
Air Temperature: 29 °F
Surface Penetration: Sled penetration (PS) = 55 in (140cm), boot penetration (PF) = 75in (190cm)
Wind Direction:  SW | W 
Wind Speed:  Light (L), 1-16 mi/hr, twigs in motion | Moderate (M), 17-25 mi/hr, small trees sway 
Photos
Weather Observations
Statistics
Cloud Cover:
100% of the sky covered by clouds
Accumulation rate:
Less than 1 in. per hour