You are here
Chutes Snowpit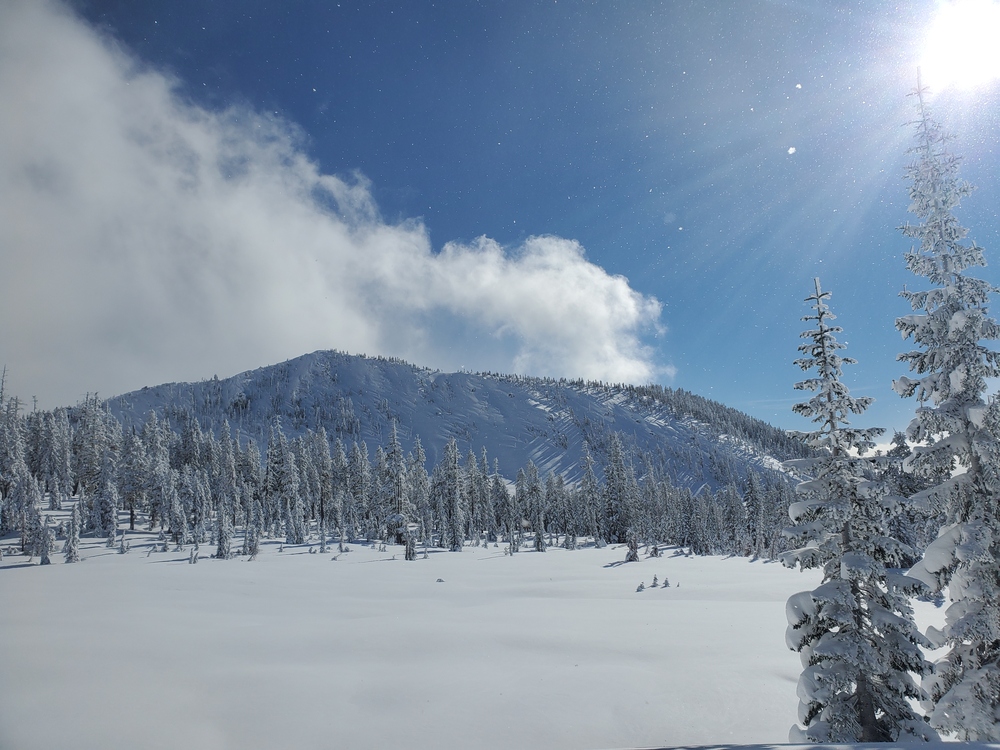 Location Name:
Gray Butte
Date and time of observation:
Mon, 12/27/2021 - 3:11pm
Observation made by:
Public
Red Flags:
Recent loading by new snow, wind, or rain
Location Map
96067
Mount Shasta
,
CA
United States
41° 20' 54.6756" N, 122° 11' 39.5016" W
California US
Snowpack Observations
Details
Observation Location:  Gray Butte - The Chutes
Elevation:  7959 feet
Date: 20211227
Time: 15:11
Observer:  Off Duty Patroller
Sky Conditions: Overcast (OVC)
Current Precipitation: Type - SN, Rate - S-1
Air Temperature: 17 °F
Surface Penetration: Ski penetration (PS) = 4 cm, boot penetration (PF) = 45 cm
Total Snow Depth (HS): 150 cm
Wind Direction: ESE
Wind Speed: Calm (C), 3 mi/hr 
Column & Block Tests:  

Slope Angle & Aspect:  24º, NW
ECTN22 BRK ↓ 30 cm
We dug a pit on a NW facing slope at 7,059 ft.  Wind transport and cornice formation was visible along ridgelines - about 4 cm of new wind-loaded snow at the surface.  ECTN22 showed a break occurring just under impact point on a fist-hard layer underneath four-finger slab about 30 cm from the surface.  No whumpfing, cracking, or other signs of instability were observed. We did not see any avalanches or signs of previous avalanches.  Snowpack depth down to ground was 150 cm with a steady progression of hardness from F, 4F, 1F to P in the lower 120 cm.  
Weather Observations
Details
The day began with moderate to strong winds and broken clouds.  Wind-loading was observed on the E aspect of Red Hill around 6700ft.  Decreasing to SE, calm winds in the afternoon, patches of solar radiation, and no new precipitation on the way up the south aspect of Gray Butte.  Overcast conditions by 2pm, a steady SN, S-1 beginning, and temps around 17oF.
Statistics
Cloud Cover:
100% of the sky covered by clouds
Air temperature:
Below Freezing
Wind Direction:
Southeast