You are here
Cliff Lake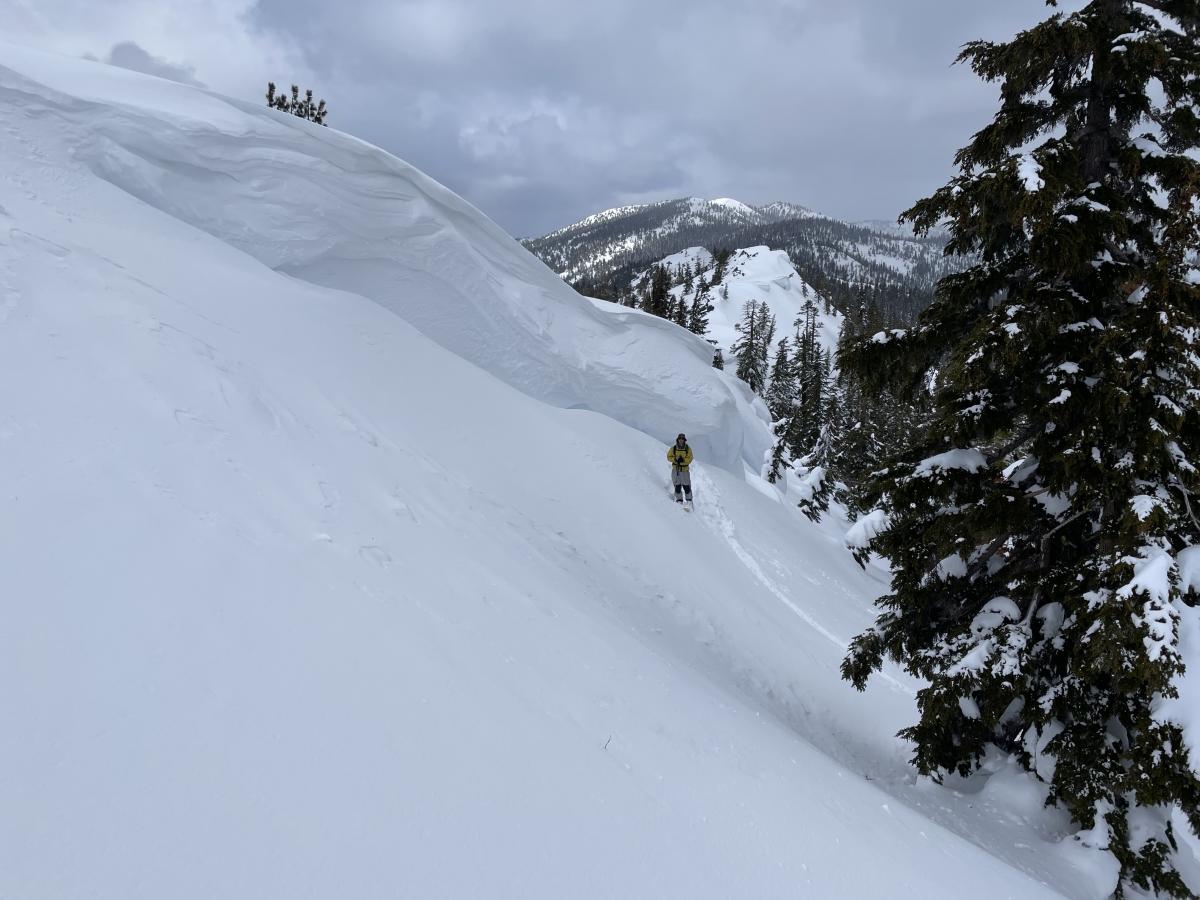 Location Name:
Cliff Lake
Date and time of observation:
Sat, 03/25/2023 - 1:00pm
Observation made by:
Forecaster
Location Map
96067
Mount Shasta
,
CA
United States
41° 11' 34.5912" N, 122° 29' 24.9792" W
California US
Snowpack Observations
Details
Three of us set out to observe snowpack conditions in the Cliff Lake area. A cold morning quickly warmed with elevation gain due to a noticeable valley temperature inversion. Sky coverage remained broken throughout the day. Weather was inconsistent, with periods of moderate snowfall, followed by warm and sunny skies, then switching back. Winds remained light out of the northwest, increasing to a steady moderate at ridgelines and exposed slopes. Temperatures were unseasonably cold, staying below freezing all day. 

The most obvious observation was the large variability in snow surface conditions throughout the entirety of the Cliff Lake area. The wind has really done some work here. All slopes have some form of wind skin, crust, sastrugi type, or snow drift across it. Some more exposed areas held shallow, hollow, wind slabs that were reactive to ski cuts on steep slopes. These wind slabs remained isolated to terrain feature, and slope angle. Large cornices have grown on all ridgelines. Particularly, south facing cornices have become as large as small cars. Wind transport was observed depositing onto all southerly aspects.

Compared to other recently observed areas across Mount Shasta, this zone saw very little new snow. There was some variability due to wind, but generally there was about two inches of new snow on top of firm old snow. 

Surface hoar was noted low down near Cliff Lake, and near surface facets were found in isolated north facing terrain.

There was an impressive amount of avalanche debris on north, east, and west facing aspects. Most steep slopes have shed recently, in the form of wet loose or some type of slab. 

 
Observation Location: Cliff Lake
Elevation: 7,200 feet
Date: 20230325
Time: 1400
Observer

: S. Clairmont, N. Meyers

Sky Conditions: Broken (BKN)
Current Precipitation: Type - SN, Rate - S-1
Air Temperature: 20 °F
Total Snow Depth (HS): 147 in (373 cm)
24-hour New Snow Depth (HN24): 1 in (2.5 cm)
Wind Direction: NW
Wind Speed: Light [(L), 1-16 mi/hr] to moderate [(M), 17-25 mi/hr]
Photos
Weather Observations
Statistics
Cloud Cover:
75% of the sky covered by clouds
Accumulation rate:
Less than 1 in. per hour
Air temperature:
Below Freezing
Air temperature trend:
Static
Wind Direction:
Northwest