You are here
Cliff Lake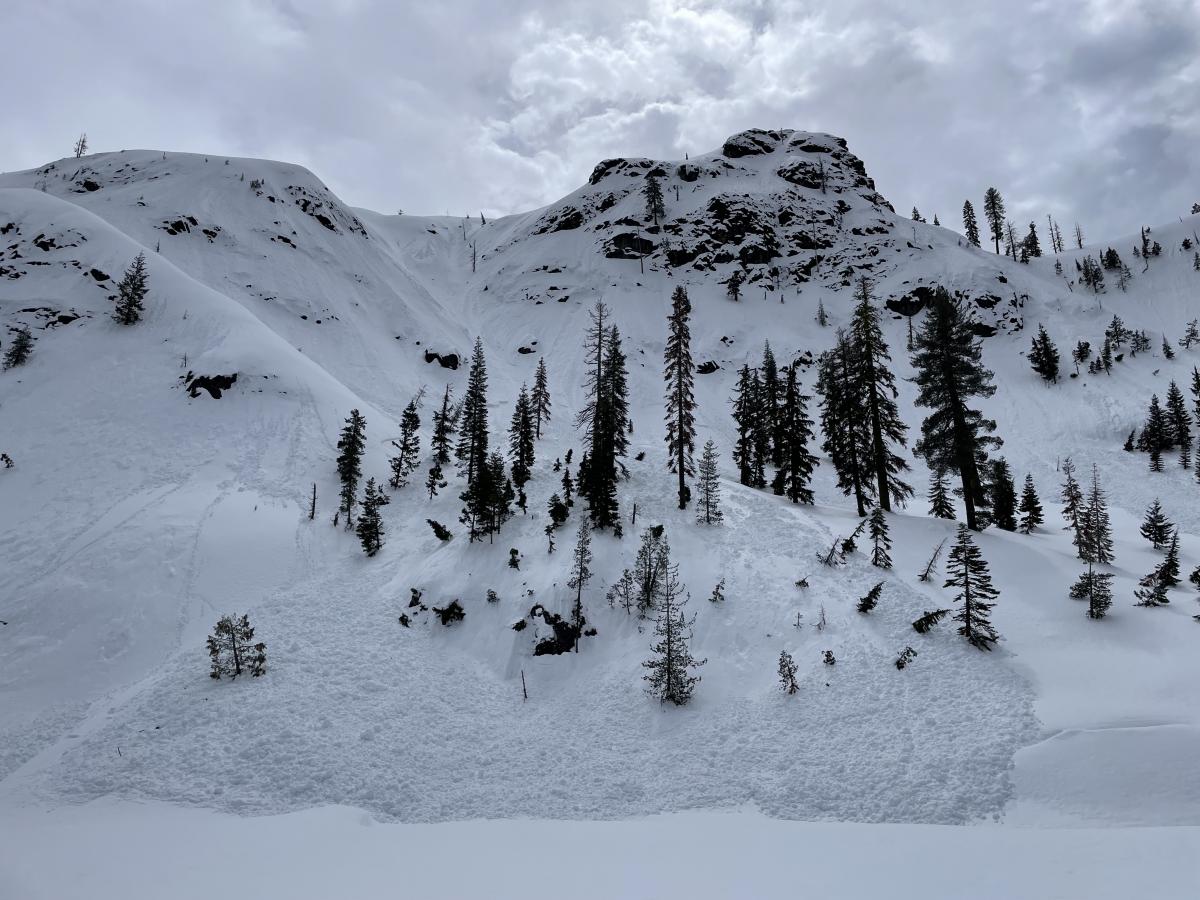 Location Name:
Cliff Lake
Date and time of observation:
Sat, 04/08/2023 - 2:00pm
Observation made by:
Forecaster
Red Flags:
Recent avalanche activity
Rapid warming
Location Map
96067
Mount Shasta
,
CA
United States
41° 11' 56.8644" N, 122° 29' 26.5776" W
California US
Snowpack Observations
Details
Three of us quested up the south fork of the Sacramento River in hopes to check on the Mt Eddy weather station and gain some snowpack observations.

Weather trends:
Winds remained light to moderate out of the west. Wind transport was not observed. Cloud cover hovered around 75%, with some clearer conditions at lower elevations. Dense fog was encountered in some areas.
Temperatures remained well-above freezing throughout the entire outing.
Up to 6,000 feet, surface snow was very soft, moist, unsupportive, and contained runnels. Snow quality slightly improved above 6,000 feet, although not by much.
The cloud line hovered around 7,000 feet. 
Observations from the Cliff Lake area:

Signs of wet instability were abundant. A surprising amount of avalanche activity has occurred above Cliff Lake on north facing terrain. Virtually every steep slope has released with some sort of wet avalanche. From the lake we could see roller balls, point-release wet loose, and wet slab avalanches. Crowns ranged from a few inches to a foot deep, spanning a few hundred feet wide. All avalanche activity was natural. A lot of this had likely occurred today, we witnessed multiple wet loose avalanches just in the period we were observing. I suspect the slab avalanches happened yesterday, with all the heavy wet snow that had fallen the night before.

Cornices on north facing terrain have grown to be impressively large in this area. I suspect with the approaching warm weather, these will begin to destabilize.
Unfortunately, we were thwarted from the Mt Eddy weather station due to the poor conditions.
Observation Location: Cliff Lake
Elevation: 6,000 feet
Date: 20230408
Time: 1400
Observer: S. Clairmont, N. Meyers
Sky Conditions: Broken (BKN)
Current Precipitation: NO
Air Temperature: 38 °F
24-hour New Snow Depth (HN24): 0 in (0 cm)
Wind Direction: W
Wind Speed: Light (L), 1-16 mi/hr, twigs in motion
Photos
Weather Observations
Statistics
Cloud Cover:
75% of the sky covered by clouds
Air temperature:
Above Freezing
Air temperature trend:
Warming