You are here
Conditions After the Storm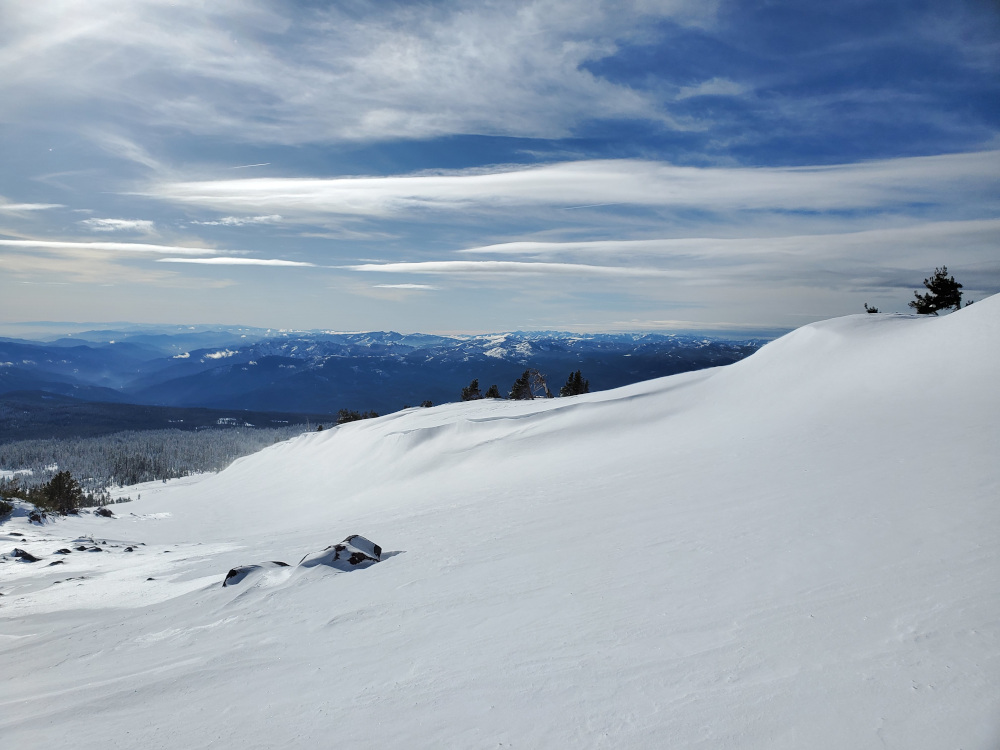 Location Name:
Old Ski Bowl, Powder Bowl, Parks Creek
Date and time of observation:
Tue, 01/05/2021 - 1:00pm
Observation made by:
Forecaster
Location Map
96067
Mount Shasta
,
CA
United States
41° 21' 58.374" N, 122° 11' 44.8764" W
California US
Snowpack Observations
Details
Conditions after Monday's storm:
Observation Location: Old Ski Bowl
Elevation: 8,000 ft
Date: 20210105
Time: 1400
Observer: Aaron Beverly
Sky Conditions: Scattered (SCT)
Current Precipitation: Type - NO'
Air Temperature: 32 °F
Surface Penetration: Ski penetration (PS) = 4 in (10 cm)
Total Snow Depth (HS): 43 in (110 cm)
24-hour New Snow Depth (HN24): 0
24-hour New Snow Water Equivalent (HN24W): 0
Wind Direction: W
Wind Speed: Moderate (M), 17-25 mi/hr, small trees sway
Around 12 inches of new snow will be found near and above treeline. Although winds are beginning to turn this snow to chalk, good riding and sliding conditions are holding. A bit of wind loading was occurring on easterly slopes at 2 p.m. yesterday, but overall, no concerning signs of wind slab formation were seen aside from a small isolated avalanche in Powder Bowl (see observation). This does not seem to be a widespread problem. New snow sits atop a rain crust and is bonding well. Low lying areas above treeline are well filled in, but hazards still exist below snow surfaces. You'll find plenty of exposed rocks on moraines and the sides of ridges. 
Photos
Weather Observations
Statistics
Cloud Cover:
25% of the sky covered by clouds
Air temperature:
Below Freezing
Air temperature trend:
Static