You are here
Conditions at Ash Creek Butte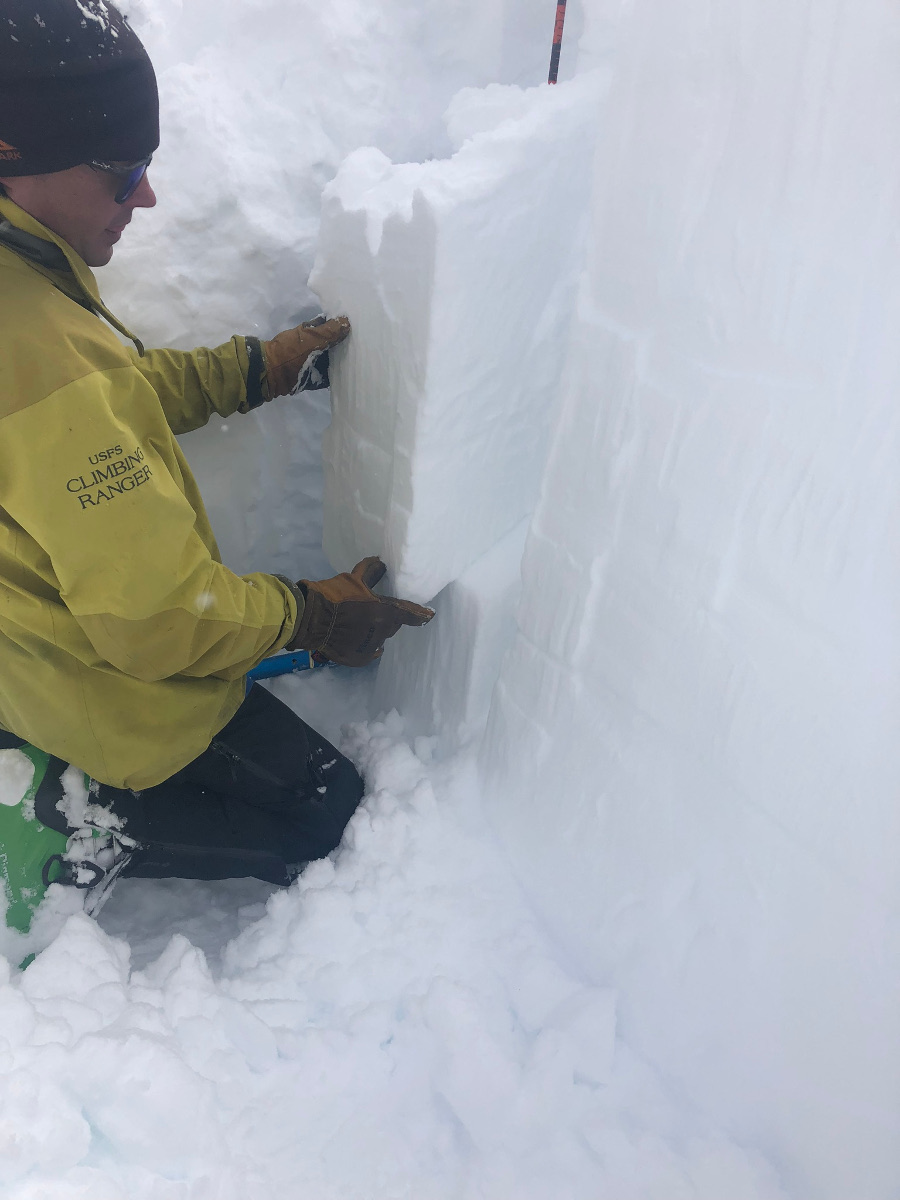 Location Name:
Ash Creek Butte
Region:
East of Mt Shasta
Date and time of observation:
Sun, 03/10/2019 - 2:00pm
Observation made by:
Professional Observer
Location Map
96067
Mount Shasta
,
CA
United States
41° 27' 35.766" N, 122° 2' 37.5792" W
California US
Snowpack Observations
Details
Observations Near Ash Creek Butte (7,800 ft, northeast aspect, 2:00 p.m.):
Height of Snow (HS): > 450 cm (177 in).
Height of Storm Snow (HST): 26 cm (10 in).
Snow Surface:

New precipitation particles (PP) and decomposing fragments (DF); dry, low density.
20-26 cm (8-10 in) in wind sheltered areas.
5-10 cm (2-4 in) along ridges and more wind affected areas.
Ski penetration (PS): up to 26 cm (10 in).

Right side up snow pack, from Fist hard (F) snow to 1 Finger (1F) hard to Pencil hard (P).
No obvious signs of instability were seen.
Snowmobile traffic has not triggered any avalanches.
Large cornices have formed at the top of north facing aspects.
Southerly aspects are wind affected, northerly aspects hold the most snow.
Heavy riming on trees along ridges.
Column and Block Test Results:

Column test, 11 taps, resistant planar failure down 26 cm repeated 3 times (CT11 RP x 3 ↓ 26 cm) at new/old snow interface.
Column test, 15 taps, sudden planar failure down 86 cm (CT15 SP ↓ 86 cm) at melt-freeze crust.
Deep tap test, 24 taps, sudden planar failure down 86 cm (DT24 SP ↓ 86 cm).
Extended column test, no propagation, 12 taps, down 26 cm (ECTN12 ↓ 26 cm).
Extended column test, no failure (ECTX).
Overall column and block tests did not show consistent or notable results. Of primary concern was the layer down 86 cm (34 in) that exhibited ECTPV failures last week on a similar aspect. One moderate column test failure was achieved here, but was not repeatable. No ECT results were seen here and DT tests showed hard failures.
Observations generally indicate a stable snowpack.
Photos
Weather Observations
Statistics
Cloud Cover:
75% of the sky covered by clouds
Accumulation rate:
Less than 1 in. per hour
Air temperature:
Below Freezing
Air temperature trend:
Static