You are here
Conditions Below, Near, and Above Treeline Lower Green Butte Ridge (Broadway) to 8,500 feet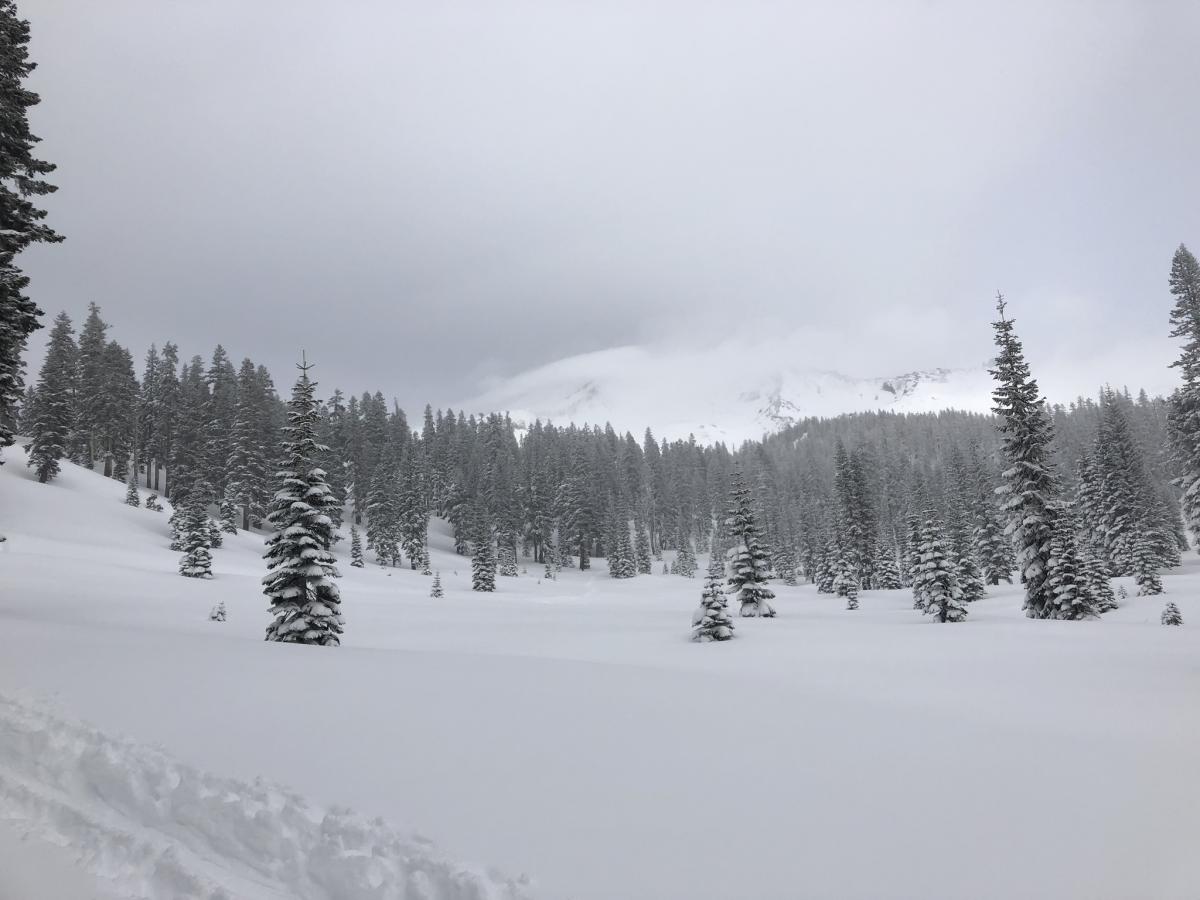 Location Name:
Conditions Below, Near, and Above Treeline Lower Green Butte Ridge (Broadway) to 8,500 feet
Date and time of observation:
Mon, 01/07/2019 - 2:45pm
Observation made by:
Forecaster
Red Flags:
Recent loading by new snow, wind, or rainObvious avalanche path
Location Map
United States
41° 22' 9.0552" N, 122° 13' 13.0368" W
US
Snowpack Observations
Details
Conditions below treeline along Broadway ridge 7,500 feet SW (1:15 p.m.):
HN24: 12-15 inch (30 -38 cm).
Calm little to no wind.
Lightly snowing less than 1 in per hour
Conditions near treeline 8,100 feet SW (1:50 p.m.):
Total snow height 60-65 inches ( 160-180 cm ).
HN24: 8-12 inches ( 20- 30 cm)
Stability test results:

CTE3 4 inch deep (12 cm ) Q3 - irregular fracture. 
CTM11 10 inch deep (24 cm ) Q2 - progressive compression
CTH21 35 inch deep (88 cm) Q1- sudden collapse

Calm little to no wind.
Snowing ever so slightly. Less than 1 inch per hour. 
Low visibility. 
Conditions Above Treeline: 8,500 Feet SE Ridge (2:30 p.m.)
Wind scoured snow with variable surface textures. 
Light to Moderate SE wind.
Evidence of wind towards the north during the storm.
Drifs forming on leeward sides of ridges
Striped windward sides of ridges.
Photos
Weather Observations
Statistics
Cloud Cover:
100% of the sky covered by clouds
Accumulation rate:
Less than 1 in. per hour
Air temperature:
Below Freezing
Air temperature trend:
Warming
Wind Direction:
Southeast