You are here
Conditions on Mount Shasta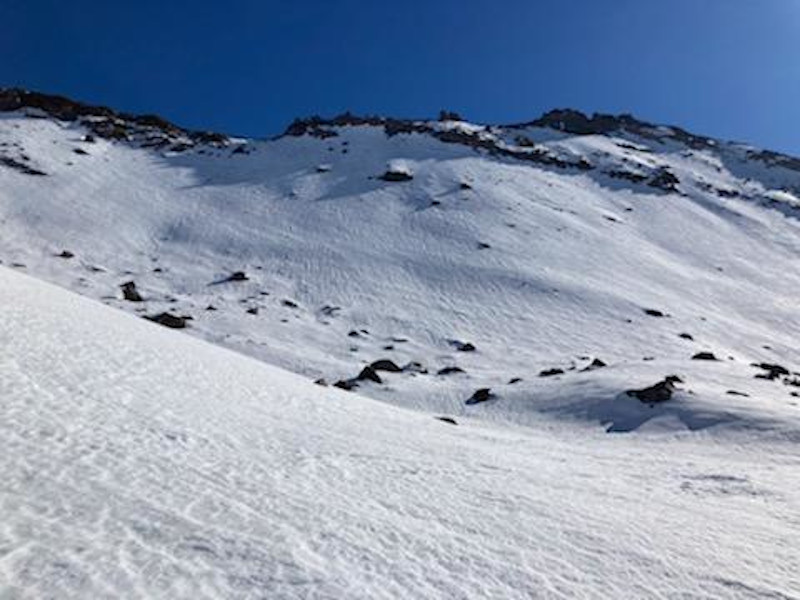 Location Name:
Avalanche Gulch / Old Ski Bowl
Date and time of observation:
Tue, 11/30/2021 - 11:00am
Observation made by:
Forecaster
Location Map
96067
Mount Shasta
,
CA
United States
41° 22' 55.9704" N, 122° 12' 30.9024" W
California US
Snowpack Observations
Details
Mostly continous snow begins at the intersection of the summer Horse Camp trail and Climber's gully just over the saddle of Green Butte Ridge, though skis may need to be taken off a couple of times to cross bare spots. Warm weather is continuing to melt the snow pack at all elevations.
Height of snow in Avalanche Gulch is 14 in (35 cm) at 8,000 ft and 30 in (80 cm) at 9,000 ft.
Overall snowpack is homogenous and consolidated. Some rounding facets can be found in isolated shady areas under a thin surface crust.
Corn snow can be found on smooth southerly aspects in the Old Ski Bowl. Avalanche Gulch has areas of wind textured surface snow.  Expect slide-for-life conditions up high. Evidence of ice and rockfall was seen below the Trinity Chutes. 
Photos
Weather Observations
Statistics
Air temperature:
Above Freezing
Air temperature trend:
Warming