You are here
Conditions on Mount Shasta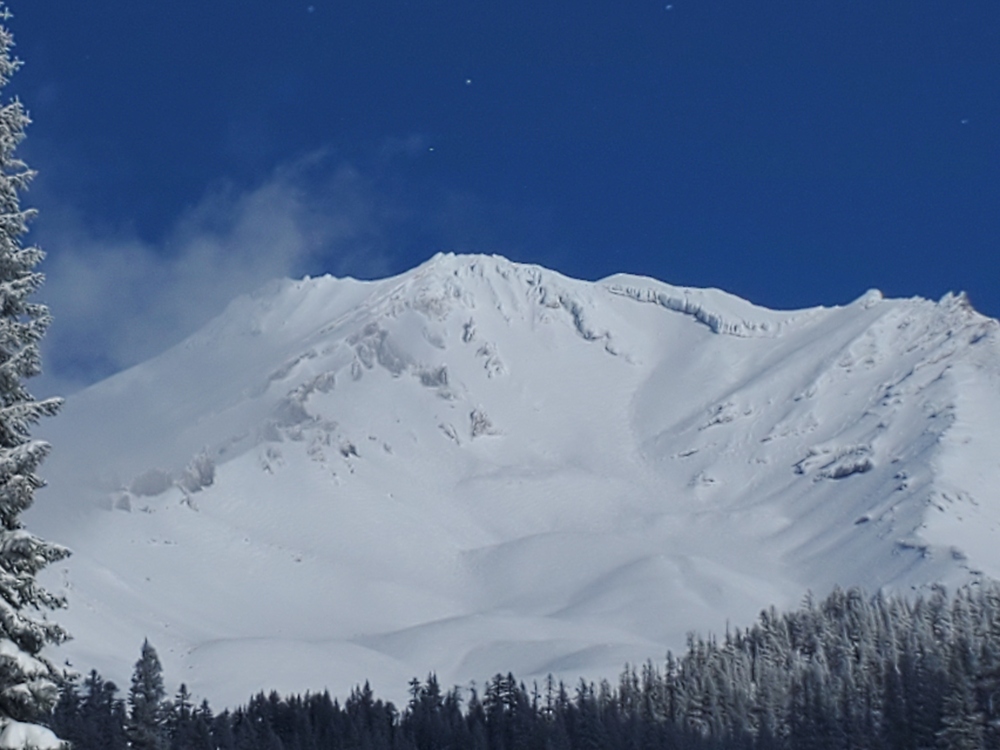 Location Name:
Green Butte Ridge
Date and time of observation:
Tue, 12/14/2021 - 1:00pm
Observation made by:
Forecaster
Location Map
96067
Mount Shasta
,
CA
United States
41° 21' 58.5432" N, 122° 13' 19.8444" W
California US
Snowpack Observations
Details
Above Bunny Flat, new snow totals since Saturday afternoon ranged from 25-33 inches (65-85 cm). New snow was low density, fist hard down to the ground. Boot penetration was almost as far.
Very little sign of wind affect was seen below treeline. Some wind drifts and small cornices appeared near treeline. Above treeline areas had chalky, wind textured snow indicating wind blew from the south and west through the storm. This effect could be seen high up below Red Banks. Some west facing aspects seemed scoured down to the old snow. Despite the obvious signs of wind transport, we did not find any obvious signs of wind slabs.
Drifts, rollovers, and cornices were not reactive to ski stomps. Small cliff areas and chutes below treeline were also not reactive. No signs of avalanches were seen.
Above treeline, sun exposed aspects had many visible rocks poking through. See picture of lower Casaval Ridge below. Below treeline, some obstacles lurked beneath the snow, but overall the snowpack kept you above them.
The road is closed to Bunny Flat and the word is that it will remain so until after Wednesday's storm. Estimated time of opening is Thursday or Friday.
Observation Location: Green Butte Ridge
Elevation: 7,000 - 8,000 ft
Date: 20211214
Time: 13:00
Observer: Aaron Beverly
Sky Conditions: Scattered (SCT)
Current Precipitation: Type - NO
Air Temperature: 20 °F
Surface Penetration: Ski penetration (PS) = [8-12] in (20-30 cm)
Total Snow Depth (HS) / Height of Storm Snow: 25-33 in (65-85 cm)
24-hour New Snow Depth (HN24): 0
24-hour New Snow Water Equivalent (HN24W): 0
Wind Direction: WNW
Wind Speed: Calm - Light (L), 1-16 mi/hr
Photos
Weather Observations
Statistics
Cloud Cover:
25% of the sky covered by clouds
Air temperature:
Below Freezing
Air temperature trend:
Static