You are here
Conditions Update Below, Near & Above Treeline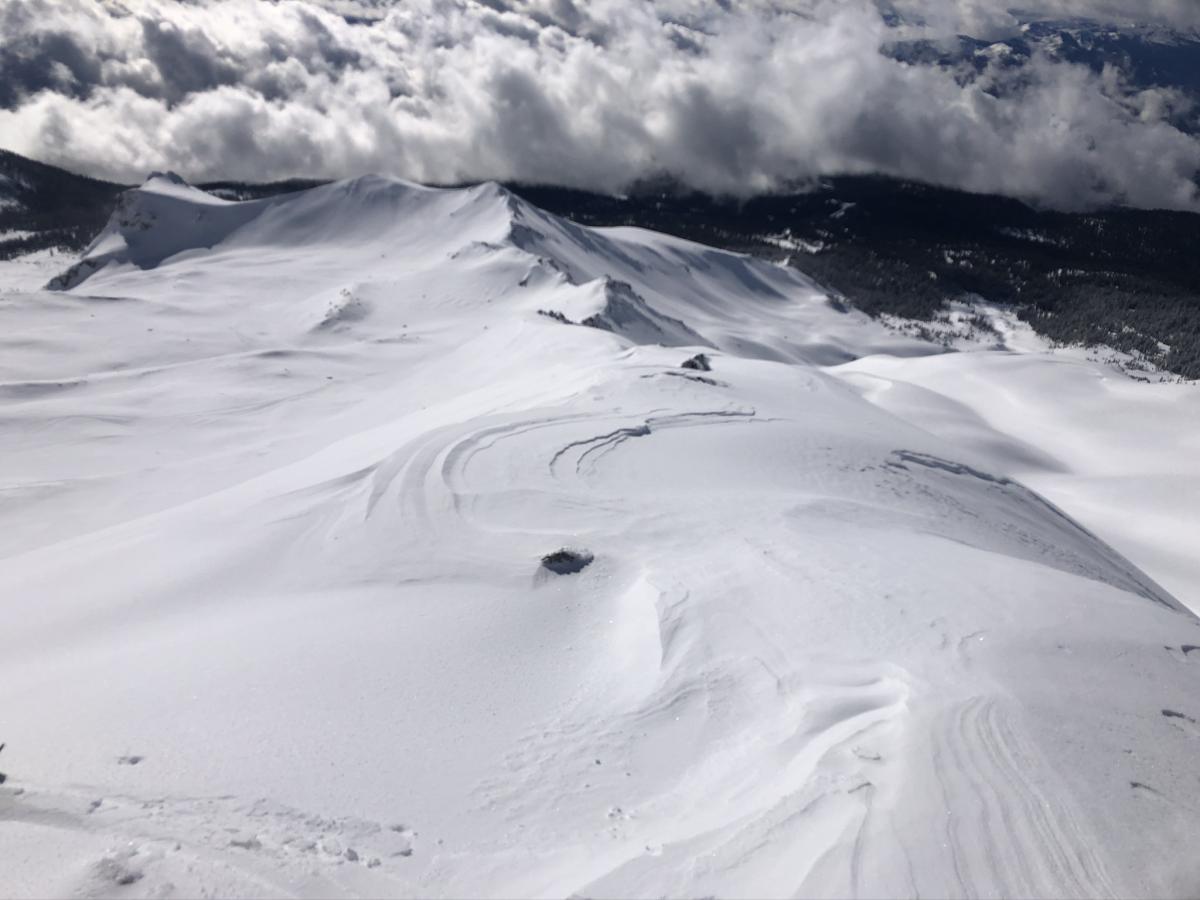 Location Name:
Old Ski Bowl
Date and time of observation:
Sun, 01/26/2020 - 11:30am
Observation made by:
Forecaster
Location Map
96067
CA
United States
41° 23' 3.8976" N, 122° 12' 21.8808" W
California US
Snowpack Observations
Details
Observations on Old Ski Bowl:
TIME: 20200126 - 1000 - 1400
ASPECT: South
ELEVATION: 10,000 ft
SKY: Broken - Various cloud layers moved in and out mostly below 6,000 feet around the forecast area. Generally, clear skies were observed on Mount Shasta.  
PRECIPITATION: NO
BLOWING SNOW: Yes - Strong westerly, though little local accumulation was observed.
TEMPERATURE: 34° 
BOOT PENETRATION: Below treeline: 65 cm (26 in), Near treeline:  55 cm (22 in) Above treeline: 10 cm (4 in) 
HEIGHT OF SNOW (HS): 230 cm (91 in)
WIND: Below treeline:  Light SW; Near treeline:  Light W with Moderate gusts; Above treeline: Moderate W with strong gusts
COLUMN & BLOCK TESTS:

CT14 ↓ 15 cm BRK Q2
CT13 ↓ 15 cm BRK Q2
We traveled up Old Ski Bowl to monitor wind slab development and gather information about the recent storm.  Wind slabs have formed above 9,000 ft, but they are shalllow and unreactive. Column tests have indicated moderate failures within the upper layers but are not notable. No propagation was seen.
Photos
Videos
Weather Observations
Statistics
Cloud Cover:
50% of the sky covered by clouds
Air temperature:
Above Freezing
Air temperature trend:
Static