You are here
Conditions on the Upper Mountain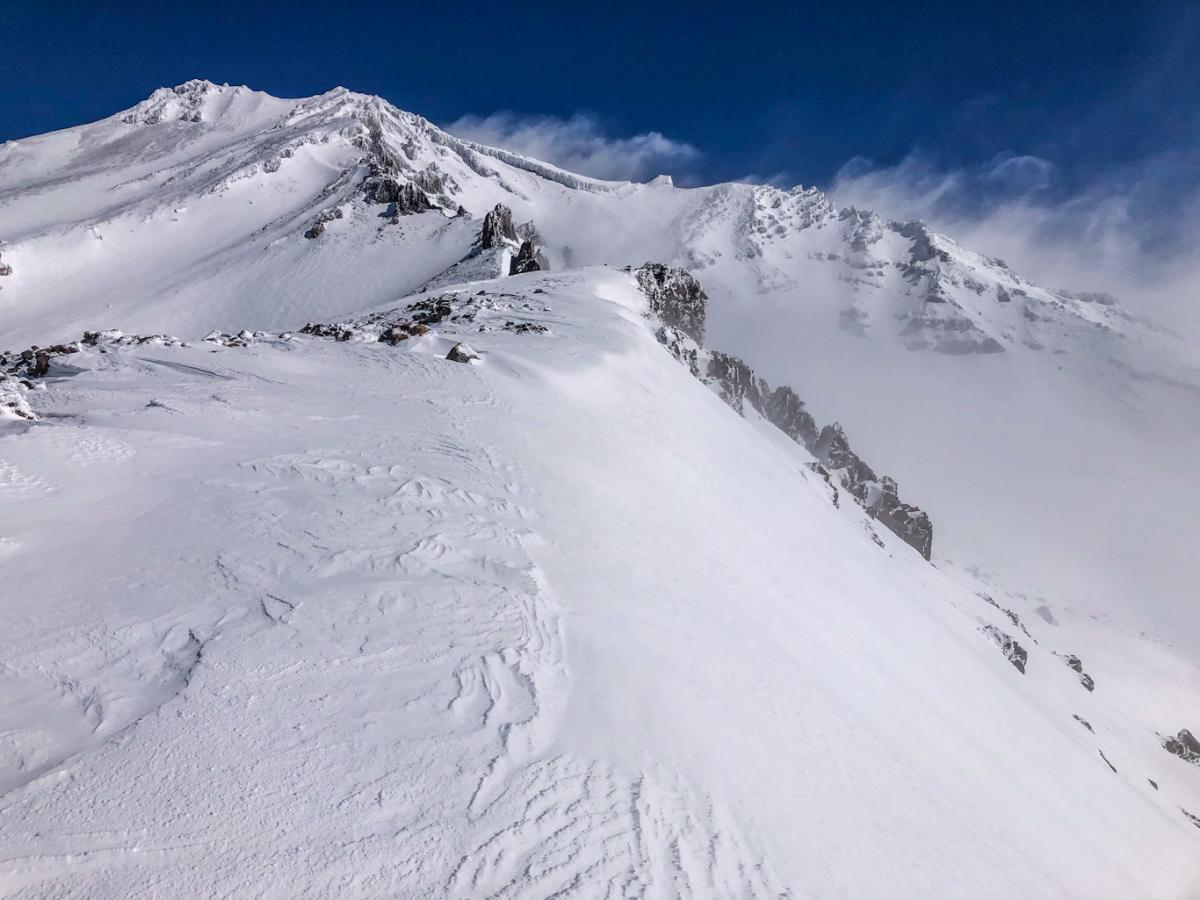 Location Name:
Mount Shasta
Date and time of observation:
Sat, 03/20/2021 - 11:00am
Observation made by:
Forecaster
Location Map
96067
Mount Shasta
,
CA
United States
41° 23' 13.416" N, 122° 13' 14.4876" W
California US
Snowpack Observations
Details
I set out to check on the condition of the upper mountain, anticipating the seasonal rush to climb Mount Shasta. Climbers ascending via Avalanche Gulch, Casaval Ridge, or the West Face will find mixed conditions. Breakable crust and lingering pockets of soft powder exist at lower elevations.  Without floatation (skis or snowshoes), expect to be breaking trail through shin to over knee-deep snow below tree line. Above that, the sun and wind crusts are mostly supportable. The 2-4 inches of fresh snow we received over the last few days have covered most bumps, sastrugi, and crusts. This snow was soft and cold before noon but was quickly warming up, becoming moist and heavy. Wind has transformed the snowpack into a firm, mostly smooth, styrofoam-like pressed snow above 9,000 feet. Rime, ice, and small wind-sculpted features exist on exposed areas of Casaval Ridge.  The new snow has helped increase the overall coverage; however, large patches of exposed rock remain on the West Face and Casaval Ridge. Some cracking and small wind slabs up to 2 inches thick were observed in the skin track at higher elevations. There is an old crown from a small (D1) wind slab on the short and steep section about halfway up the route known as the "Hourglass." Blowing snow was visible on the upper mountain. 
Observation Location: Casaval Ridge
Elevation: 6,000 - 10,300 ft
Date: 20210320
Time: 0900-1200
Observer: Ryan Sorenson
Sky Conditions: Scattered (SCT)
Current Precipitation: S-1, short showers of very light snowfall. 
Air Temperature: 27 °F
Surface Penetration: Ski penetration (PS) = 0 - 3 inches, Boot penetration (PB) = 0-18 inches 
Wind Direction: NE
Wind Speed: Light (L), 1-16 mi/hr
Photos
Weather Observations
Details
Lingering clouds and small snow showers continued through the morning. Winds were light out of the NE on the ridge but swirled southwesterly at lower elevations. The West Face was clearer than Avalanche Gulch. 
Statistics
Cloud Cover:
50% of the sky covered by clouds
Air temperature:
Below Freezing
Air temperature trend:
Warming
Wind Direction:
Northeast