You are here
Day Two of the Storm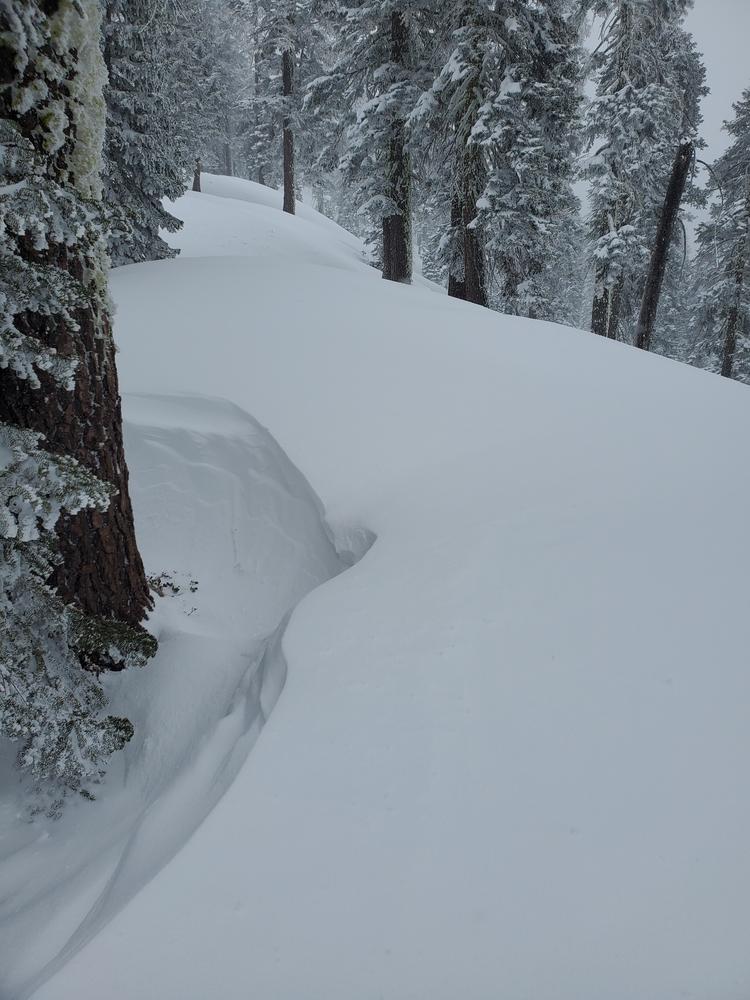 Location Name:
Green Butte Ridge
Date and time of observation:
Tue, 03/09/2021 - 2:00pm
Observation made by:
Forecaster
Red Flags:
Whumphing noises, shooting cracks, or collapsing
Recent loading by new snow, wind, or rain
Location Map
96067
Mount Shasta
,
CA
United States
41° 21' 36.0864" N, 122° 13' 51.2544" W
California US
Snowpack Observations
Details
Well over a foot of snow had fallen at Bunny Flat yesterday afternoon since Monday's storm started. Blocky, slabby windrifts over 2 feet deep have formed along ridges. Cracks and blockiness in new snow indicate potentional wind slab and storm slab problems. The concerning weak layer residing within the snow that fell Saturday was not a concern at the elevations where column tests were conducted. Hard to no results were seen at two different, but similar locations. This weakness most probably exists at higher elevations where the crust that formed Sunday is thin and breakbable.
Observation Location: Green Butte Ridge
Elevation: 7,300 ft
Date: 20210309
Time: 1400
Observer: Aaron Beverly
Sky Conditions: Obscured (X)
Current Precipitation: Type - SN, Rate - S2
Air Temperature: 20 °F
Surface Penetration: Ski penetration (PS) = 5 in (13 cm)
Total Snow Depth (HS): 75 in (190 cm)
24-hour New Snow Depth (HN24): 7 in
24-hour New Snow Water Equivalent (HN24W): 0.64 in
Wind Direction: SW
Wind Speed: Light (L), 1-16 mi/hr
Column & Block Tests:

Slope Angle & Aspect (25°, SE)
CTN
Photos
Weather Observations
Statistics
Cloud Cover:
100% of the sky covered by clouds
Accumulation rate:
Greater than 1 in. per hour
Air temperature:
Below Freezing
Air temperature trend:
Static
Wind Direction:
Southwest