You are here
December 1st Storm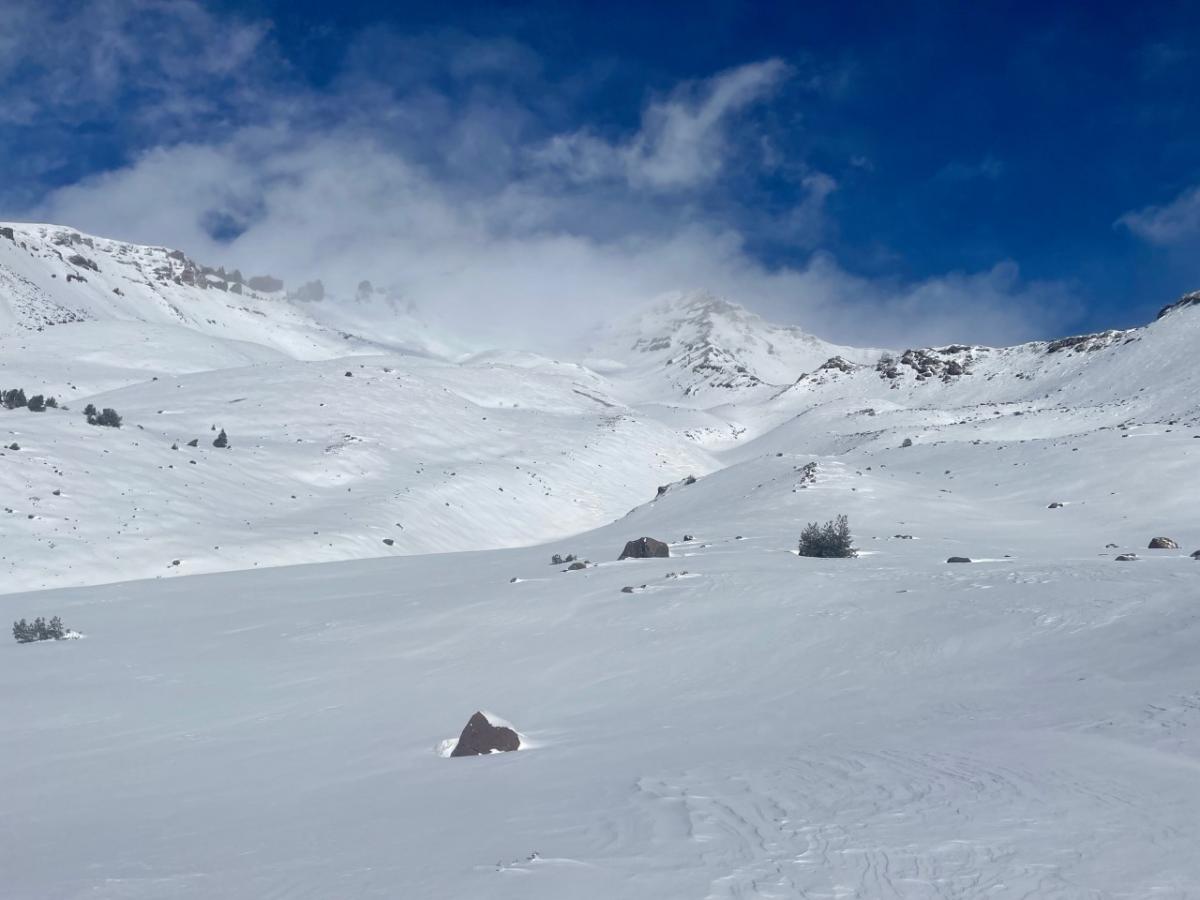 Date and time of observation:
Thu, 12/01/2022 - 2:30pm
Observation made by:
Forecaster
Red Flags:
Recent loading by new snow, wind, or rain
Location Map
96067
Mount Shasta
,
CA
United States
41° 22' 22.7496" N, 122° 12' 7.4196" W
California US
Snowpack Observations
Details
The Everitt Memorial Highway was slow to be plowed today, so efforts were redirected to an Old McCloud road put-in with snow machines. Information gathering was targeted at new snow observations and general snowpack coverage, as well as checking out the wind slab avalanche problem near and above treeline. 
The overall snowpack on Mt Shasta continues to build. We have an average of 33 inches at treeline. Obstacles still exist and are not covered well. Snowmobiling is limited to mostly roads only. Skiing is better with a cautious eye. A group of Avalanche Gulch skiers reported good snow in gullies albeit a bit slabby in areas. Cruisy gullies definitely host the best existing coverage and new snow quality/coverage. The Old Ski Bowl had similar conditions with low density, soft snow below and near treeline, and firmer, wind affected snow above treeline. Many rocks still protrude through the snow surface. Let this storm settle a bit, add another storm or two on top, and we should be in much better shape to slash deep turns with confidence. 
The wind slab problem was targeted by digging in a few places near and above treeline on cross loaded and leeward, S-SE-E facing slopes. Recent winds have blown predominantly out of the west, averaging 18 mi/hr and gusting to 43 mi/hr over the past 24 hours. Hollow wind slabs were found on low angle, small, inconsequential test slopes. Said slabs could be easy to moderately triggered during compression and extended column tests. Shear quality was resistant planar for both tests, and full propagation occurred during ECT tests. Steeper slopes were not tested. Many of our classic "frequent flyer" avalanches paths still do not have fully uniform coverage. Any unstable wind slab would be small and in isolated areas, on top of existing snow from early November. 
Observation Location: Avalanche Gulch and Old Ski Bowl
Elevation: 6,000 to 8,000 feet
Date: 20221201
Time: 1300
Observer: N Meyers
Sky Conditions: Broken (BKN) 
Current Precipitation: None
Air Temperature: 14 °F
Surface Penetration: Boot penetration = 15 in (38 cm)
Total Snow Depth (HS): ~33 in (~83 cm)
24-hour New Snow Depth (HN24): ~16 in (~40 cm)
24-hour New Snow Water Equivalent (HN24W): .72"
Wind Direction: SW | W | NW 
Wind Speed: Light (L), 1-16 mi/hr, twigs in motion | Moderate (M), 17-25 mi/hr, small trees sway 
Column & Block Tests:

Slope Angle & Aspect - 20º, SE | S
ECTP12 ↓ 16 in (43 cm)
CT5-RP ↓ 16 in (43 cm)
Photos
Weather Observations
Details
Statistics
Cloud Cover:
50% of the sky covered by clouds
Air temperature:
Below Freezing
Air temperature trend:
Cooling