You are here
DEEP Snow & Red Flags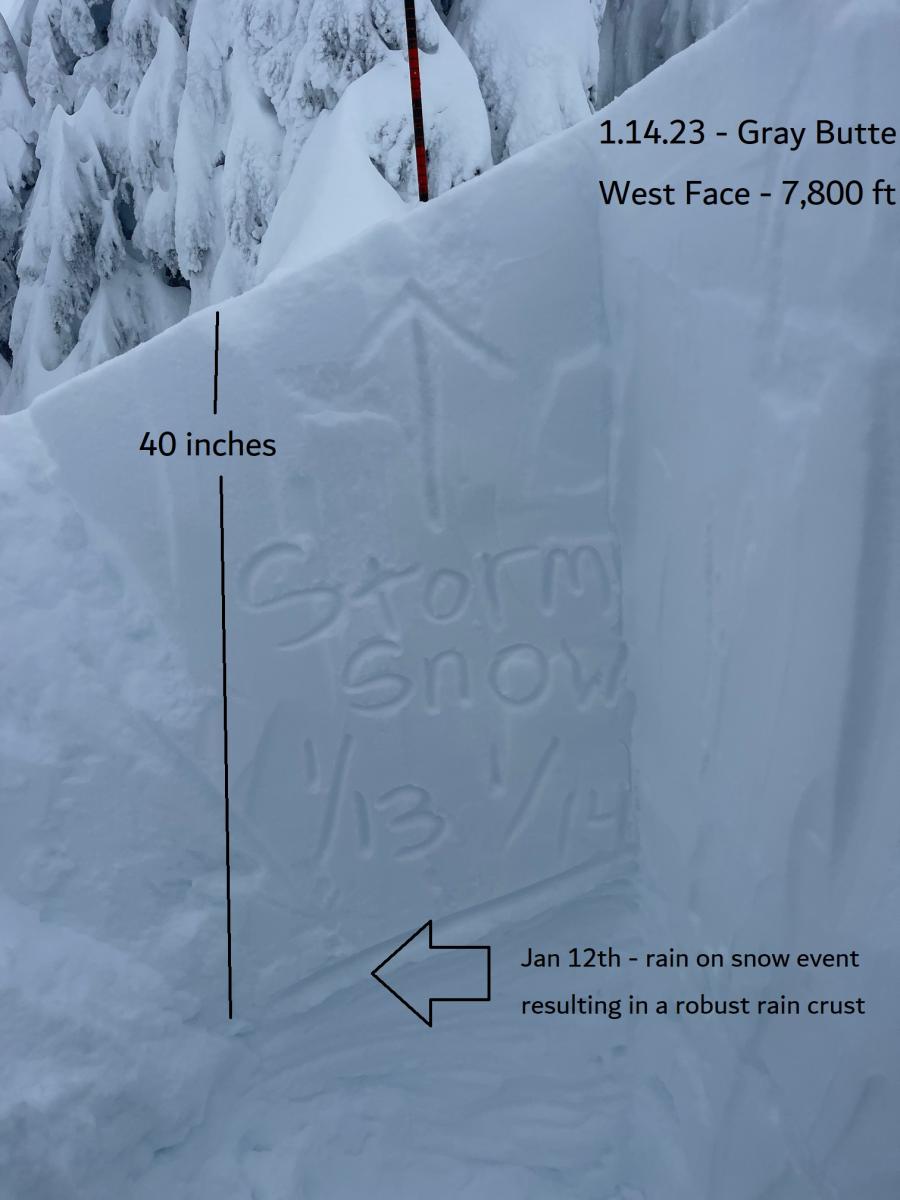 Location Name:
Mount Shasta
Date and time of observation:
Sat, 01/14/2023 - 2:30pm
Observation made by:
Forecaster
Red Flags:
Whumphing noises, shooting cracks, or collapsing
Recent loading by new snow, wind, or rain
Location Map
96067
Mount Shasta
,
CA
United States
41° 21' 10.5948" N, 122° 10' 23.7" W
California US
Snowpack Observations
Details
1.14.23 / 1730 hours - As each day passes and the great Pacific firehouse continues to blast Mount Shasta, I become more and more speechless. No words. Today was impressive. Nearly constant snowfall occurred during daylight hours. Snow levels hovered around 4,000 feet with wild fluctuations +/- 1,500 feet at times. The heaviest snowfall occurred during the AM hours, with a three-hour period of 2–3 inches/hour rapid snow accumulation, equalling .68" of water. In the last 24 hours, 2.38 inches of water fell, totaling 14 inches at the Old Ski Bowl snow depth sensor. Snow totals since the January 12th meltdown average 2–3 feet above 6,000 feet. If there ever was a time to use the word snowpocalypse, now is good. Near treeline on Mount Shasta, 13.5 feet is on the ground and there is a lot of winter remaining! 

We have not seen any recent avalanches. Visibility and access has been very difficult, and we've been sticking to low angle terrain. That said, plenty of red flags of avalanche danger were flying today including whumpfing, cracking wind slabs, recent heavy snow, moderate to strong SSE wind, easy ski cut storm slabs and loose wet releases yesterday. 

In the pit, extended column tests highlighted a couple weak layers within the two-day storm snow, at 15 and 80 cm down. Soft, shallow storm slabs below and near treeline and areas that have been affected by the wind near and above treeline had the best slab characteristics and represented the main hazard focus for the day. Cornices along ridges are becoming large. 

And then with the flip of a switch, clouds parted and a blue sky donut hole opened up. Just a tease though as more snow is expected tonight and tomorrow. Next week looks to clear.
Observation Location: Gray Butte, Mt Shasta
Elevation: Base to 8,000 feet
Date: 20230114
Time: 1000-1500
Observer: Meyers / Smith
Sky Conditions: Obscured (X)]
Current Precipitation: Type - SN, Rate - S1 - S2
Air Temperature:  27°F
Surface Penetration: Ski penetration (PS) = 1-3 feet , boot penetration (PF) = 2-4 feet
Total Snow Depth (HS): 162 in 
24-hour New Snow Depth (HN24): 14 in
24-hour New Snow Water Equivalent (HN24W): 2.38 in
Wind Direction: SE | S 
Wind Speed: Light (L), 1-16 mi/hr, twigs in motion | Moderate (M), 17-25 mi/hr, small trees sway
Column & Block Tests:

Slope Angle & Aspect 30º, W | NW
ECTN - easy/mod ↓ 15 and 80 cm
Photos
Weather Observations
Details
Old Ski Bowl / Gray Butte weather data from the last 24 hours, run at 1737 hours on 1.14.23: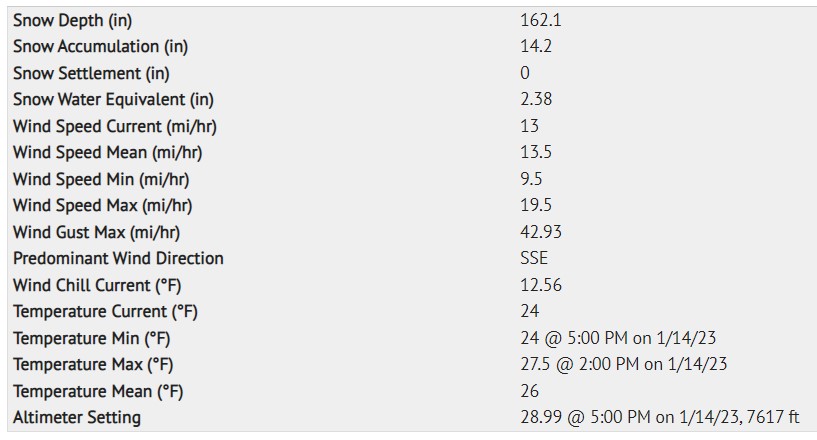 Statistics
Cloud Cover:
100% of the sky covered by clouds
Accumulation rate:
Greater than 1 in. per hour
Air temperature:
Below Freezing
Air temperature trend:
Cooling
Wind Direction:
Southeast