You are here
During the storm in the Eddy Mountains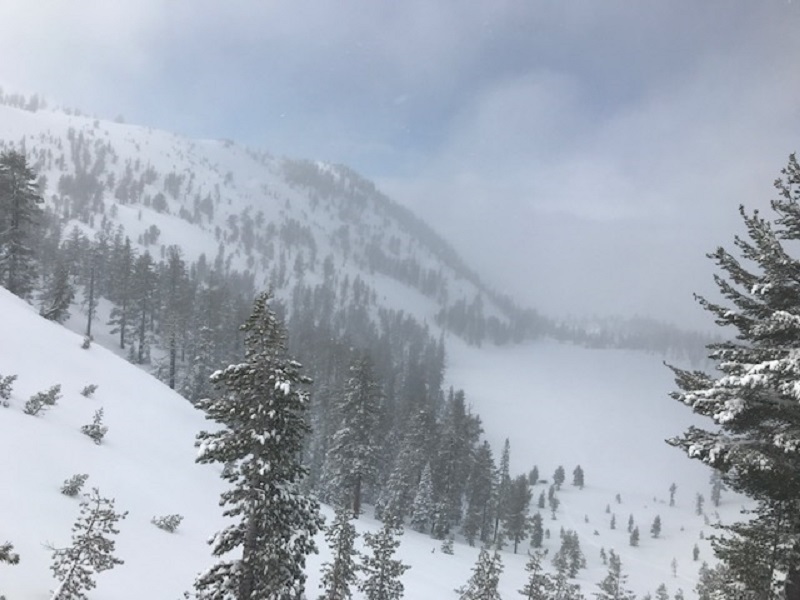 Location Name:
Parks Creek, Deadfall Lakes
Date and time of observation:
Sat, 02/02/2019 - 1:00pm
Observation made by:
Forecaster
Red Flags:
Recent loading by new snow, wind, or rain
Location Map
96067
Mount Shasta
,
CA
United States
41° 18' 43.4088" N, 122° 29' 45.5352" W
California US
Snowpack Observations
Details
20190202 - Eddy Mountains via Parks Creek Road. Parking approximately 3/4 mile below Caldwell Lakes trailhead.
A snowy, misty, cloudy day in the Eddy mountains today with partial clearing in the late afternoon. Snow levels lingered around 5,500 feet. Wet snow was observed < 7,000 feet with dryer snow above. 
Sky: 100% obscured / Precip: S-1 all day / Wind: light in drainages with local gusts, moderate along ridgelines out of the south. Wind loading: yes, northerly aspects.
New snow totals, as of 1300 hours this afternoon:

scoured to 3-4 inches on ridgelines/windy terrain.
6-8 inches overall average
10-12 inches leeward terrain
drifts measured up to 30 inches

Cornice formation minimal. 
Minor cracking along corniced ridgeline. Cornices and cracking inconsequetial.
Right side up snow configuration. Old snow/new snow bonding very good. No recent avalanches observed. 
Several density changes within the new storm snow were noted, at 5 and 17 inches from surface. Resistant planar ECT tests were able to produce clean shears at both layers, though without full propagation. Failure on a slope scale could be possible with further loading.
Overall, good snow stability was observed.
Photos
Weather Observations
Details
Poor visibility for most of the day. Brief clearing late in afternoon.
Continuous snow throughout the day. Precipitation diminished in afternoon.
South wind was light below and in protected areas near treeline. Wind could be felt above treeline and exposed ridges. 
Temps on a cooling trend
Snow level 5,500 feet today
Statistics
Cloud Cover:
100% of the sky covered by clouds
Accumulation rate:
Less than 1 in. per hour
Air temperature:
Below Freezing
Air temperature trend:
Cooling