You are here
East of Mt Shasta - Little Mt Hoffman Area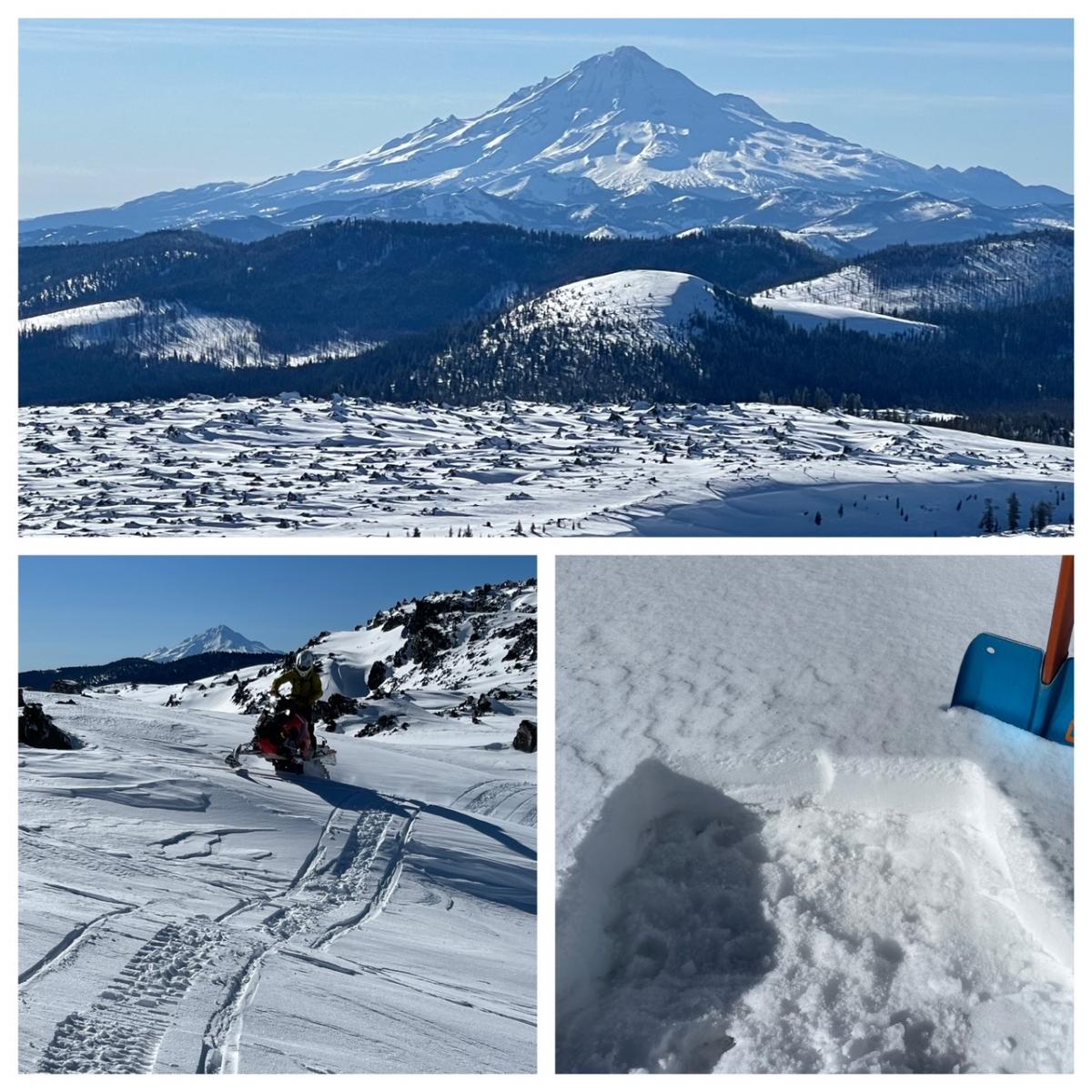 Location Name:
Little Mount Hoffman
Region:
East of Mt Shasta
Date and time of observation:
Wed, 02/15/2023 - 1:30pm
Observation made by:
Forecaster
Location Map
96067
Mount Shasta
,
CA
United States
41° 34' 40.7604" N, 121° 39' 30.3012" W
California US
Snowpack Observations
Details
Yesterday hosted a wide-ranging snowmobile tour along the eastern edges of the forecast area to Little Mount Hoffman, Pumice Stone Mountain, Little Glass Mountain and Paint Pot Crater. A long approach, ~20 miles, was taken via FS 15 road (Harris Springs Road). The snow is rough and icy until elevation is gained past Harris Spring. Grooming begins near Kluntchi Butte. Use the Tri-Forest Snowmobile Trail Map for navigation. A shorter and probably better access point is via Four Corners Snowmobile Park. The Tri-Forest Snowmobile Trails are being actively groomed and in good shape. The day was clear and calm, with chilly temperatures. High temps on Ash Creek Butte reached 24 degrees. Wind on Mount Shasta was quite mellow comparatively speaking to recent days, blowing predominantly out of the east, averaging 8 mi/hr with gusts to 30 mi/hr. Past wind loading was observed near and above treeline east of Mount Shasta. Small to medium-sized cornices have formed along leeward terrain features. Recent new snow averaged 3 - 5 inches above 6,000 feet. All told, wind slabs and cornices were stubborn to trigger. No recent avalanches or obvious signs of hazard were encountered. 
Observation Location: Little Mount Hoffman, Pumice Stone Mountain, Little Glass Mountain and Paint Pot Crater
Elevation: 4,000 to 7,000 feet
Date: 20230216
Time: Afternoon hours
Observer: Meyers / Falconer
Sky Conditions: Clear (CLR)
Current Precipitation: none
Air Temperature: 24 °F
Surface Penetration: Boot penetration (PF) = 3-5 in / Snowmobile = 5-8 in
Total Snow Depth (HS): 90 - 125 in 
24-hour New Snow Depth (HN24): [none
24-hour New Snow Water Equivalent (HN24W): none
Wind Direction: Variable
Wind Speed: Calm (C), 0 mi/hr
Photos
Weather Observations
Details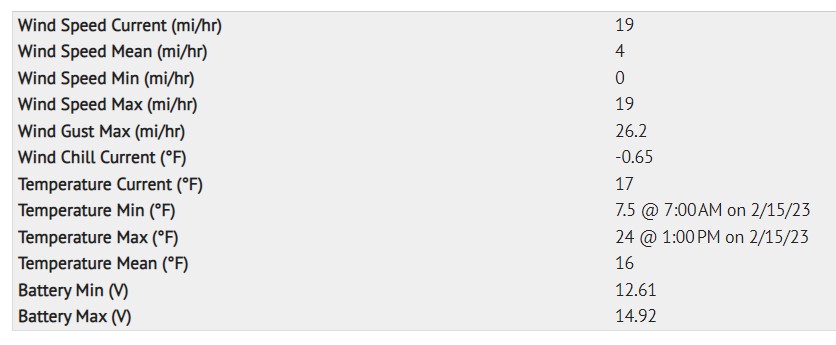 Statistics
Air temperature:
Below Freezing
Air temperature trend:
Warming