You are here
Eddy Mountains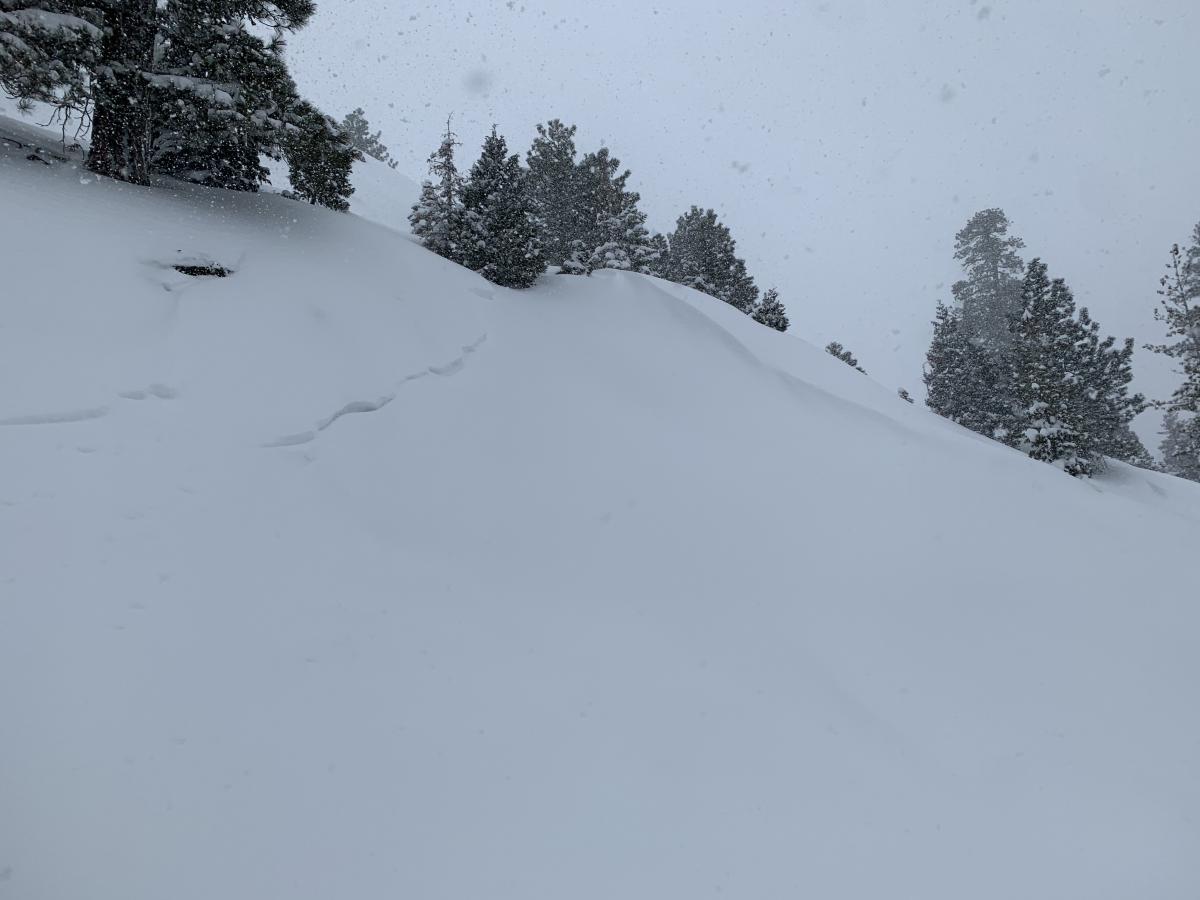 Location Name:
Parks Creek Summit
Date and time of observation:
Mon, 03/15/2021 - 9:00am
Observation made by:
Public
Red Flags:
Recent avalanche activity
Whumphing noises, shooting cracks, or collapsing
Recent loading by new snow, wind, or rain
Location Map
96067
Mount Shasta
,
CA
United States
41° 22' 10.7076" N, 122° 32' 30.5412" W
California US
Snowpack Observations
Details
Eddy Mountains, Parks Creek Summit area. Many red flags of danger today. Snow to valley floor. Observed 1.5-2 feet of new snow near the top of Eddy Creek drainage and in the area. Drifts to 4 feet. Windy, NE to NW. Tons of blowing snow, shooting cracks, large and deep, hollow wind slabs. Skin track blew back in within the hour. Arduous trail breaking. A total wallow. A couple D2 natural avalanches that crossed the road on the way up. Storm began to break mid-day. Donut holes of blue sky. Filtered sunlight and obscured skies for most the day. The new snow was very low density and deep. One of the higher avalanche danger days of the season. We stuck to lower angle terrain.
Observation Location: Eddies, Parks Creek Area
Elevation: ~7,000 feet
Date: 20210315
Time: All day
Observer: H Meyers
Sky Conditions: Obscured (X)
Current Precipitation:  S1, ceasing by mid-day.
Air Temperature: 15° low / 23° high / 18° mean °F
Surface Penetration: Ski penetration (PS) = 1.5 feet, boot penetration (PF) = 24 in 
Total Snow Depth (HS): 160-180 cm
24-hour New Snow Depth (HN24): 50-60 cm
24-hour New Snow Water Equivalent (HN24W): n/a
Wind Direction: [N | NE NW 
Wind Speed: Strong for the AM, moderate for the PM, windy over ridgetops, calm down in the drainages
Photos
Weather Observations
Statistics
Cloud Cover:
100% of the sky covered by clouds
Accumulation rate:
Greater than 1 in. per hour
Air temperature:
Below Freezing
Air temperature trend:
Warming
Wind Direction:
Northeast