You are here
Eddy Mountains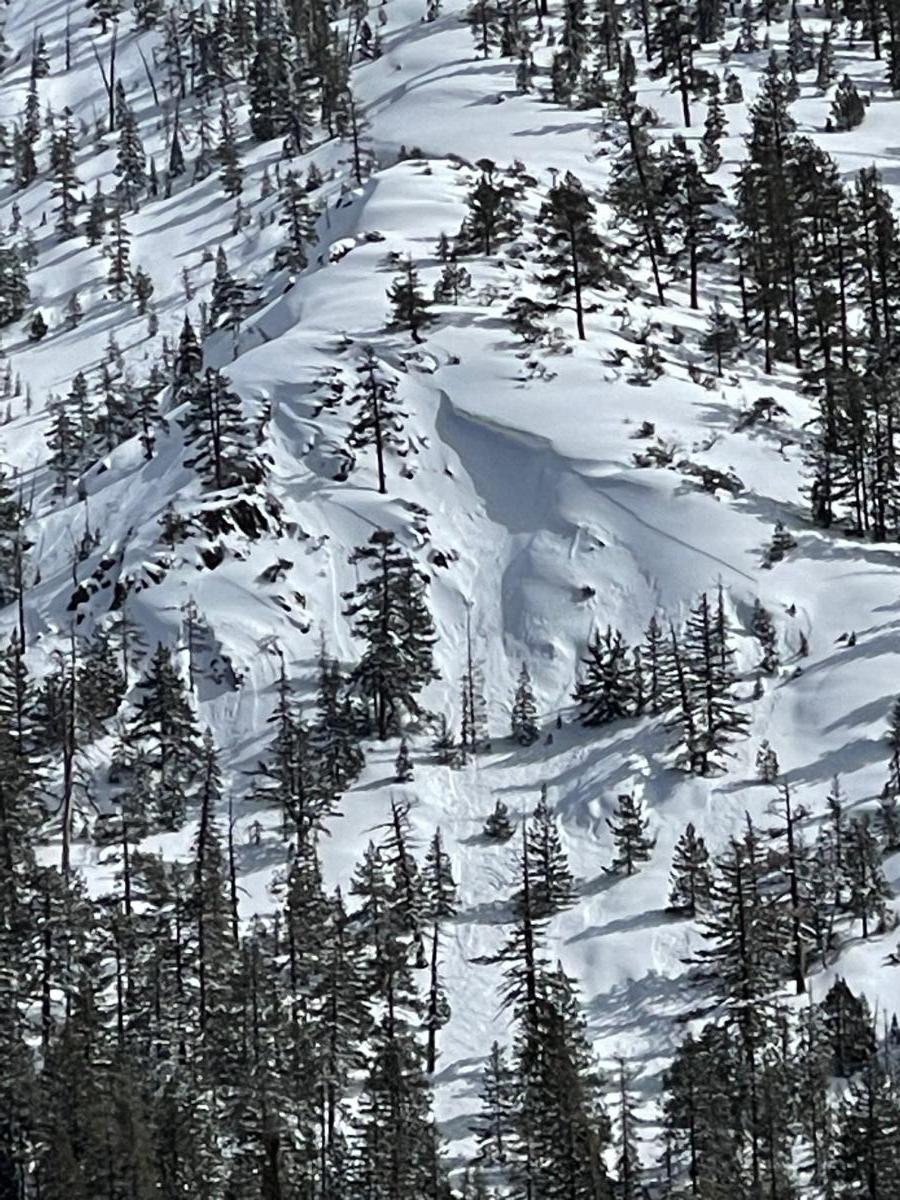 Location Name:
Parks Creek Summit Area
Date and time of observation:
Wed, 03/08/2023 - 2:30pm
Observation made by:
Forecaster
Red Flags:
Recent avalanche activity
Recent loading by new snow, wind, or rain
Location Map
96067
Mount Shasta
,
CA
United States
41° 20' 35.448" N, 122° 32' 15.8172" W
California US
Snowpack Observations
Details
Eddy Mountains

Caught somewhat of a mid-afternoon break in the weather today, with light snow and little wind. The Eddy Mountains have seen variable and uneven new snow distribution due to shifty wind and different storm tracks, but none-the-less, there is a bunch of new snow out there and it's deep. In the Deadfall Lake drainage, up to two feet of new snow was measured on top of a thin melt/freeze crust that formed on March 2nd. This crust is not everywhere, only sunny slopes and lower elevation terrain. We have not observed any avalanches on this crust.

Soft storm slabs were the main avalanche problem of the day. Three small, natural avalanches were observed, on east and west/northwest facing slopes, all near and below treeline terrain. All avalanches were within the top 4–8 inches of new snow. This weak layer within new storm snow was teased out in a "burp-the-baby" test. (See photo) No avalanches stepped down to deeper layers. The wind today was mostly absent, though a lot of low density snow is available for transport. One shallow, natural wind slab was observed on a W/NW facing slope. 
Observation Location: Eddy Mountains, Parks, Deadfall
Elevation: 4,500 to 7,000 feet
Date: 20230308
Time: 1300 - 1600
Observer: Meyers / Anderson
Sky Conditions:  Broken (BKN) 
Current Precipitation: Type - SN, Rate - S-1 
Air Temperature: 23 °F
Surface Penetration: Boot penetration (PF) = 1-3 feet
Total Snow Depth (HS): 148 inches
24-hour New Snow Depth (HN24): 6-12 inches
24-hour New Snow Water Equivalent (HN24W): n/a
Wind Direction: SW | W
Wind Speed: Light (L), 1-16 mi/hr, twigs in motion
Photos
Weather Observations
Details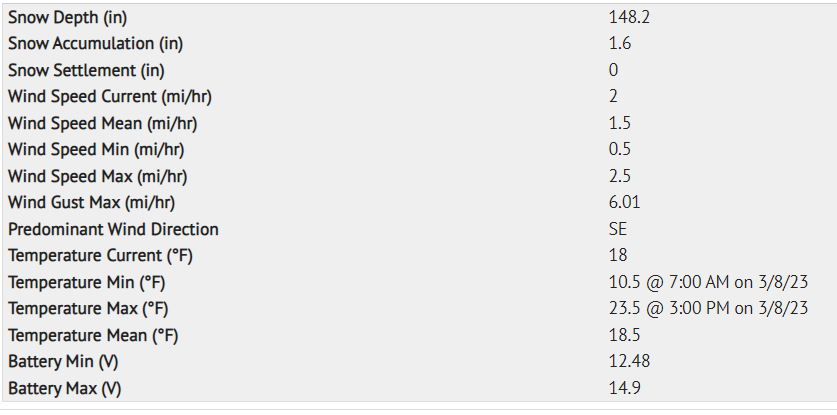 Statistics
Cloud Cover:
75% of the sky covered by clouds
Air temperature:
Below Freezing
Air temperature trend:
Warming