You are here
Eddy Mtns - Storm Slab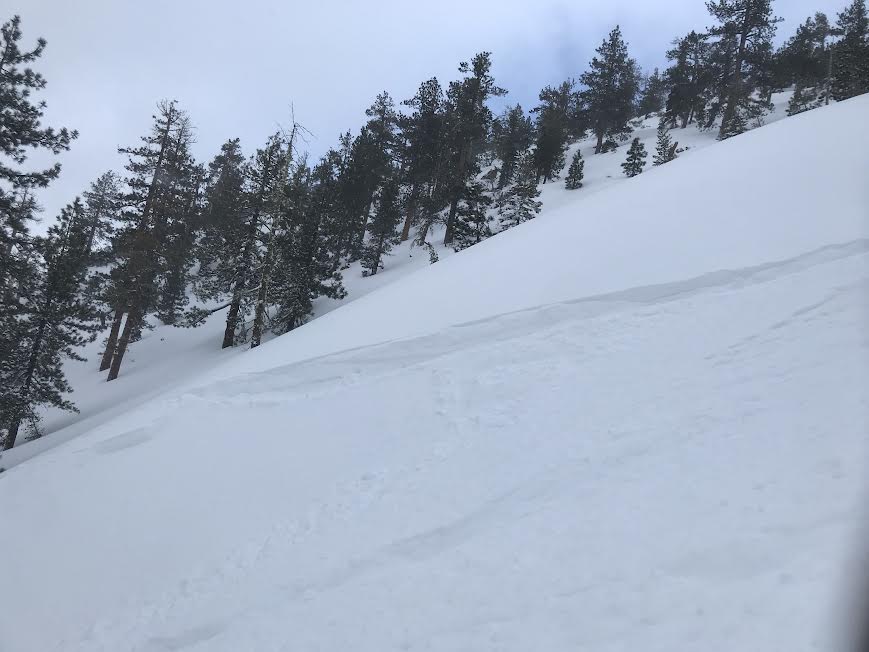 Location Name:
Tamarack flat
Date and time of observation:
Mon, 02/27/2023 - 1:01pm
Observation made by:
Forecaster
Red Flags:
Whumphing noises, shooting cracks, or collapsing
Recent loading by new snow, wind, or rain
Location Map
96067
Mount Shasta
,
CA
United States
41° 21' 56.5344" N, 122° 31' 52.0716" W
California US
Snowpack Observations
Details
Today we embarked on a mission into the Eddy mountains to observe storm conditions and assess for instabilities within the new snow. Our suspicions were confirmed with a storm slab releasing a foot deep from the weight of a single rider on a convex roll-over. Test slopes displayed shooting cracks and blocking underfoot. Over a foot of new, dry snow resting atop a thin crust from the previous storm's interface was encountered. The dry snow was easy to move and sluff off steep terrain. No major sign of wind loading below treeline was observed, though winds blew small amounts of snow around. Near treeline consistent moderate to strong southwest and westerly winds were ripping over ridge tops and through exposed areas, loading snow onto leeward slopes. Snowfall rates of one inch per hour persisted through the majority of the outing. No other signs of avalanche activity or snowpack instability were observed. 
Observation Location: Mount Eddy range 
Elevation: 6,600 feet
Date: 2032.02.27
Time: 0100
Observer: E.Falconer 
Sky Conditions: Overcast (OVC) | Obscured (X)]
Current Precipitation: Type - SN  Rate -  S2 
Air Temperature: 21 °F
Surface Penetration: Ski penetration (PS) = 10 in (25 cm), boot penetration (PF) = 40 in (100 cm)
Total Snow Depth (HS): 140in (355 cm)
24-hour New Snow Depth (HN24): 10 in (25 cm)
24-hour New Snow Water Equivalent (HN24W): 0
Wind Direction: SW | W 
Wind Speed: Moderate (M), 17-25 mi/hr, small trees sway | Strong (S), 26-38 mi/hr, whole trees in motion 
Column & Block Tests:
Photos
Weather Observations
Statistics
Cloud Cover:
100% of the sky covered by clouds
Accumulation rate:
Greater than 1 in. per hour
Air temperature:
Below Freezing
Air temperature trend:
Cooling
Wind Direction:
Southwest