You are here
Eddy Range in the storm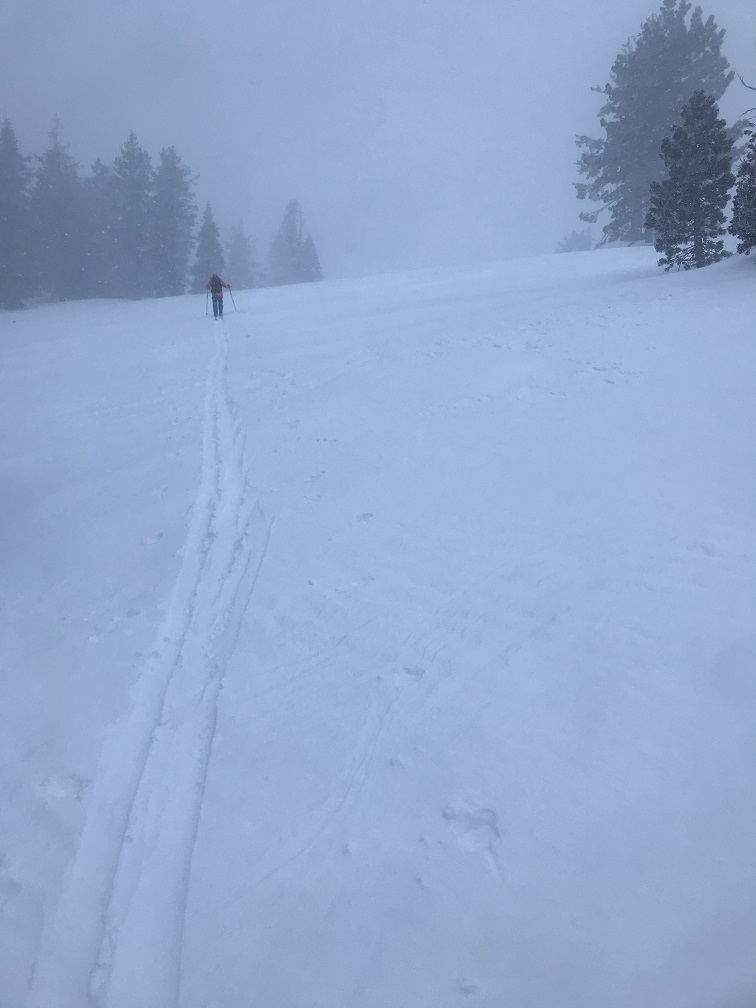 Location Name:
Parks Creek Summit
Date and time of observation:
Mon, 01/13/2020 - 2:30pm
Observation made by:
Public
Red Flags:
Whumphing noises, shooting cracks, or collapsing
Recent loading by new snow, wind, or rain
Location Map
96067
Mount Shasta
,
CA
United States
41° 20' 31.1316" N, 122° 32' 16.9368" W
California US
Snowpack Observations
Details
January 13, 2020 - Eddy Mountains - Parks Creek Summit area -  7,100 feet -1430 hours - Meyers
SKY: Obscured; full white out, visibility <1/8 mi

PRECIP: S2 - Approx. 1 in/hour

BLOWING SNOW: Yes

AIR TEMP: 32 F

SURF PEN: 12-15 in

HEIGHT SNOW -HS: 30 - 40 in

HEIGHT NEW -HN: 2-3 in

WIND: South, strong over the ridge tops near/above treeline, light to moderate/gusty below treeline
NOTES: A very wintery day, strong and steady winds out of the south, a crescendo of snow throughout the afternoon. Active wind loading, wind drifts 1 - 2 feet deep. Below and near treeline, unstable snow structure observed with slab over a weak layer of sugary snow, top 8-10 inches of snowpack. One finger hardness slabs slabs, 3-5 inches thick were easily triggered on small test slopes, failing on top of a several inch thick layer of weak, sugary snow.  Unknown how widespread this persistent layer is within the range, but observed in many locations, north to northwest facing, below and near treeline in the Parks Creek summit area. Something to pay attention to in the coming days with increased snow load, especially where observed on steeper slopes. 
Photos
Weather Observations
Statistics
Cloud Cover:
100% of the sky covered by clouds
Accumulation rate:
Less than 1 in. per hour
Air temperature:
Below Freezing
Air temperature trend:
Warming