You are here
Etna Pass Area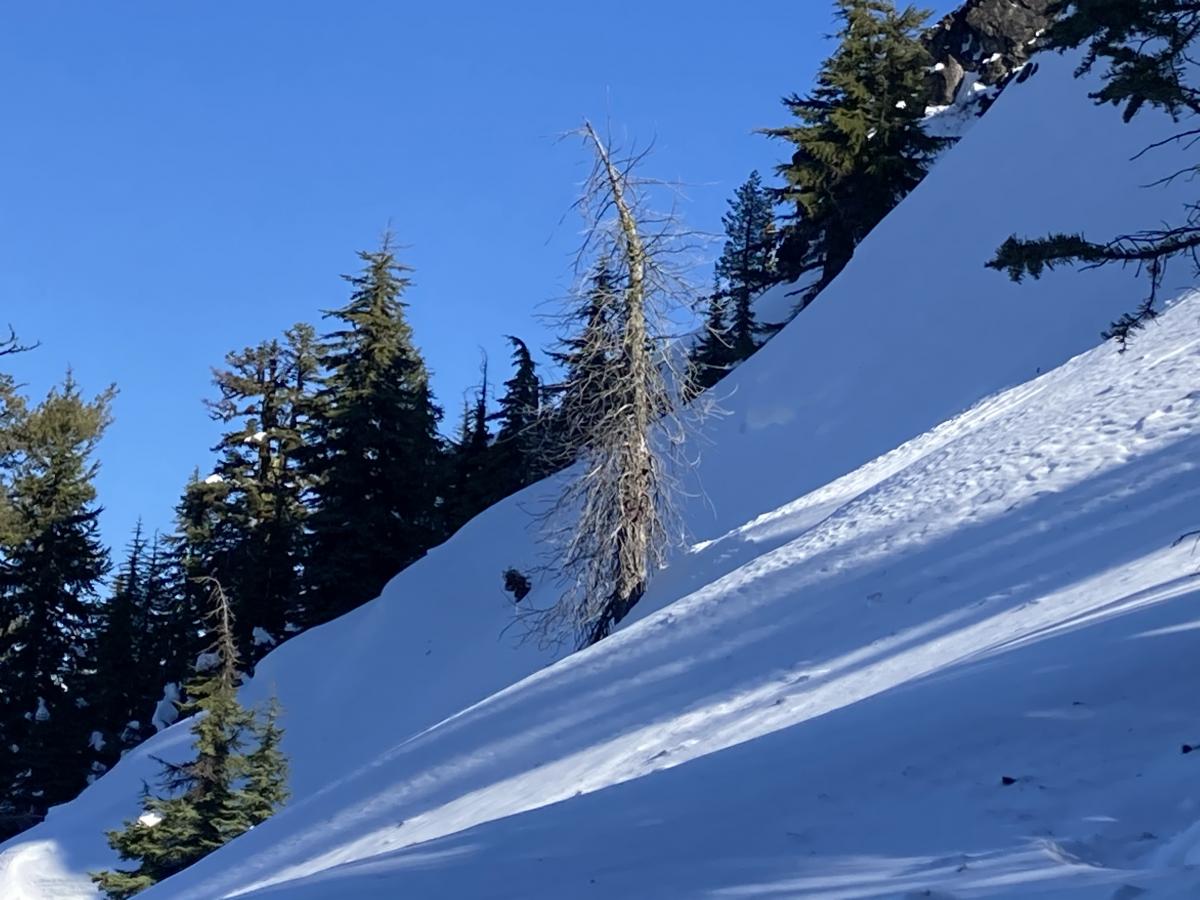 Location Name:
Mt. Etna near recent avalanche
Region:
Outside of the Forecast Area
Date and time of observation:
Sat, 02/06/2021 - 12:44pm
Observation made by:
Public
Red Flags:
Recent avalanche activity
Recent loading by new snow, wind, or rain
Location Map
96067
Mount Shasta
,
CA
United States
41° 23' 20.6916" N, 122° 58' 59.7648" W
California US
Snowpack Observations
Details
With the recent avalanche incident and sadness that has come from it, I wanted to head out to the location to see if there could be something to learn from the snowpack.  My deepest condolences to friends, and family of those affected by the accident.
Observation Location: 10T 0501335E 4581964N
Elevation: 6554 FT
Date: 2021-02-06
Time: 12:44PM
Observer: Caleb Burns
Sky Conditions: Clear - CLR
Current Precipitation:  NO
Air Temperature: 40 °F
Surface Penetration: boot penetration (PF) = 21 in (55 cm)
Total Snow Depth (HS): 155 cm
24-hour New Snow Depth (HN24): Unknown
Wind Direction: N/A
Wind Speed: Calm (C), 0 mi/hr 
Column & Block Tests:

36º slope angle, N Aspect 
ECTX
CT29Q2↓64cm
SSE↓37cm   --    this occured on a burried SH layer that wasn't sliding under the CT or ECT, but had a planar failure in the SS test - This is my layer of most concern in the current snowpack
Photos
Weather Observations
Details
Clear skies and no wind made for an excelent time in the zone.  Temperatures warmed to the 40's and good corn snow could be found on Westerly aspects late in the day.  Northerly slopes are holding a wind packed layer that sits on top of some instabilities and those slopes are staying cold with almost no sunlight hitting them during the daytime hours.  Winds have appeared to be loading the NW - NE aspects and where the recent slide occured has nearly reloaded the entire slope again.  Good snow that is still light and dry can be found on those aspects, but with additional wind more loading is likely to occur.
Statistics
Air temperature:
Above Freezing
Air temperature trend:
Warming