You are here
Freezing fog and rain caps off the snowpack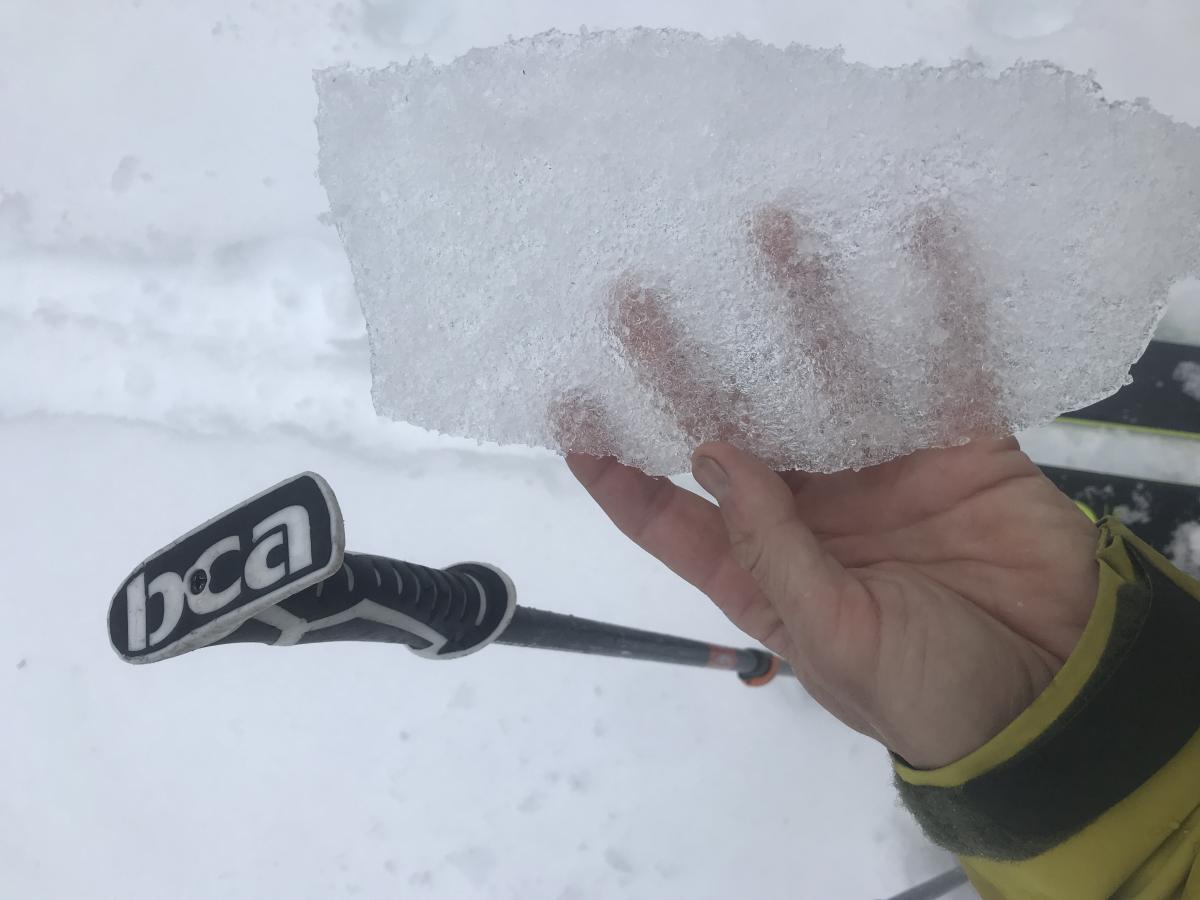 Location Name:
Mt Shasta / Gray Butte
Date and time of observation:
Fri, 12/20/2019 - 2:30pm
Observation made by:
Forecaster
Location Map
96067
Mount Shasta
,
CA
United States
41° 20' 49.0308" N, 122° 11' 45.1104" W
California US
Snowpack Observations
Details
20191220 - 1430 hrs - Meyers

Gray Butte via Ski Park : 6 - 8,000 feet / Below-Near Treeline terrain
SKY: Obscured - Sky not visible, dense fog, <200 yds visibility
PRECIPITATION: Mixed freezing fog and very light rain
BLOWING SNOW: None, no snow available for transport due to ice lens cap on snowpack
AIR TEMP: 29.5 deg F
SURFACE PEN: 10-15 inches
HEIGHT OF SNOWPACK: 45 to 55 inches
HEIGHT OF NEW SNOW: 9-13 inches
WIND: Gusty, SSW, Avg-13/G-27 mph
NOTES: For the storm starting on December 18th at noon until now, we have received just over 1 inch of snow water equivalent, which has translated into mostly snow above 6,000 feet. Lower elevations below treeline hold 4-7 inches of new snow, near treeline 9-13 inches and above treeline is variable due to strong winds...some areas are scoured, other hold 1-2  foot drifts. Last night (12/19), the forecast area experienced a rapid warming, accompanied by light precipitation in the form of freezing fog and rain. This created a widespread ice lens, capping the snowpack and sealing off the fresh snow beneath. The ice lens begins near 6,500 feet. As one gains elevation, the lens becomes thicker. Some wind scoured areas above treeline on Mount Shasta are likely VERY icy and extremely dangerous, i.e. slide for life conditions. 

The top 2.5 to 3 feet of the general snowpack hosts an interesting structure. While no one layer has produced planar shears, we still have harder snow over softer snow, several crust layers and now the ice lens on top. Uncertainty remains for the future. Any significant snow load could fail above or below the 12/19 ice lens. Below treeline where the lens is very thin, failure would likely occur below. Near and above treeline, where the lens is thicker and hard, failure may occur above. Either way, it's an ideal bed surface.
Photos
Videos
Weather Observations
Statistics
Cloud Cover:
100% of the sky covered by clouds
Precipitation:
Mixed rain and snow
Air temperature:
Below Freezing
Air temperature trend:
Cooling
Wind Direction:
Southwest