You are here
General Conditions Below, Near, and Above Treeline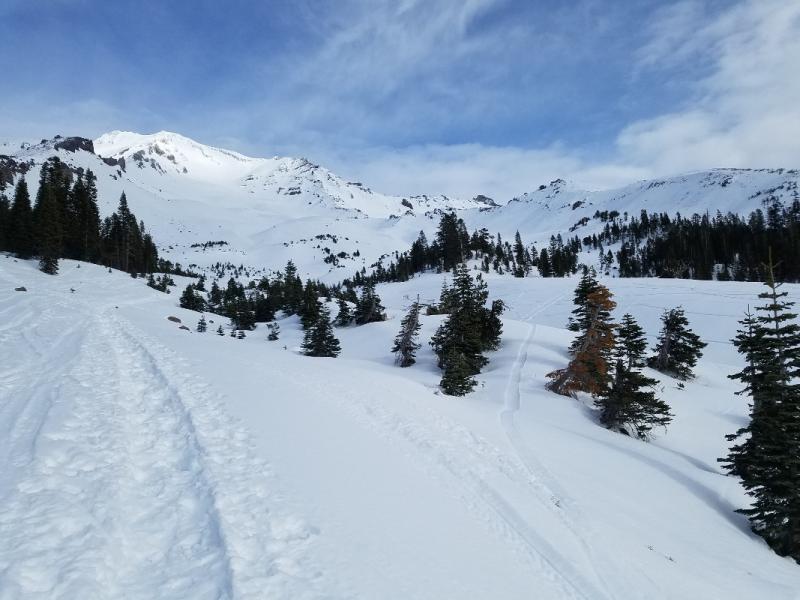 Location Name:
Avalanche Gulch
Date and time of observation:
Wed, 01/31/2018 - 10:00pm
Observation made by:
Professional Observer
Location Map
96067
Mount Shasta
,
CA
United States
41° 23' 18.7044" N, 122° 12' 36.4032" W
California US
Snowpack Observations
Details
Observed conditions on a tour up to Helen Lake (10,400 ft):
7,000-8,500 ft: 4-6 in (10-15 cm) of moist to wet snow. Calm to light winds, above freezing temperatures.
8,500-9,500 ft: 1/2 in (1 cm) of dry to moist snow on top of firm snow.  Smooth surfaces on easterly aspects. Wind eroded surfaces and sastrugis on westerly and southerly aspects. Moderate NW and NE winds with strong gusts. Near freezing temperatures.
9,500-10,500 ft: Firm conditions with sun crusts, wind crusts, sastrugis, and wind eroded surfaces. Moderate NW and NE winds with strong gusts. Near to below freezing temperatures.
No signs of instability. Snowpack is locked up. Moderate transport of snow by NE and NW winds, but no accumulation or wind slab development observed. If current weather patterns continue, expect to see corn snow by the weekend.
Photos
Videos
Weather Observations
Statistics
Cloud Cover:
75% of the sky covered by clouds
Air temperature:
Above Freezing
Air temperature trend:
Static
Wind Direction:
Northwest