You are here
Giddy Giddy Gulch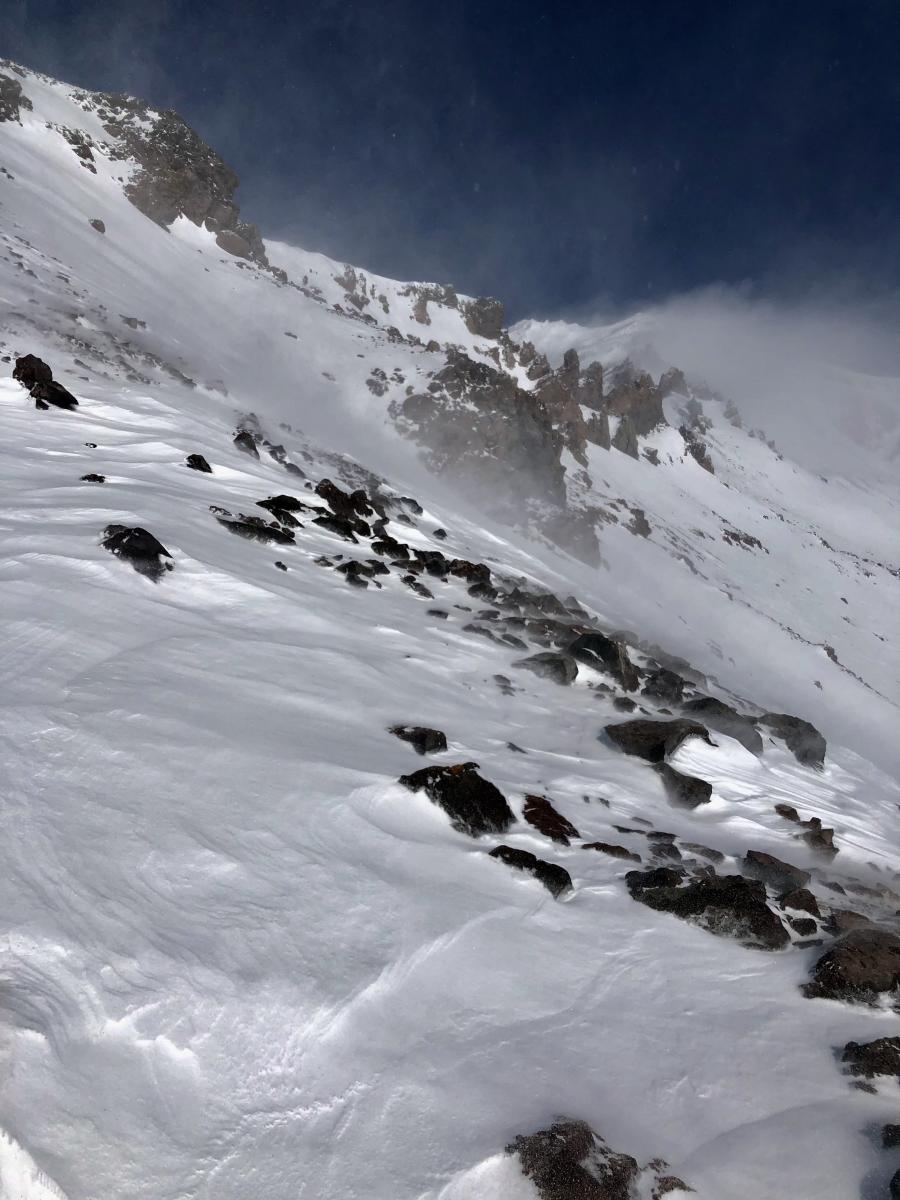 Location Name:
Giddy Giddy
Date and time of observation:
Fri, 01/08/2021 - 9:45am
Observation made by:
Public
Red Flags:
Recent loading by new snow, wind, or rain
Location Map
96067
Mount Shasta
,
CA
United States
41° 23' 4.2936" N, 122° 13' 17.4684" W
California US
Snowpack Observations
Details
Observation Location: Giddy Giddy Gulch
Elevation: 9,853
Date: 20210108
Time: 11am
Observer: Bill
Sky Conditions: [Clear (CLR) | Few (FEW) 
Current Precipitation: None
Air Temperature: cold with wind chill
Surface Penetration: Ski penetration (PS) = 4-6 in, boot penetration (PF) = 8 in 
Total Snow Depth (HS): not measured
24-hour New Snow Depth (HN24): 4-6 inches
24-hour New Snow Water Equivalent (HN24W): n/a
Wind Direction: NW 
Wind Speed: intermittent  Moderate (M), 17-25 mi/hr, small trees sway with bigger gusts of 30-40mph
Column & Block Tests: none
John and I did a tour up Giddy Giddy gulch from Bunny Flat. The new snow in the morning with a good Avy report and the chance of blue skies lured us up the mountain. I was concerned mostly about the hidden rocks and trees that may be lurking. We did not hit one the whole day! Giddy gully had 4-6 inches for 2/3 of the way up, then the winds picked up around 10:30 or so. The wind was gusty and swirling causing snow transport down the gully. The sides of the gully were scoured and probably not ski worthy. Our skin track up the gully was completely covered in snow due to wind transport. At the top of Giddy the wind was swirling in twisters off and on making it feel colder. The ski down was great, with 4-8 inches of new snow. We saw a group of 5-6 heading up when we got down to the bottom. 
Photos
Weather Observations
Statistics
Air temperature:
Below Freezing
Air temperature trend:
Warming
Wind Direction:
Northwest