You are here
Graupel on Mount Shasta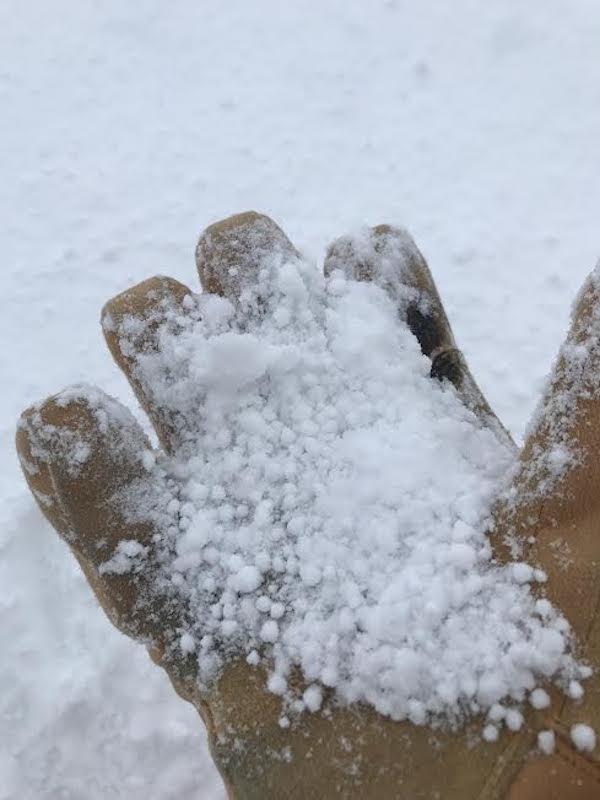 Location Name:
Old Ski Bowl
Date and time of observation:
Tue, 02/21/2023 - 1:01pm
Observation made by:
Forecaster
Red Flags:
Recent loading by new snow, wind, or rain
Location Map
96067
Mount Shasta
,
CA
United States
41° 21' 50.4648" N, 122° 12' 26.8236" W
California US
Snowpack Observations
Details
Today's outing to the Old Ski Bowl was aimed to observe the weather and snow conditions with the arrival of the storm. The storm didn't truly commence until 1300 hours, at which point moderate to strong northwest winds picked up blowing snow onto all southerly aspects. Graupel with grains up to 5 millimeters large was the predominant precipitation type and fell at a moderate speed of 2 cm per hour. These large grains of graupel indicated unstable air masses aloft. Visibility shifted between poor and terrible, as fast-moving clouds swept over Mount Shasta, obscuring the upper mountain from sight. Temperatures were below freezing and had frozen the wet snow surfaces from the warm days prior. These slippery surfaces made gaining purchase on a snowmobile difficult. Below treeline conditions were less firm and punchy.
Observation Location: Old Ski Bowl
Elevation: 8,000 feet
Date: 2023.02.21
Time: 1300 
Observer: E.Falconer
Sky Conditions: Overcast (OVC) | Obscured (X)
Current Precipitation: Type - GR | Rate -  S2 
Air Temperature: 17 °F
Surface Penetration: Sled penetration (PS) = 1.5 in (3 cm), boot penetration (PF) = 9 in (23 cm)
Total Snow Depth (HS): 121 in (308 cm)
24-hour New Snow Depth (HN24): 0
24-hour New Snow Water Equivalent (HN24W): 0
Wind Direction: NW
Wind Speed: Moderate (M), 17-25 mi/hr, small trees sway | Strong (S), 26-38 mi/hr, whole trees in motion 
Photos
Weather Observations
Statistics
Cloud Cover:
100% of the sky covered by clouds
Accumulation rate:
Less than 1 in. per hour
Air temperature:
Below Freezing
Air temperature trend:
Cooling
Wind Direction:
Northwest