You are here
Gray Butte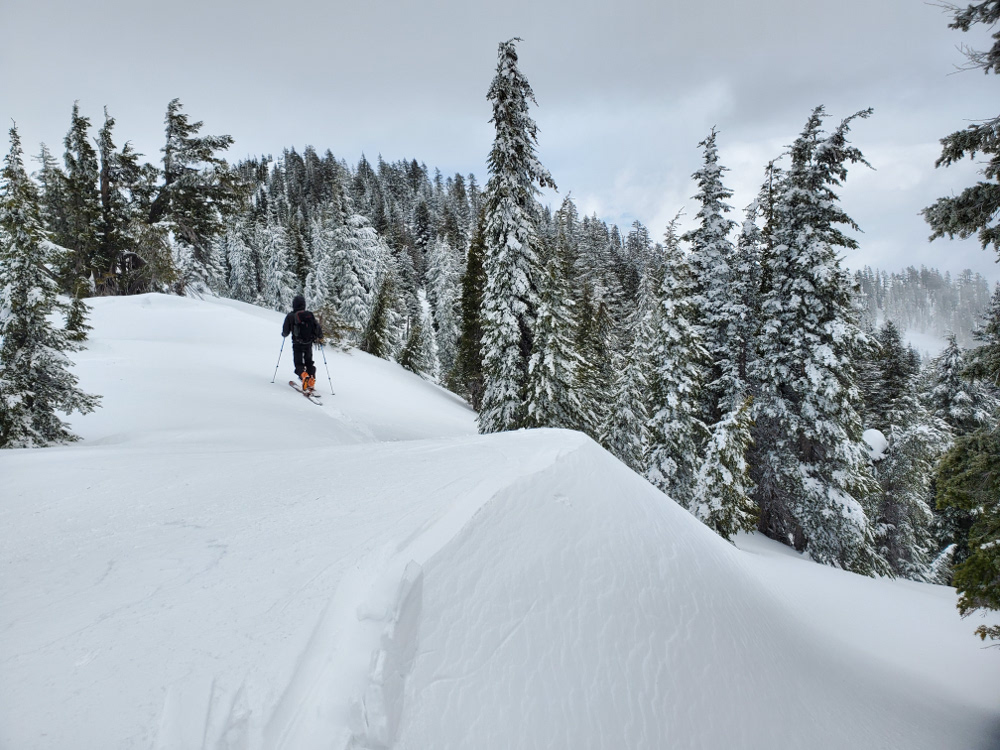 Location Name:
Gray Butte
Date and time of observation:
Sun, 01/12/2020 - 2:00pm
Observation made by:
Forecaster
Location Map
96067
Mount Shasta
,
CA
United States
41° 20' 56.13" N, 122° 11' 34.602" W
California US
Snowpack Observations
Details
Observations on Gray Butte:
DATE: 20200112 - 1400 hours
ELEVATION: 8,040 ft
SKY: Obscured
PRECIPITATION: < 1 cm/hr
BLOWING SNOW: Not much snow available for transport in wind exposed areas
TEMPERATURE: ≈20°F
WIND: Moderate, west
RED FLAGS: N/A
BOOT/SKI PENETRATION: 0-6 inches / 0-3 inches
Small, isolated, wind slabs and cornices were encountered that were unreactive or stubborn to trigger.  Ridgelines and start zones are scoured. No notable ski cut tests, column tests or extended column test results were seen (ECTN 12 ↓ 20 cm). Upper snow pack is a mix of crusts and 1F density snow with a bit F snow on top. Overall the snowpack is stable with no obvious signs of instabilty. If you encounter the 12/19 rain crust near treeline, be prepared for a hard, slick climb.
Surface conditions are variable. Look for the best snow below treeline on low angle terrain in wind and sun protected areas.
Photos
Weather Observations
Statistics
Cloud Cover:
100% of the sky covered by clouds
Accumulation rate:
Less than 1 in. per hour
Air temperature:
Below Freezing
Air temperature trend:
Static