You are here
Gray Butte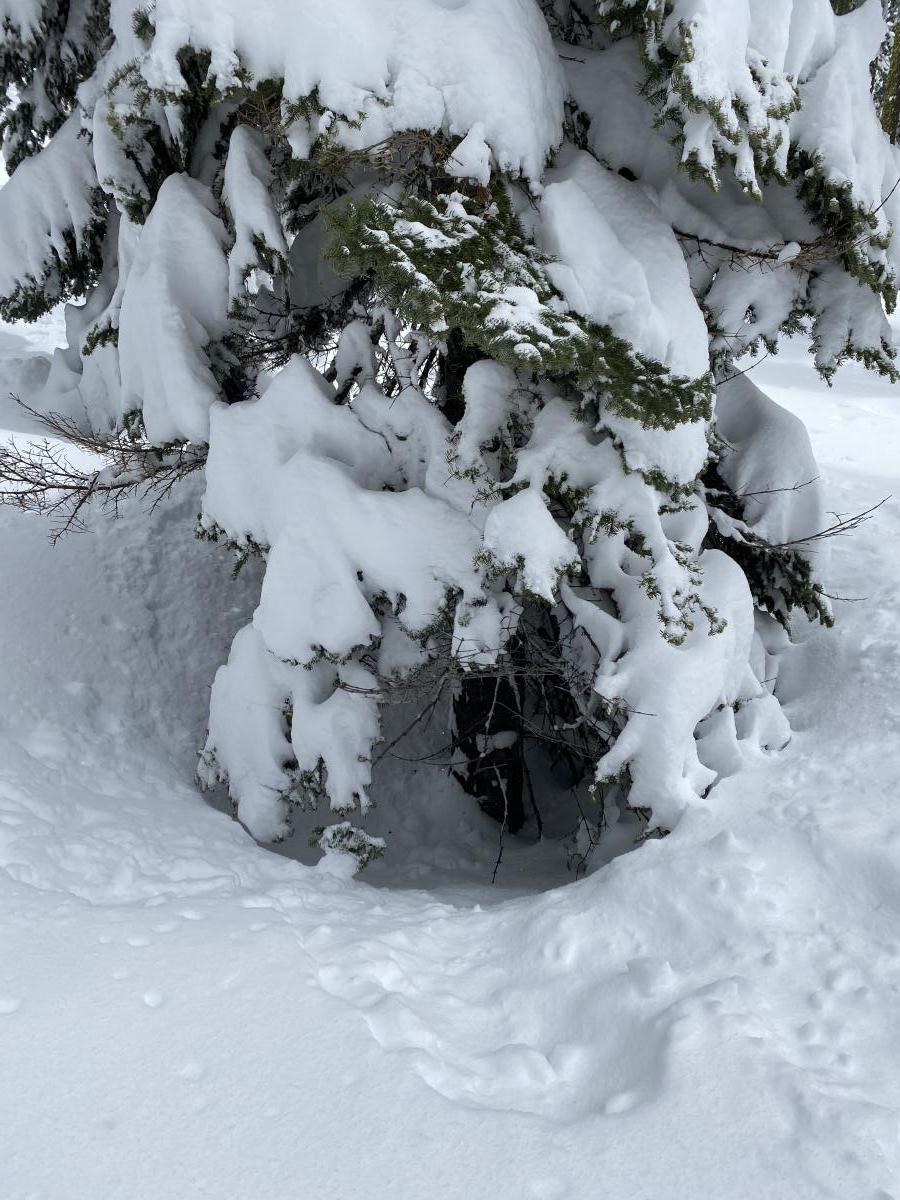 Location Name:
Gray Butte
Date and time of observation:
Wed, 03/08/2023 - 12:00pm
Observation made by:
Forecaster
Red Flags:
Recent loading by new snow, wind, or rain
Location Map
96067
Mount Shasta
,
CA
United States
41° 20' 44.4336" N, 122° 11' 44.4336" W
California US
Snowpack Observations
Details
I don't want to bury the lede, so I'll just come out and say it...there's a ton of snow out there. I decided to head up Gray Butte to check things out. Mostly, I was curious if the relatively calm winds last night had finally delivered some snow without forming huge wind slabs. A rarity it seems this winter.
The skin track up was less a track, and much more of a trench. Without significant compaction, our skin track was still well over 18 inches deep in places. Some slow going, for sure. Driving up to the park in the morning, significant spindrift was visible off of the upper mountain, so I was anticipating fairly strong winds at the exposed top of Gray Butte.
Making my way up there, I kept bracing for the expected wind but, other than a few stray gusts, it never materialized. Whether it had died down by then, or it was localized to the upper mountain, it's hard to say. But there was very little evidence of wind texturing or wind-slabs forming, even near the very top.
While stomping hard on a couple test slopes, I did manage to cause some blocks to break loose. But nothing alarming, and certainly less than I had imagined going into the day. I didn't find significant wind-loading on any aspects, with the southern slopes holding about 20 inches of new snow. Frankly, it's a little hard to determine where the "new" snow ends, and the "slightly less new snow" begins.
With so much new snow, it's important to think outside the "avalanche-hazard box" and remember that there are other things out there. Be extremely wary of treewells. They are very prevalent right now. I skied right by a couple that are easily person-eating size. Keep your head on a swivel!
Observation Location: Gray Butte
Elevation: 8,000 ft
Date: 20230308
Time: 1200
Observer: Casey G
Sky Conditions: Broken and Overcast, alternating
Current Precipitation: Light snow flurries
Air Temperature: Below freezing
Surface Penetration: Ski penetration 10-14 in, boot penetration 25 in
Wind Direction: N-NW
Wind Speed: Light
Photos
Weather Observations
Statistics
Cloud Cover:
50% of the sky covered by clouds
Accumulation rate:
Less than 1 in. per hour
Air temperature:
Below Freezing
Wind Direction:
Northwest