You are here
Gray Butte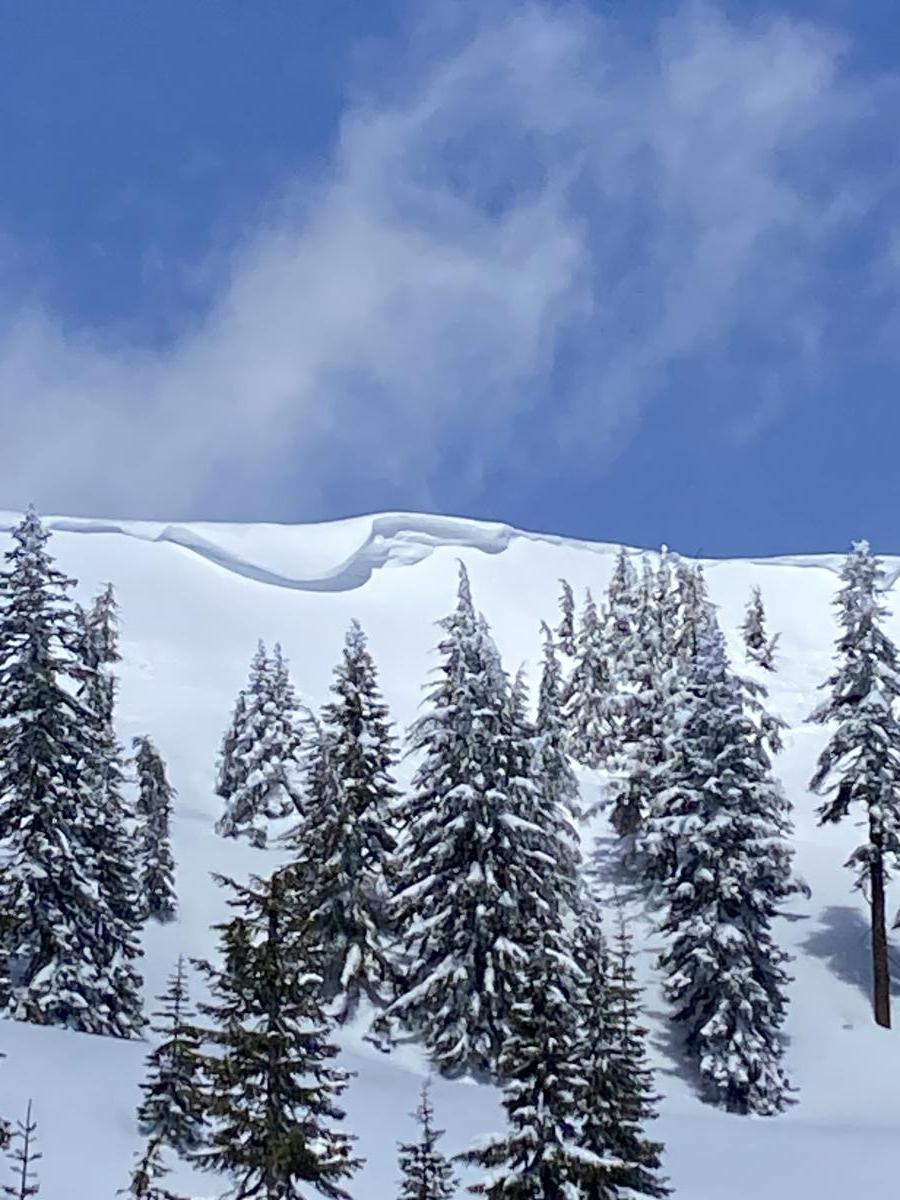 Location Name:
Gray Butte
Date and time of observation:
Wed, 04/05/2023 - 11:00am
Observation made by:
Forecaster
Red Flags:
Recent avalanche activity
Rapid warming
Location Map
96067
Mount Shasta
,
CA
United States
41° 20' 53.5164" N, 122° 11' 40.9416" W
California US
Snowpack Observations
Details
Headed over to Gray Butte today with two objectives. One, to see the difference in north and south aspects after the recent warming/sun finally making an appearance. Two, to see if any wet loose, natural slides could be observed on Mount Shasta proper. Spoiler result, both were relevant.
Shortly after beginning my ascent, I got a glimpse of the ridge up through the trees. In less than 48 hours of spring sunshine, cornices have seen themselves reduced by the sun to mere drooping vestiges of their former selves. As I got closer to the base, I was able to climb on top of large chunks of debris. The cornices fell, creating debris of their own, but also triggered the slopes below, causing small slides that ran between 15-30 feet. The crown of the mini-slides is pictured, but was only about 3-4 inches in most places. Below that, the snow seems much more consolidated and resistant to movement.
For those folks that are looking to climb the mountain in the next few days and weeks, it's worth noting that the ridgeline I was exploring shares a very similar aspect to the Avalanche Gulch side of Casaval Ridge. Though I didn't notice any natural slides off Casaval, I'd be surprised if we don't start to see those in the near future.
The debris piles also showed another interesting feature, loads of surface hoar. The surface hoar was only on the north side of each individual block. Just another sign that we are well and truly into the spring season, with all the sunshine that comes with it in our neck of the woods.
The top of Gray Butte ridge itself was relatively scoured and sculpted by the wind. It was as still and calm today, but it's a good reminder that even with nice weather, the wind can always make an appearance on Mount Shasta.
The mountain stayed shrouded in clouds, but I did catch some glimpses here and there. There was a large debris pile, evidence of recent avalanche activity, at the bottom of the eastern end of Sargent's Ridge.
Observation Location: Gray Butte
Elevation: 8,000 feet
Date: 20230405
Time: 1100 - 1330
Observer: Casey G
Sky Conditions: Clear
Current Precipitation: None
Air Temperature: Above Freezing
Surface Penetration: Ski penetration (PS) = 2-3 in
24-hour New Snow Depth (HN24): 0 in
Wind Speed: Calm
Photos
Weather Observations
Statistics
Air temperature:
Above Freezing
Air temperature trend:
Warming