You are here
Gray Butte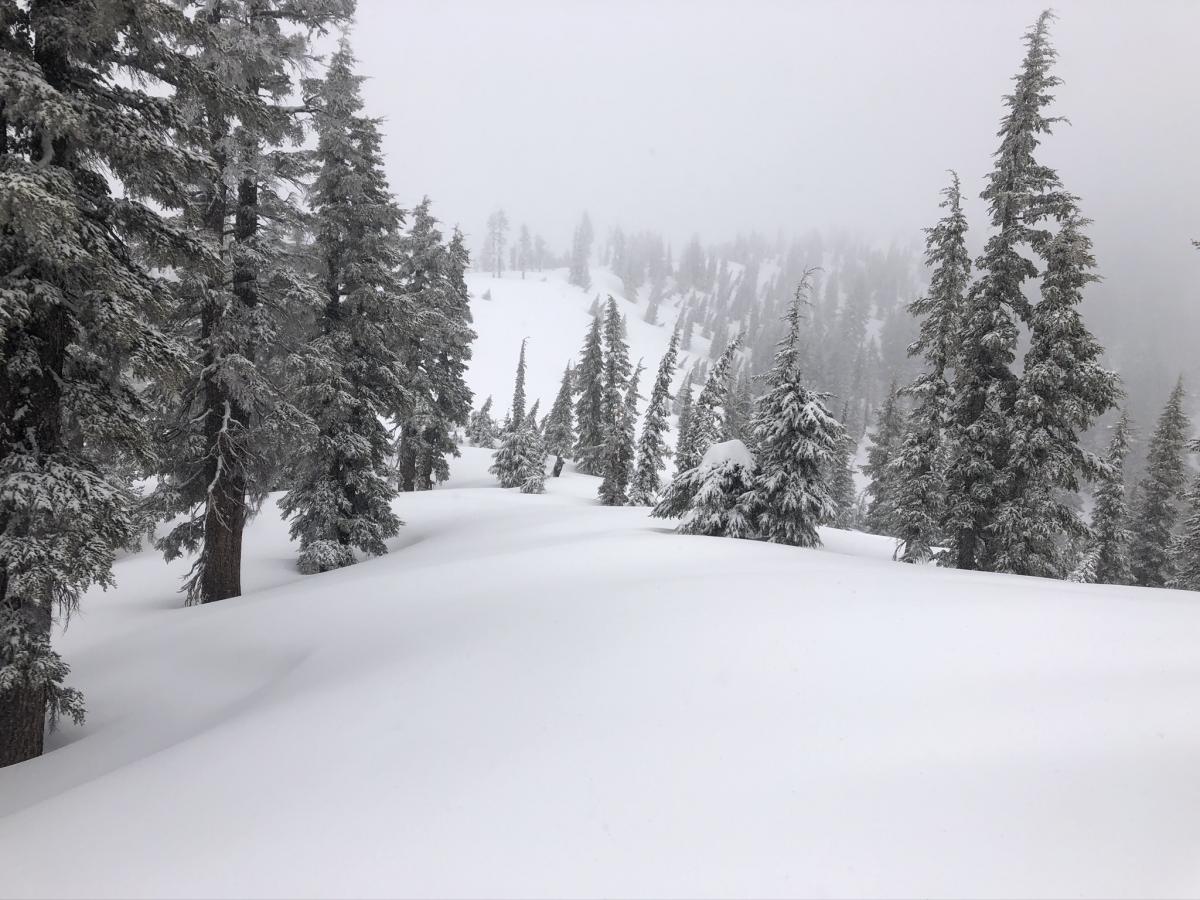 Location Name:
Gray Butte
Date and time of observation:
Tue, 03/24/2020 - 2:00pm
Observation made by:
Forecaster
Location Map
96067
Mount Shasta
,
CA
United States
41° 20' 47.04" N, 122° 11' 45.0636" W
California US
Snowpack Observations
Details
March 24, 2020 (20200324) - Gray Butte
TIME
: 0900-1530 SKY: Overcast, periods of low visibility 
PRECIP
: On and off light to moderate snowfall (S1-S2) between 0900 and 1400
WIND
: There was no wind affect on the snow surface below treeline. Near and above treeline, wind effects were light. Gray Butte weather station observed 5 hours of moderate SW wind from 0700 to 1400
BLOWING SNOW: Yes, Light AIR TEMP: Max 24 F at 1400 hour, Minimum 15 F at 0700
SURF PEN: 2 to 4 inches (6-10 cm)  
HST : 4 inches (10 cm)
HS :  67 inches (170 cm) at 8,000 feet
Notes:
Small drifts were up to 6 inches deep. 

Minor cracking and tiny wind slabs on the NE aspect of the ridge failing on new/old snow interface.

Southwest aspects near treeline host scoured icy patches.

The old melt-freeze crust was breakable in spots under the fresh snow.

Small sluffs were observed in west-facing terrain steeper than 40 degrees. 
Weather Observations
Statistics
Cloud Cover:
100% of the sky covered by clouds
Accumulation rate:
Less than 1 in. per hour
Air temperature:
Below Freezing
Air temperature trend:
Cooling
Wind Direction:
Southwest