You are here
Gray Butte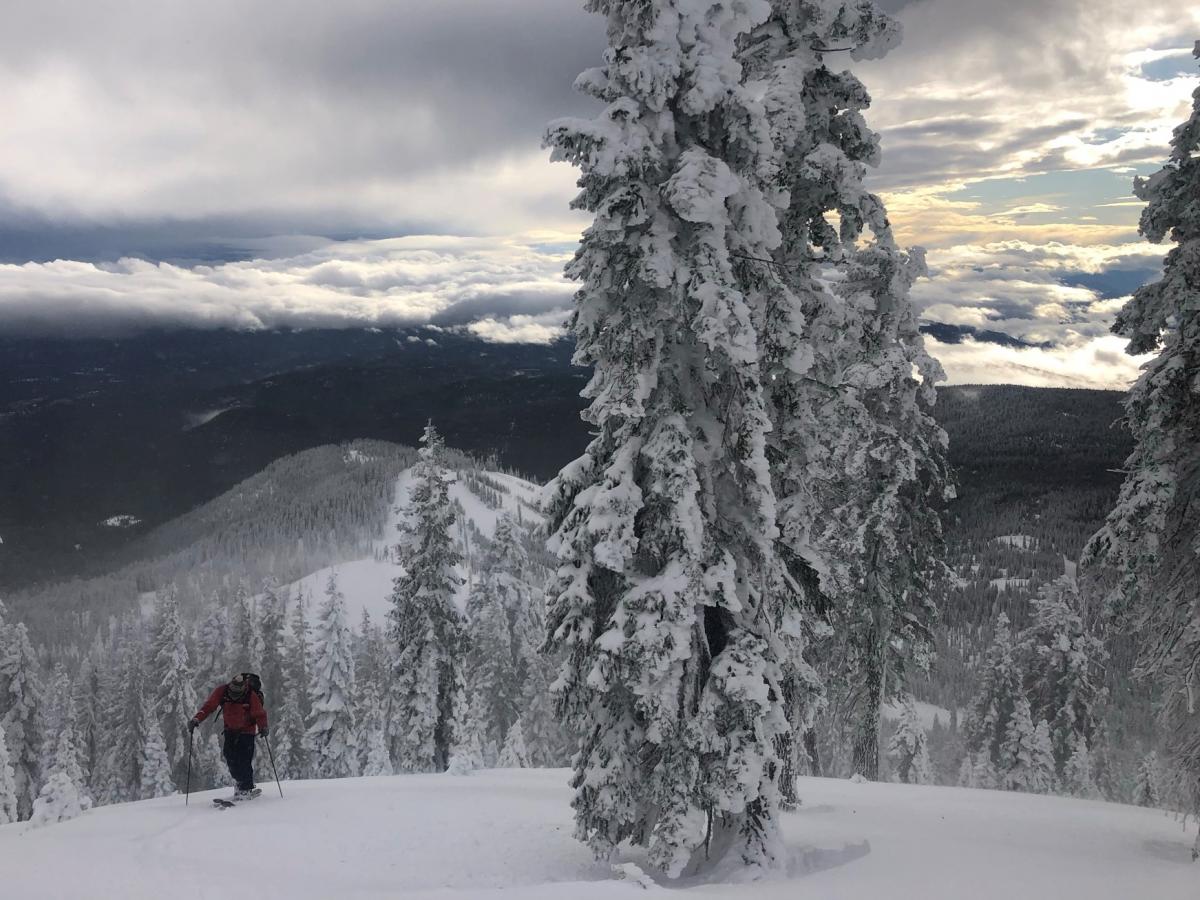 Location Name:
Mount Shasta
Date and time of observation:
Mon, 01/04/2021 - 1:30pm
Observation made by:
Forecaster
Red Flags:
Recent loading by new snow, wind, or rain
Location Map
96067
Mount Shasta
,
CA
United States
41° 22' 27.1092" N, 122° 13' 44.5476" W
California US
Snowpack Observations
Details
Observation Location: Gray Butte via Ski Park
Elevation: 8,200 feet
Date: 20210104
Time: 1400
Observer: Sorenson / Beverly 
Sky Conditions: Overcast (OVC) then Broken (BKN) after 1315 hours. 
Current Precipitation: S1 with periods of S2. Less than an inch an hour, sometimes more. Very light snowfall S-1 after 1315. 
Air Temperature: 27 °F
Surface Penetration: Ski penetration (PS) =  8 -10 in / 20 - 25 cm, boot penetration (PF) = 24 in / 60 cm
Total Snow Depth (HS): 45 in / 115 cm 
24-hour New Snow Depth (HN24): 8 - 10 in /20-30 cm
24-hour New Snow Water Equivalent (HN24W):  1.1 in/ 2.79 cm
Wind Direction: S
Wind Speed: Light to Moderate
Snow level was near 5,000 feet, and big wet snowflakes were observed at the bottom of the Grey Butte skin track. Slightly less than an inch per hour was falling from the sky with occasional flurries of heavier snowfall. Moderate southerly winds were loading north and easterly aspects. A total snow depth of 35 inches (90 cm) with 8 inches (20 cm) of new snow was measured at the beacon checker at 6,700 feet.
The new snow was heavy but began to feel lighter as we toured toward higher elevations on the butte. Many bushes protruded from our shallow snowpack and were barely covered by the new snow. Skies cleared briefly after 1 p.m.  We observed minor cracking and blocking on small test slopes along the skin track. An average snow depth of 45 inches (115 cm) with 10 inches (30 cm) of fresh snow was measured along the ridge top of Grey Butte. Drifts up to 2 feet deep have formed along the easterly side of the ridge.  Test slopes were stubborn and generally unreactive to stomping. This may change if we receive more wind. 
Photos
Weather Observations
Statistics
Cloud Cover:
75% of the sky covered by clouds
Accumulation rate:
Greater than 1 in. per hour
Air temperature:
Below Freezing
Air temperature trend:
Cooling