You are here
Gray Butte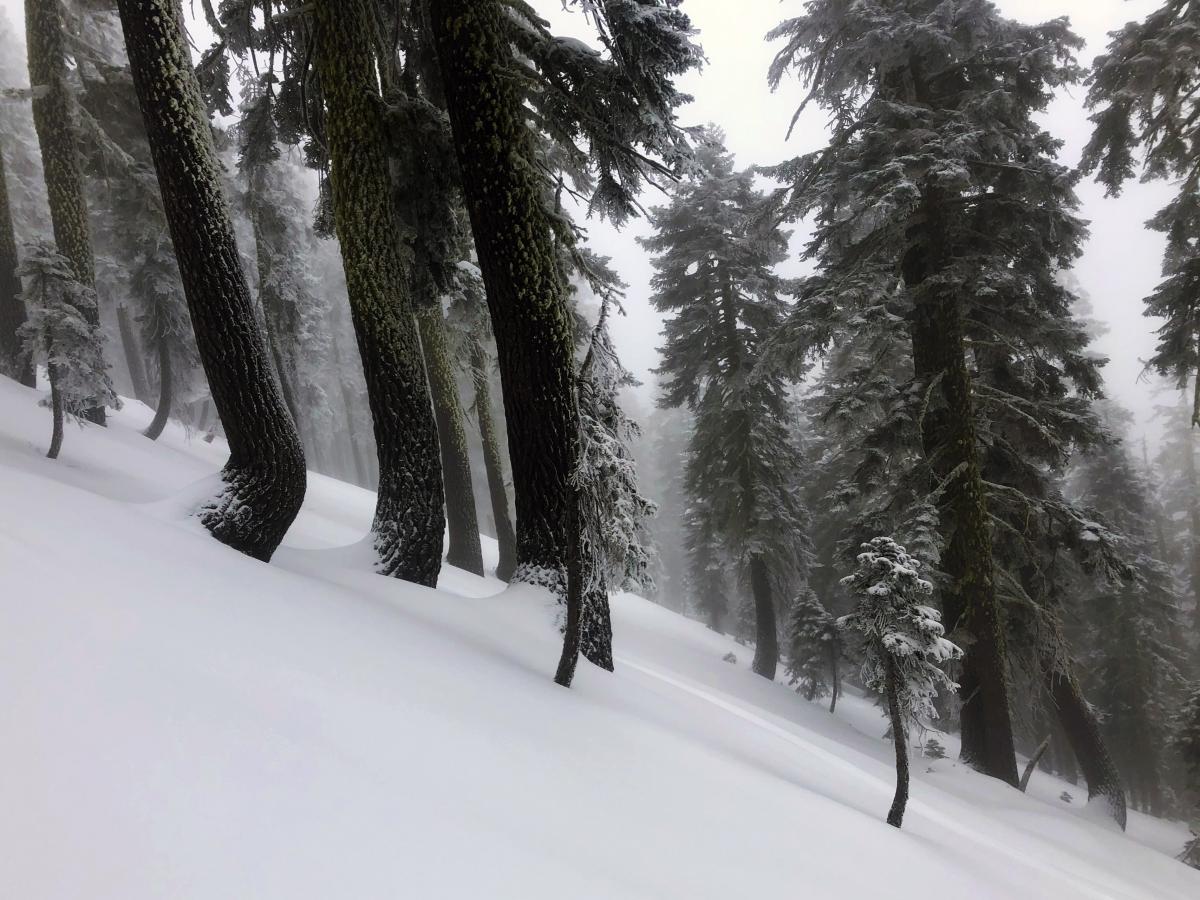 Location Name:
Gray Butte via Ski Park
Date and time of observation:
Sat, 01/02/2021 - 1:30pm
Observation made by:
Forecaster
Red Flags:
Recent loading by new snow, wind, or rain
Location Map
96067
Mount Shasta
,
CA
United States
41° 20' 48.6384" N, 122° 11' 44.7468" W
California US
Snowpack Observations
Details
Observation Location: Gray Butte via Ski Park
Elevation: Up to 8,200 feet
Date: 20210102
Time: 1230 to 1430 hours
Observer: Ryan Sorenson
Sky Conditions: Overcast (OVC) 
Current Precipitation: Yes, S-1. Very light snowfall, less than 0.5 inches per hour. 
Air Temperature: 24.5 °F at 1400 
Surface Penetration: 1 to 2 in / 2-5 cm
Total Snow Depth (HS): ~19 in / 50 cm below-near treeline west aspect.
24-hour New Snow Depth (HN24): 1-2 in / 2-5 cm
24-hour New Snow Water Equivalent (HN24W):  0.1 in
Wind Direction: West
Wind Speed: 13 mi/hr at 1400
It was a misty afternoon touring up Grey Butte to look at current storm conditions. Snow levels varied from 5,500 to 6,500 feet as it lightly precipitated.  A thick, soupy fog held the visibility down to 100 feet, sometimes less.  The 1-2 inches of fresh snow sits over a shallow snowpack. Southerly aspects are thin and skinning involves weaving in and out of rocky manzanita patches. I was able to find slightly deeper snow on the protected west side of the butte.  The deepest I measured was 19 inches (50 cm). A zipper thin sun crust exists under the fresh snow. Smooth turns were possible if you were light on your feet. 
Fresh wind slabs up to a foot deep were observed on the ridgeline.  These were unreactive to stomping on small test slopes.
Winds were calm for most of the tour. A light westerly breeze was felt at the top of the ridge. 

 
Photos
Weather Observations
Details
Statistics
Cloud Cover:
100% of the sky covered by clouds
Precipitation:
Mixed rain and snow
Accumulation rate:
Less than 1 in. per hour
Air temperature:
Below Freezing
Air temperature trend:
Static