You are here
Gray Butte - Afternoon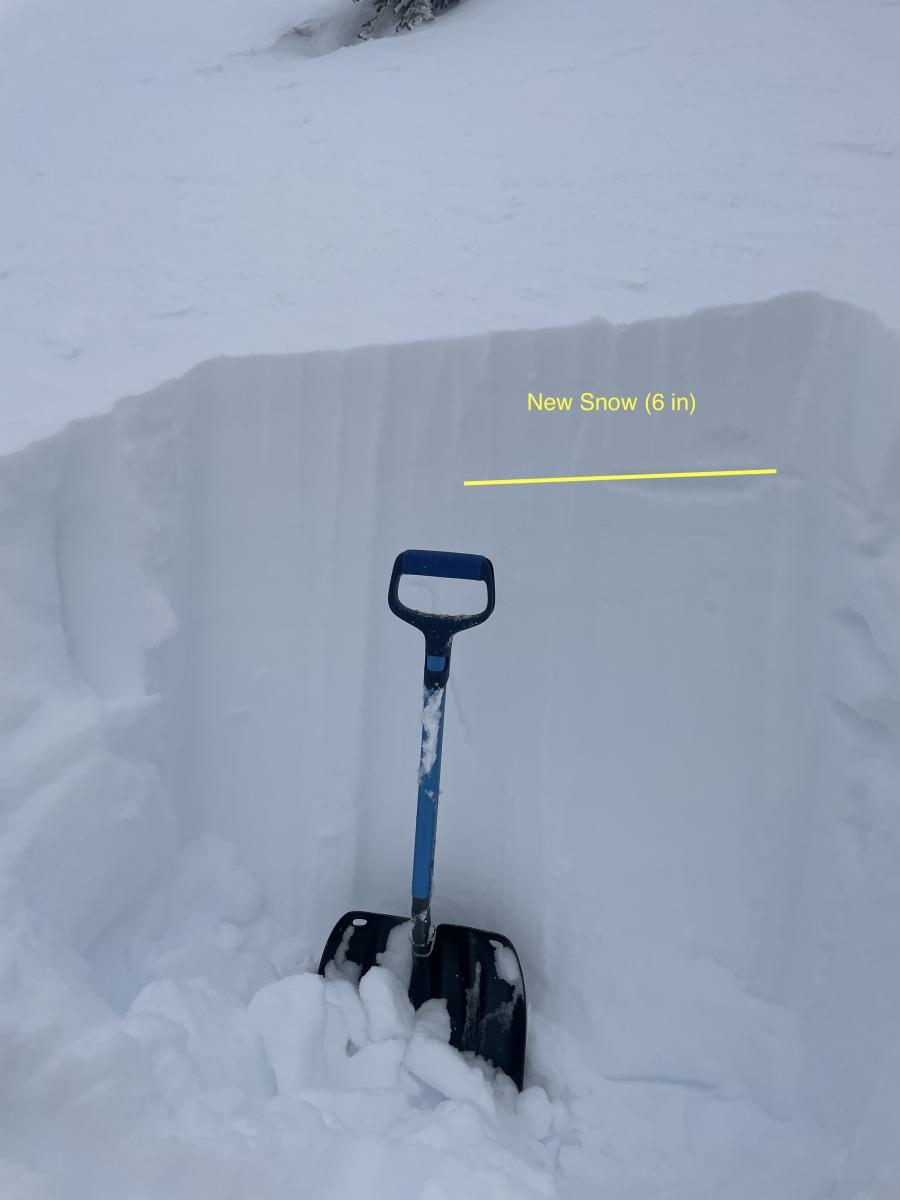 Location Name:
Northwest face of Gray Butte
Date and time of observation:
Thu, 03/23/2023 - 3:00pm
Observation made by:
Forecaster
Location Map
96067
Mount Shasta
,
CA
United States
41° 20' 52.746" N, 122° 11' 49.0884" W
California US
Snowpack Observations
Details
Observations from the northwest face of Gray Butte from 2pm to 4pm
Weather trends:
Cloud level was around 6,500 feet. 
In the parking lot of the ski park, sky cover was around 75%, temperatures were above freezing, and surface snow was dense and saturated.
At the top of Gray Butte, the sky was 100% obscured, temperatures remained cold, with light winds out of the northwest, and the snow remained cold and dry.
Light snowfall continued throughout the outing, which turned to graupel near the end of the day.
Snowpack observations:
Near the summit of Gray Butte, there was around five to six inches of new snow. Above 7,000 feet, the new snow appeared cold and dry, and relatively low density. Below 7,000 feet, a surface crust formed from saturation of the upper couple inches of snow.
Near treeline, there was some minor surface wind texture across exposed slopes and ridges, however, wind transport was not observed.
Upon shovel shear tests, weak layers were identified at the new snow old snow interface (5-6 inches down) and at a slightly deeper saturated snow layer (10 inches down). 
No avalanches or slab characteristics were observed today, however, ski cuts did cause some dry loose sloughing. 
Observation Location: Northwest face of Gray Butte
Elevation: 7,700 feet
Date: 20230323
Time: 1500
Observer: S. Clairmont
Sky Conditions: Obscured (X)
Current Precipitation: Type - SN, Rate - S-1
Air Temperature: 24 °F
Surface Penetration: Ski penetration (PS) = 5 in (12 cm)
Total Snow Depth (HS): 6 in (15 cm)
24-hour New Snow Depth (HN24): [?] in ([?] cm)
24-hour New Snow Water Equivalent (HN24W): [?] in ([?] cm)
Wind Direction: NW
Wind Speed: Light (L), 1-16 mi/hr, twigs in motion
Photos
Weather Observations
Statistics
Cloud Cover:
100% of the sky covered by clouds
Accumulation rate:
Less than 1 in. per hour
Air temperature:
Below Freezing
Air temperature trend:
Cooling
Wind Direction:
Northwest