You are here
Gray Butte and the Old Ski Bowl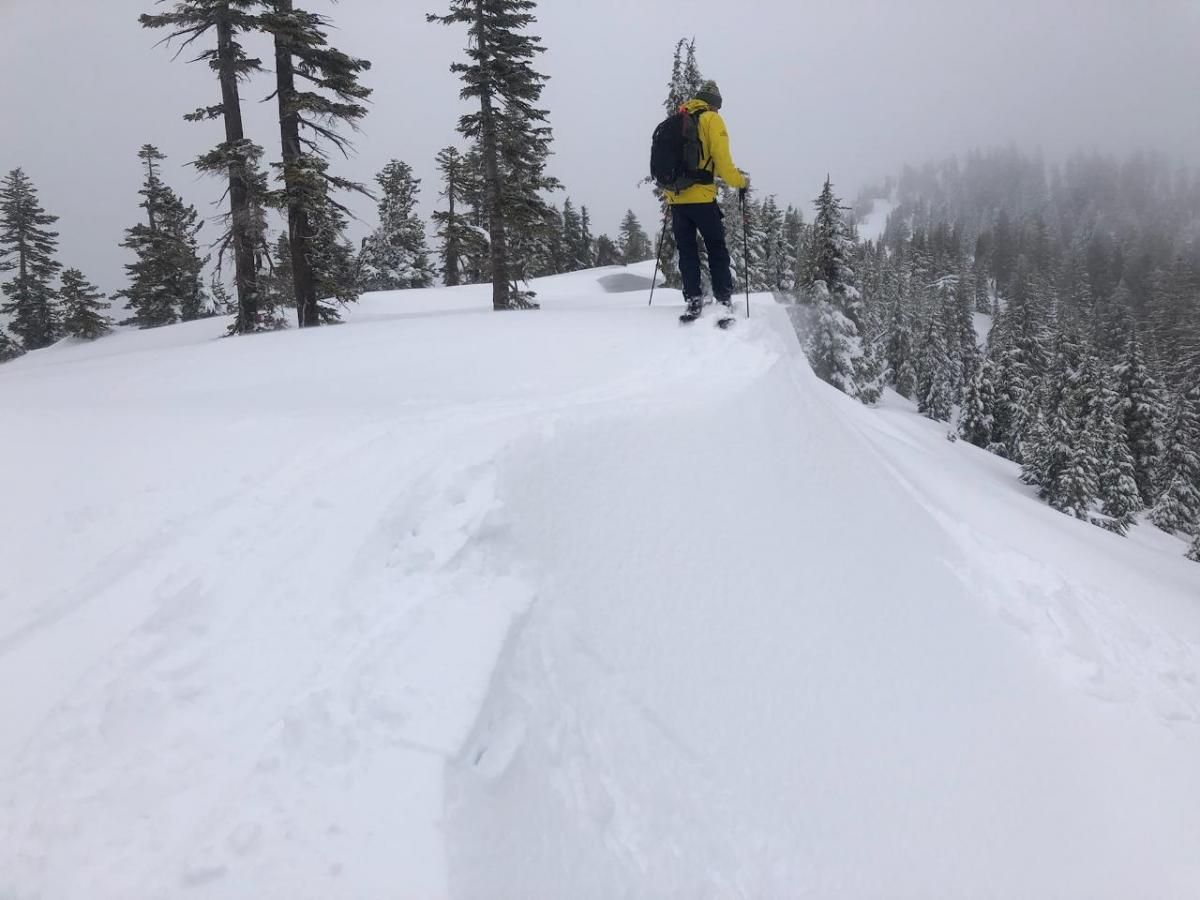 Location Name:
Gray Butte / Old Ski Bowl
Date and time of observation:
Sun, 02/14/2021 - 1:00pm
Observation made by:
Forecaster
Red Flags:
Recent loading by new snow, wind, or rain
Location Map
96067
Mount Shasta
,
CA
United States
41° 20' 45.1284" N, 122° 11' 45.6036" W
California US
Snowpack Observations
Details
On tour up Gray Butte and into the Old Ski Bowl we encountered limited visibility, blowing and falling snow, small wind slabs, and places of wind drifted snow and cornices. Some of the cornices and small wind slabs forming on eastern slopes were sensitive to ski stomps, others did not want to budge. Quick hand block tests were hard to trigger on the crust that existed before the series of storms that began late last week. The new snow seemed mostly right-sided-up and was well bonded to the crust in places and not in others. The new snow did not have much cohesion, though it felt that with warmer temperatures storm slabs might become reactive on steeper slopes. Sloughs were produced on small, steep test slopes. Some blocking and cracking was seen.
Observation Location: Gray Butte & Old Ski Bowl
Elevation: 8,000 ft
Date: 20210214
Time: 1300
Observer: Aaron Beverly
Sky Conditions: Obscured (X)
Current Precipitation: Type - SN, Rate - S-1
Air Temperature: 20.5 °F
Surface Penetration: Ski penetration (PS) = 3-6 in (8-15 cm)
Total Snow Depth (HS): 87 in (220 cm)
3 Day New Snow Depth: 10 in (25 cm)
24-hour New Snow Water Equivalent (HN24W): 0.21 in ([?] cm)
Wind Direction: W
Wind Speed: Moderate (M), 17-25 mi/hr
Photos
Weather Observations
Statistics
Cloud Cover:
100% of the sky covered by clouds
Accumulation rate:
Less than 1 in. per hour
Air temperature:
Below Freezing
Air temperature trend:
Static