You are here
Gray Butte - Cracking Instability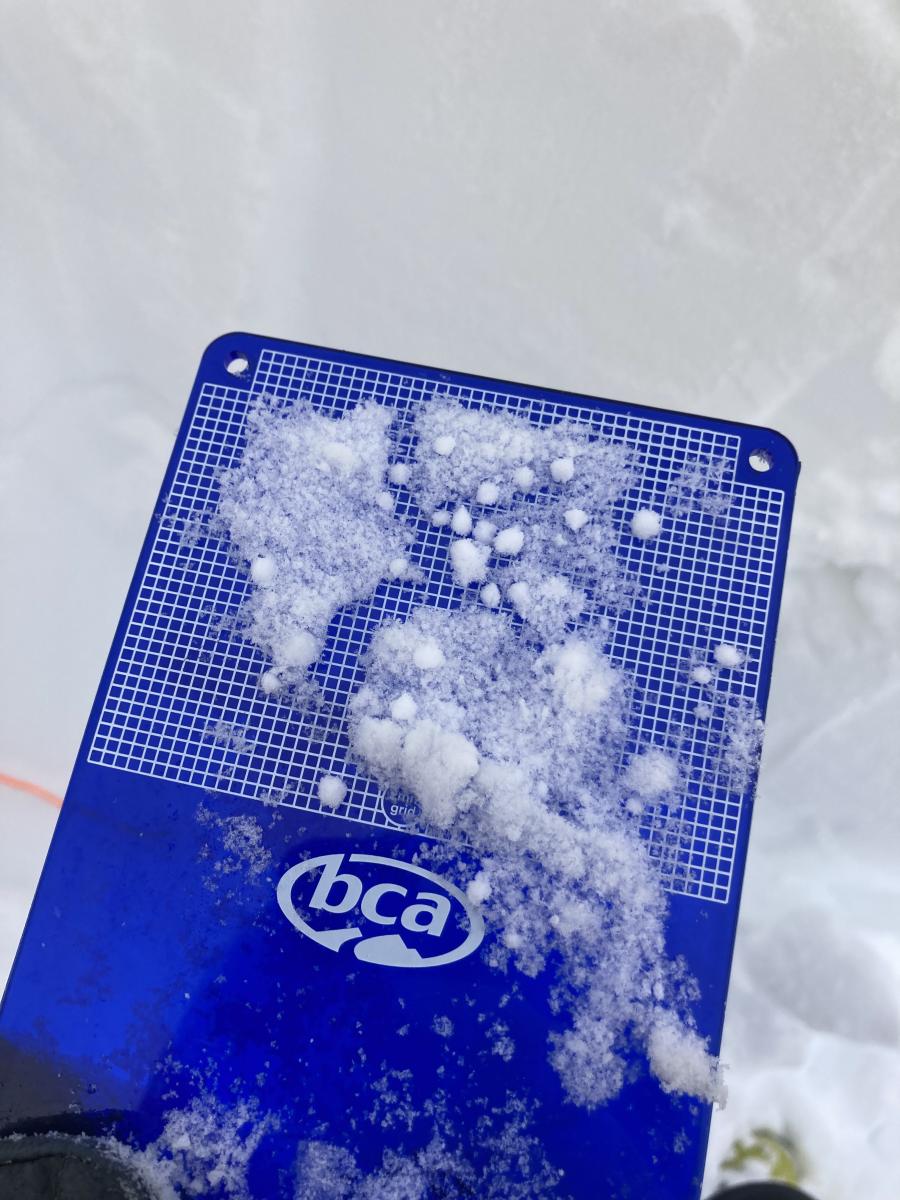 Location Name:
Gray Butte
Date and time of observation:
Sun, 03/05/2023 - 12:00pm
Observation made by:
Forecaster
Red Flags:
Recent avalanche activity
Whumphing noises, shooting cracks, or collapsing
Recent loading by new snow, wind, or rain
Obvious avalanche path
Location Map
96067
Mount Shasta
,
CA
United States
41° 20' 43.8756" N, 122° 11' 52.9404" W
California US
Snowpack Observations
Details
Observations from the northwest aspect of Gray Butte
Overall snow surface conditions remained light, dry, and cold, with 19 inches (50 cm) of new snow measured at 7,600 feet. Visibility near and above treeline was poor, with all of Mount Shasta obscured by clouds. Winds were light out of the southwest, with no wind transport observed. Light precipitation continued in the form of graupel and snow.

The most notable observations from today were the obvious signs of instability. Shooting cracks were first seen off of skis while ascending Gray Butte. On the ski down, virtually any open slope close to 30 degrees would shoot cracks and settle without enough momentum to slide. This was a tell-tale sign that any slope steep enough could produce an avalanche. A pit dug at 7,600 feet (NW aspect) showed the 19 inches of new sitting on top of a thin crust, with the February 27-28 snow below. This pit showed a right side up snowpack, with 3 feet of dense consolidated snow beneath last night's new snow. Upon tests, an ECTP was observed on tap 13. The failure plane was 14 inches down within the 19 inches of new snow. A thin 4-5mm graupel layer that fell in between storms on March 4th was the culprit.

On another note, avalanche debris could be seen buried underneath fresh snow below the chutes of the northwest face. Based off of the recent timeline, this likely happened during the recent peak storm intensity.



Based off of the forecast and new snow, I took no chances, and stayed clear of avalanche terrain.
Observation Location: Northwest face of Gray Butte
Elevation: 7,600 feet
Date: 20230305
Time: 1200
Observer: S. Clairmont
Sky Conditions: Obscured (X)
Current Precipitation: Type - SN, Rate - S-1
Air Temperature: 20 °F
Total Snow Depth (HS): 168 in (427 cm)
24-hour New Snow Depth (HN24): 14 in (36 cm)
Wind Direction: SW
Wind Speed: Light (L), 1-16 mi/hr, twigs in motion
Column & Block Tests:

Slope Angle & Aspect (30º, NW)
ECTP13 ↓ 14 in (31 cm)
Photos
Weather Observations
Statistics
Cloud Cover:
100% of the sky covered by clouds
Accumulation rate:
Less than 1 in. per hour
Air temperature:
Below Freezing
Air temperature trend:
Cooling
Wind Direction:
Southwest